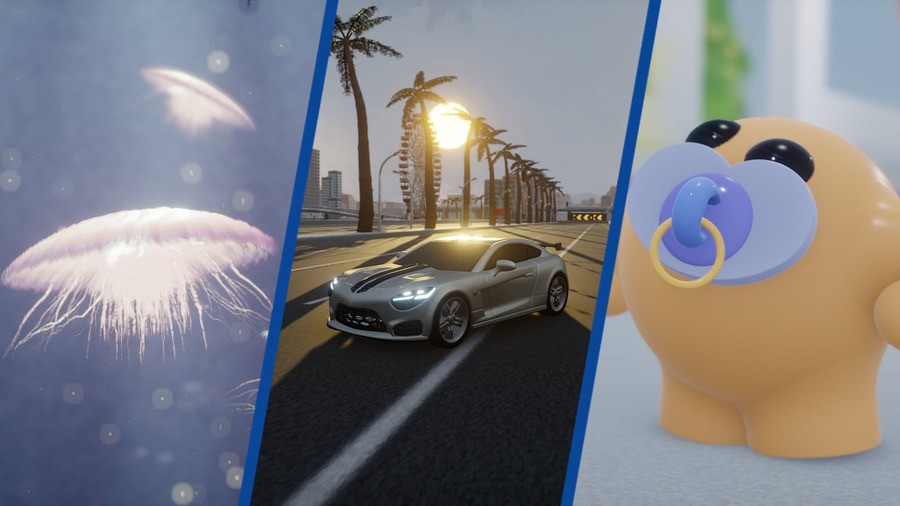 We're huge fans of Dreams here at Push Square Towers, but it's difficult to define what this PlayStation 4 exclusive is. With the possibilities almost limitless, the variety of experiences available within this title is ridiculous. There's no way everyone will have time to play everything.
If you're simply looking for some of the best stuff to play in Dreams, you've come to the right place. In this feature, we're going to pick out some of our favourite creations, be they games or otherwise. While we're on the subject, you should follow Push Square Picks, our collection which holds all the below examples and plenty more. We've been updating it every now and again with new discoveries and will continue to do so. Be sure to check it out if you want to see what's impressed us.
Without further ado, let's take a closer look at some choice Dreams creations.

Creator: sanderobros and SDorin | VR Compatible

You've probably heard about this arcade racer, as it's done the rounds on the likes of Twitter and Reddit, but there's a reason why: it's really good. There's just a single vehicle and track, but it's so well put together. The driving feels better than some games you can buy on PlayStation Store, and the three modes all offer something slightly different. There's even a bunch of customisation options for the car, and it's all presented brilliantly. If this was expanded upon with more content, it'd be a cracking little game in its own right. Play this!
Creator: Helekosi | VR Compatible
This is an impressive audiovisual creation that's ultra mellow. You do have a tiny amount of input, able to swim about as one of the jellyfish in the scene, but you can set it to auto and just have it running as a peaceful screensaver. A really effective demo that proves you don't need to make super complex creations to get a good result in Dreams. Even better in VR.
Creator: Elca_Gaming | VR Compatible
Created as part of a Community Jam with the theme of "One Button", this miniature rhythm game is very well executed. Using the DualShock 4's gyro to move the cursor and a button of your choice to hit the notes, it's easy to play and will leave you wanting more. The minimalist presentation works to its favour, and the music track you play is fun to play along to. Easier to play in VR, but perfectly fine on a TV screen too.
Creator: arseny3d | VR Compatible
Tiny Egg Invader has been around in Dreams for a good while, but we discovered it via the VR version. Whichever way you watch this animated short, it's well worth checking out. The animation is simple but really well done, and the little alien creature is cute as all heck. Really good stuff.
Creator: Wargarble | VR Compatible
ME is a 3D platformer at its core, but its eerie atmosphere and unusual characters make it stand out. You control a character that can "contort", and doing so destroys red objects and enemies in the world. It's a creepy and beguiling little adventure as you work your way up to a huge monster, and had us hooked. We'd recommend VR for this one, as it adds a sense of scale to the environments, but it's worth trying either way.
---
This is just a small selection of Dreams creations you can find in our Push Square Picks collection. Be sure to give it a follow, as we'll be updating it periodically as we continue to explore the game. What are some of your favourite creations? Let us know in the comments section below.