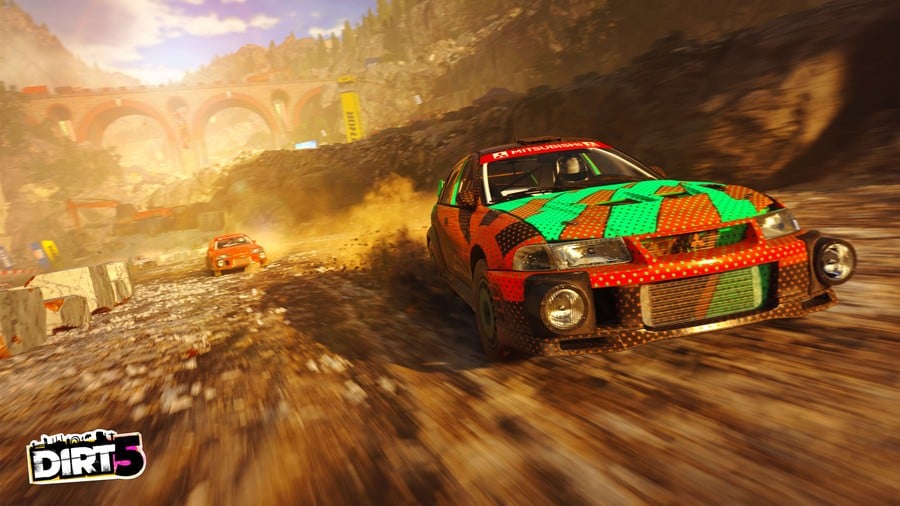 After the straight-faced simulation of DiRT Rally 2.0, Codemasters is bringing a much more playful experience to the fore with DIRT 5. One of the main attractions in this new instalment, which will be released on both PlayStation 4 and PS5, is a fleshed out career mode. The studio has opened up about this portion of the off-road racer, and it sounds pretty substantial.
Players will be able to choose their own path in a series of events that branch off each other. There will be several race types to choose from, and the career features more than 130 events in total. You can either compete in them all or pick your battles. Once you've done enough, you can partake in each chapter's Main Event before moving onto the next stage.
As you progress and make a name for yourself, an in-game, fictional podcast will play out in between events. Hosted by Donut Media's James Pumphrey and Nolan Sykes, the podcast aims to deliver a narrative that goes alongside your own journey through the career. Troy Baker and Nolan North will star in the game as Alex Janiček and Bruno Durand respectively. The former is a celebrated off-road racing champ that sees your potential; the latter is a competitive and cold motorsport veteran. The two will play off each other in this podcast, butting heads and commenting on your progress as you play through the game.
Elsewhere, a sponsor system will see you signing on with one of 20 real-world brands. It's similar to other racing titles, where a sponsor will pay you to race for them but will have some objectives to meet. You can swap your sponsor whenever you like, but loyalty to a brand will earn you more rewards, so you could miss out on some cool stuff if you ditch one company for another.
Perhaps most interesting is that you can play the entire career alongside up to three friends in split-screen. It's cooperative, in that the result recorded will be whichever player is in the highest position. While this progress is only kept for the host player, other participants will still earn XP and currency in their own games, so you don't completely lose out. It's drop-in, so you can play career mode with pals whenever you fancy.
Like we said, it sounds very robust. We're definitely interested to hear what the story stuff sounds like, but given the talent involved, it should be plenty of fun. Are you excited for DIRT 5? Burn rubber in the comments section below.
[source blog.codemasters.com]