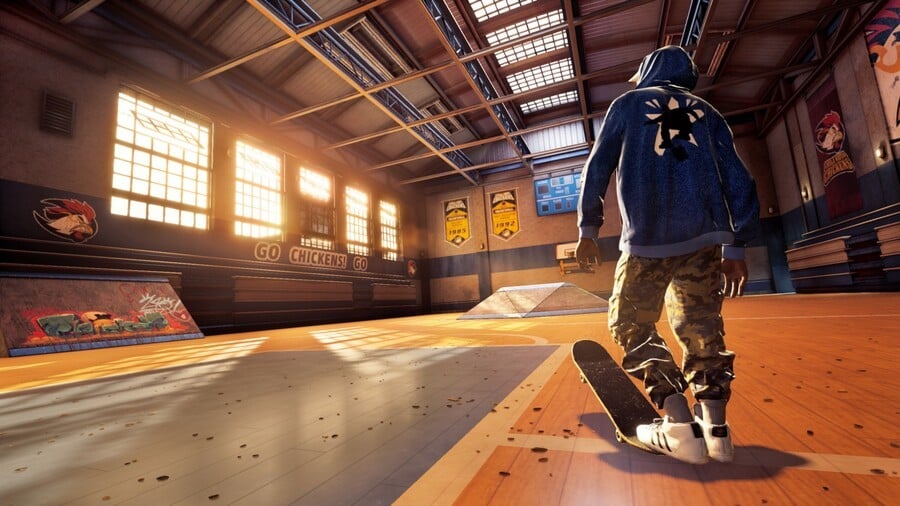 If you're as pumped as we are about Tony Hawk's Pro Skater 1 + 2 coming back on PlayStation 4, you're probably ready to hit that pre-order button. Activision is giving the PS1 skateboarding classics the same remake treatment it gave to Crash Bandicoot and Spyro, and it's looking great so far. Of course, the publisher has gone into detail on the various editions, and there are some cool incentives.
In terms of pre-order bonuses, there are a couple depending on whether you buy physically or digitally. Those who pre-order via PlayStation Store will gain early access to the Warehouse stage in a free demo. It's not been made clear when exactly the demo will unlock, but it's nice you'll be able to get hands on with the game before it's out. The pre-order bonus for those purchasing a disc copy is a Tony Hawk mini fingerboard, though only from certain retailers.
As usual, there is more than one edition you can buy. Digitally, there's the standard version and a digital deluxe edition, which will include "unique content and gear". UK retailer GAME lists this content as follows:
'The Ripper' skater from Powell-Peralta
Unique retro outfits for Tony Hawk, Steve Caballero and Rodney Mullen
Unique retro content for the Create-A-Skater mode
In the realm of retail, there's of course the regular edition, but there's also a fancy collector's edition. This limited version of the game comes with the aforementioned digital goodies, as well as a full size skateboard deck from Birdhouse, sporting the Falcon 2 design. It's a cool package, but it does up the asking price from $39.99 to $99.99.
Are you excited for Tony Hawk's Pro Skater 1 + 2 in September? Grind into the comments section below.
[source blog.activision.com]