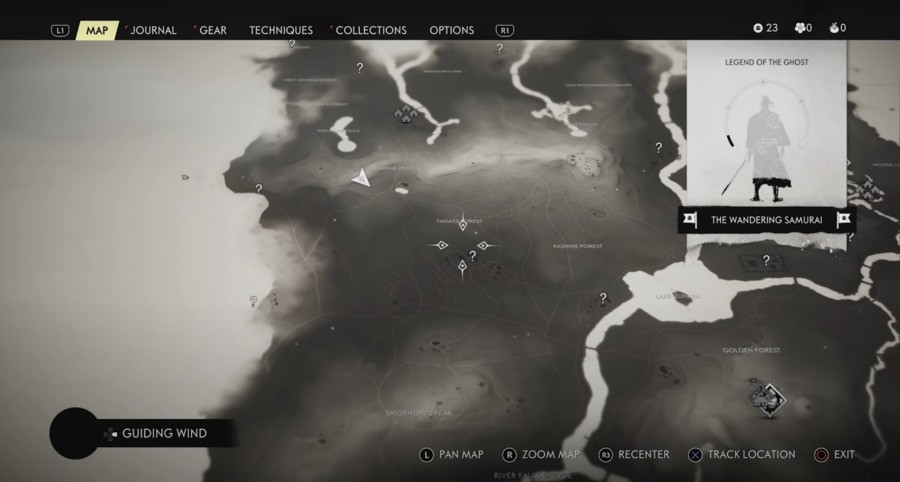 How big is the open world in Ghost of Tsushima? It's a question that we've seen banded around more than once since the title's 18 minute gameplay deep dive, but we likely won't have a definitive answer until after release. Still, we can speculate over the kind of scope that developer Sucker Punch is aiming for thanks to an interview with creative director Nate Fox, courtesy of IGN Nordic.
Fox comments on the map that we see very briefly in the aforementioned State of Play video (we've included a screenshot of said map at the top of this article). He says: "The map we showed during the State of Play was very zoomed in [...] That was just a little portion of the starting area, the actual map is huge." Tsushima certainly isn't small, then.
While we don't expect Ghost of Tsushima to be absolutely gigantic, Fox does go on to reiterate that it's the biggest game Sucker Punch has ever made. He continues: "Tsushima Island covers the biomes you can find on main land Japan, from snowy mountains to bamboo forests, to waterfalls and rolling grasslands, it's all there."
What's more, Fox says that there'll be plenty to see and do as you journey across the land: "We want to give enough stuff to keep it electrifying for the player. We didn't want to make a huge map and have nothing on it. So it's packed with people, items, and stories to explore."
How big do you want the map to be in Ghost of Tsushima? Set out on an adventure into the comments section below.
[source nordic.ign.com, via twitter.com]