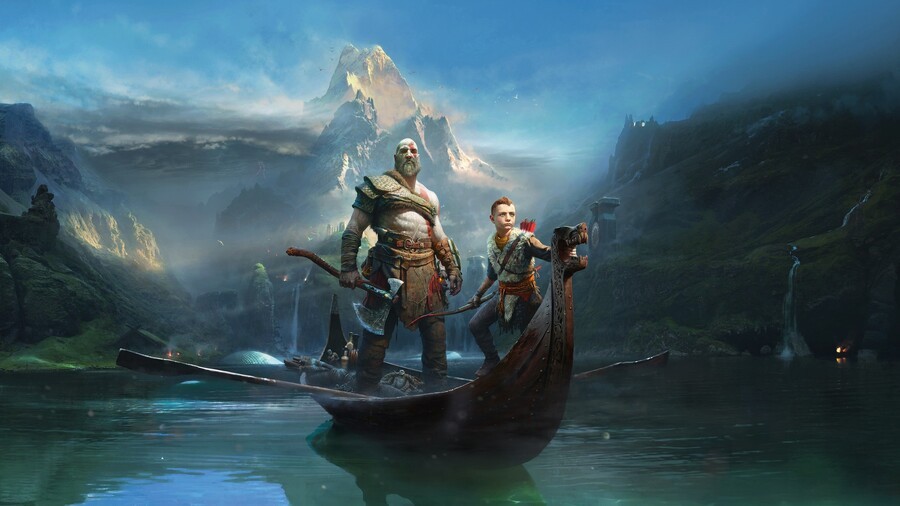 This industry craves new intellectual property at every opportunity, but I believe the PlayStation 5 will be sold on the strength of its sequels. Sony has been excellent at re-imagining its roster of franchises every generation: Naughty Dog famously ditched Jak & Daxter in favour of Uncharted; Sucker Punch moved away from Sly Cooper in order to create inFAMOUS; and Guerrilla Games built its best game yet when it substituted Killzone for Horizon Zero Dawn.
But while I always anticipate these all-new projects, it's the follow-ups to the PlayStation 4's biggest hits that have me most hyped for its next-gen successor. This is testament to the sheer number of outstanding IP the manufacturer has introduced over the course of the past seven or so years, and with its bevy of first-party teams equipped to improve on these titles, I genuinely believe that we're in for a vintage generation with the PS5.
Take a game like God of War, for example: it was a Game of the Year award winner and bonafide 10/10 when it confronted the Norse pantheon in 2018. Those of you who've beaten the uber-popular PS4 release will know that it sets up an even bigger, better sequel – a vision poised to take advantage of the PS5's processing power. With the story already in motion and the characters re-established, the sequel to Sony Santa Monica's soft reboot is a sure thing.
The same can be said of Marvel's Spider-Man, with Insomniac Games now under PlayStation's Worldwide Studios umbrella. The team's original attempt at an open world adventure inspired by Stan Lee's famous comic book character played like a dream, but with the PS5's SSD enabling bigger, better, and more dynamic sandboxes, the sequel is sure to elevate the original's ideas and become a poster child for Sony's next-gen system.
Although, I expect a second sequel from the Burbank-based developer before that, with Ratchet & Clank rumours swirling. Much like God of War, this series has PlayStation 2 origins, but Insomniac Games revived the franchise in such a way on the PS4 that it feels fresh, and I'm looking forward to being reunited with the Lombax on next-gen hardware. I'm sure it won't be the only cutesy platforming series that gets a follow-up, too, as Astro Bot Rescue Mission 2 is also a must.
Incredibly, though, these are just half of the sequels I'm really looking forward to on PS5. Guerrilla Games is clearly working on a successor to Horizon Zero Dawn, and I think this will be one of the console's early showpieces. The Dutch developer is renowned for its command of PlayStation hardware, and it'll surely be pushing the Japanese giant's next-gen system to its limits, utilising that super-fast SSD to make for an even more immersive post-post-apocalyptic backdrop.
And what about Days Gone? The "black sheep" in Sony's first-party portfolio has become a real fan favourite since its release in 2019, and with an established cast and more experienced team, I have high hopes for Deacon St. John's inevitable return. Will this series ever become a juggernaut like Uncharted? Remember that it took a couple of titles before Nathan Drake became a household name, and there are obvious areas this series can improve in order to achieve critical acclaim.
But there are other potential sequels that Sony could deliver. Ghost of Tsushima is looking like it's going to be the PS4's swansong, and I wouldn't bet against it being one of the highest rated releases of the year. Assuming that's the case, I have to imagine Jin will return on PS5. And obviously a Bloodborne sequel would instantly become one of the most anticipated titles of all-time – assuming the platform holder can get From Software to commit to it.
Even franchises like Until Dawn and Blood & Truth feel like they still have some mileage left in them, and I probably shouldn't get the Internet started on The Order: 1886. I'm obviously excited for any new ideas that Sony's first-party teams bring to the table, and I do think we'll get a new franchise out of Naughty Dog eventually. But in those first few years of the PS5, I'm looking forward to sequels to some of my favourite games; every single title seems like a slam-dunk from where I'm sitting.
---
Which inevitable PS5 sequel are you most looking forward to? Are you still hoping for new IP from Sony's teams despite so many of its franchises being primed for a follow-up? Start a new chapter in the comments section below.