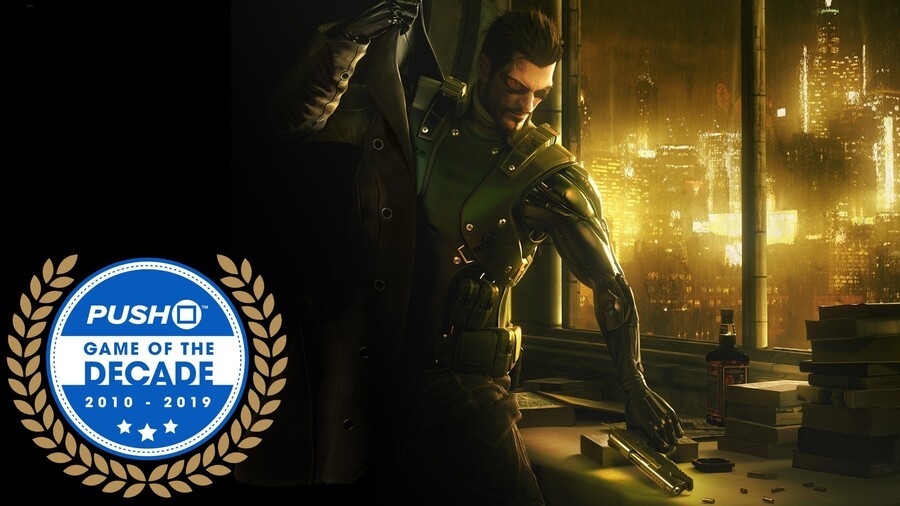 We're listing the ten best Soundtracks of the Decade. These are the ten PlayStation scores released over the past decade that we believe left the biggest impression on our sonic palettes. Whether it's Journey's Grammy nominated masterpiece or Destiny's 8 movement symphony, these are the soundtracks that hit the best notes across the last ten incredible years of gaming. Head here to see the complete series!
---
When you think about Deus Ex: Human Revolution, there are probably quite a few things that immediately come to mind. The incredible art direction, "I never asked for this", that yellow tint that coated the game, or, of course, the soundtrack. Composer Michael McCann's score elevated an already exceptional game to even greater heights.
Deus Ex: Human Revolution is a pretty dirty game. Many of the environments Adam Jensen explores are cramped, dingy, and generally unsavoury. And the music McCann composed is a perfect accompaniment. It's almost at odds with the environments you experience. Synth-heavy, and with a uniquely clean sound to it, the music actually helps highlight the duality of the game. Much of the music sounds very hopeful, with happier progressions than one might expect. This tone contrasts perfectly with the environments, as there's usually little nuggets of optimism poking out from behind the filth and squalor, and the music does an incredible job of distilling that feeling.
That's not to say all of the music is hopeful, as each of the areas you explore in the game have sounds unique to them. The opening areas in Detroit emphasise a bit more of an ominous, forlorn sound, as opposed to an area like Hengsha, where percussion factors much more heavily into the sound, making things feel a little faster paced and more rapid than they otherwise would.
Ultimately when you pair all of incredible elements of gameplay with a honed soundtrack of perfection, the end result is not just one of the best soundtracks of the decade, but one of the best games.
---
Did you play Deus Ex? Since it came out very early on in the decade, do you remember it? How about the music? Let us know your thoughts in the comments.