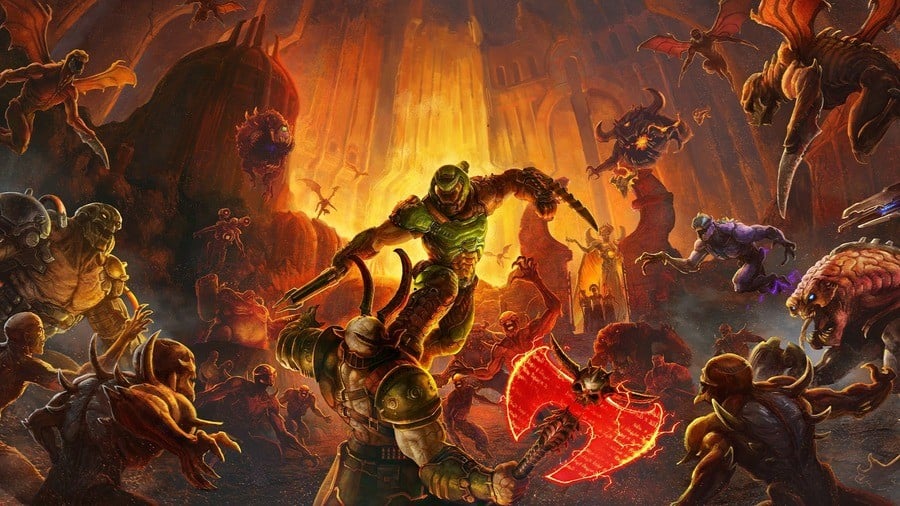 DOOM Eternal has already been delayed once on PlayStation 4 so it can't be pushed back any further than its March 2020 release date, right? We certainly hope that's the case, so much so that this new set of previews fills us with confidence that id Software's next first-person shooter is going to be something special. We've compiled a variety of impressions below for you to both read and watch.
Gamespot - Doom Eternal's First 3 Hours Throws More At You Than All Of Doom 2016
While three hours is just a slice of the full game, it's hard to deny that it's extremely well-put-together. You might be hesitant with the idea of just how much is being layered into the Doom formula, but from what I played, it's as if id Software painstakingly made sure every mechanic, weapon, and ability serves a purpose. You can't get away with mindless shooting or pure accuracy here--Doom Eternal really is that relentless FPS combat puzzle, and a bloody, gruesome one at that.
IGN - Doom Eternal is rocking the right kind of riffs
At any rate, it's clear that Doom Eternal is a game designed to consistently keep you on the edge of your seat – much more so than last time around. And it does so through its thrilling and rewarding combat, its skill-testing traversal, and its ability to surprise, such as the moment late in my hands-on where I was able to establish a neural connection with a Revenant drone and use it to zip around the air above a field of enemies and annihilate them with a barrage of rockets.
Polygon - Doom Eternal is like Evil Dead 2 made on an Avengers-sized budget
So imagine my surprise, almost four years later, to play Doom Eternal, a game that feels like its predecessor — now with all the pomp and personality a game like this demands. Doom, in all its incarnations, is absolutely a Saturday morning cartoon. And Doom Eternal gets that, and leans into that, more than any Doom game I've ever played.
Are you hyped for DOOM Eternal? Have these previews convinced you into a purchase? Rip and tear in the comments below.