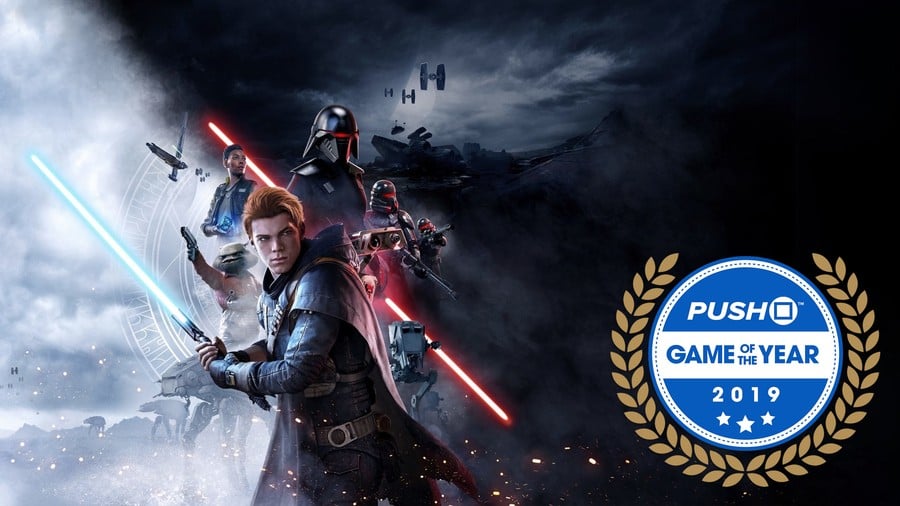 It's almost impressive how badly Electronic Arts has handled the Star Wars license up to now. Two Star Wars Battlefront titles came and went amid microtransaction controversies and lacking single player content during the earlier days of PlayStation 4, but there was always a bright light at the end of the tunnel - despite the looming possibility of cancellation previous projects had suffered. Star Wars Jedi: Fallen Order was the publisher's big play for the holiday season, but it wasn't right up until launch that it would learn just how good of a hand Respawn Entertainment had dealt the Redwood conglomerate. Not only was it this generation's best title from a galaxy far, far away, but also one of the most outstanding original entries in the saga.
High praise indeed for a franchise which includes the likes of 2003's Star Wars: Knights of the Old Republic, a testament to the quality at the fingertips of the Titanfall 2 and Apex Legends developer. Borrowing ideas and mechanics from incredibly successful games of the past, it has managed to craft a lengthy encounter with the Force that still manages to feel wholly its own. Dark Souls and Sony's very own Uncharted series are two very clear influences, but it's how protagonist Cal Kestis makes those interpretations his own which sets this love letter to the prequels apart from the rest.
Finding someone with a genuinely good thing to say about the trials and tribulations of Anakin Skywalker and Jar Jar Binks in this day and age is probably a tall order, though it becomes clear almost immediately how much care and effort has been put into understanding the title's position in the universe. References are fairly few and far between, but when a callback does bring a smile to the face of a Star Wars fan, it's done with genuine meaning rather than a play on nostalgia. It is quite clearly designed by a team passionate about the saga for those who hold it in just as high a regard, although it's done in a way that budding Jedis can still get on board with.
In remaining accessible throughout, Star Wars Jedi: Fallen Order quickly becomes a crowd-pleaser. Lightsabers form the core of combat with parries, blocks, and dodges enough to conquer basic encounters, although it's never too long before one of the Dark Side's more menacing foes comes out to play. Force powers can turn the tide of a battle with pushes and pulls governed by a meter that is charged with successful body blows. But then if you do sustain a little bit too much damage, there'll always be a Meditation point nearby to cover up your wounds. Intense, incredibly enjoyable lightsaber duels are the crux of what makes the title tick, except with a Souls-like get out of jail card hidden in your back pocket, it promotes risk-taking on a level the Jedi Council would probably deem ludicrous.
Order 66 may have been what wiped those members out, but the game's storytelling in its aftermath is nothing short of outstanding. The ragtag group aboard the Stinger Mantis spaceship all come with their own distinct personality and motivations to help form a cast of characters who warrant their place in the canonical universe. Late-game reveals make for a wonderfully satisfying conclusion and the encounters along the way flesh out a specific part of the timeline devoid of numbered film entries.
Star Wars Jedi: Fallen Order is everything a fan of the franchise could have asked for. Intricate, impactful combat does the lightsaber justice just as much as the game's structure gives you the freedom to explore every planet's darkest corners. It may not tread new gameplay grounds, but what Respawn Entertainment has managed to piece together is quite simply one of the very best Star Wars instalments of all time -- justifying its position as one of the PS4's greatest games of the year.
---
Did you have chance to play Star Wars Jedi: Fallen Order? Do you love it as much as we do? Feel the Force in the comments below.
How we decide our Game of the Year: At the end of November, our editorial team creates a list of nominees for Game of the Year based on our own review scores and a number of other factors. After much discussion, we trim the list of nominees down and ask all Push Square staff to vote on their five favourites using a points-based system. The ten games with the most points by the designated deadline are our top ten PS4 titles of 2019. We then use this same order when writing about each game.