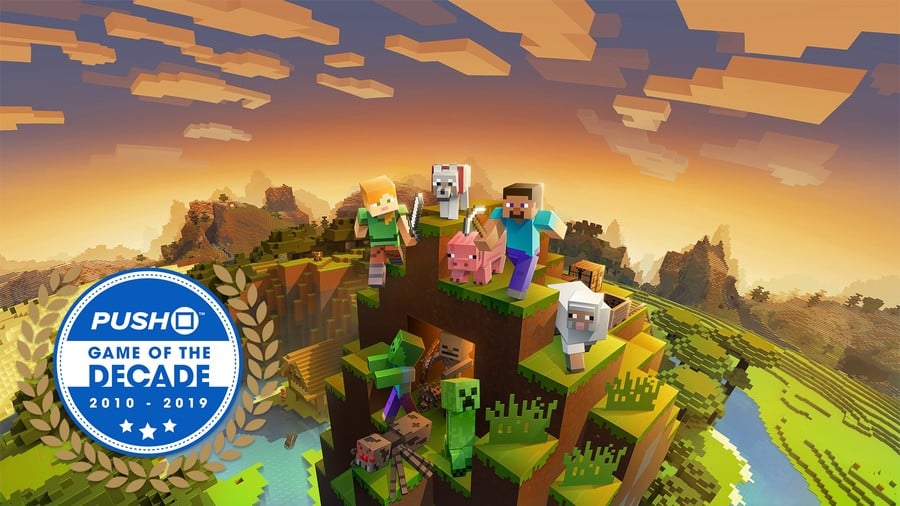 We're listing the ten Games of the Decade. These are the ten PlayStation titles released over the past ten years that we believe have left a historic mark on the industry. Whether it's Destiny's impact on the Games as a Service space or Journey's innovative approach to online connectivity, these are the releases that the industry will be referencing well into 2020 and beyond.
---
Lightning struck when Minecraft appeared on the scene. You had a feeling it was going to be a big deal, because there was a huge amount of buzz even before its initial launch. It was probably one of the first successful examples of Early Access, something that's become a fairly common development path on PC in particular, and those first steps meant the game had a dedicated community before it was officially out.
Then it did come out in 2011 -- 2013 on PlayStation 3 -- and is still going strong today. Mojang has made a true original, and from the very beginning, it's captured the imaginations of countless players of all stripes. A game in which you start with nothing but the clothes on your back, and must craft materials in order to build structures and survive against the elements? Nowadays this is a very common pitch, but you can trace it all back to Minecraft.
Not only has it popularised the free-form, gather-craft-survive gameplay we now see in countless titles, it's done so in procedurally generated landscapes that you're free to explore as you see fit. What's more, you have total freedom to build pretty much anything you like using a huge array of materials. Combine these elements together with multiplayer, and you essentially have an endless, interactive, digital LEGO play set. You only have to do a cursory online search to find an impossible number of unbelievable creations.
In fact, at least part of Minecraft's success can be attributed to the parallel rise of YouTube as a platform for Let's Plays. The game arrived at precisely the right time, when gaming videos were starting to pick up steam, and it was absolutely perfect for the format. Random worlds and infinite creative possibilities meant no two videos would be exactly the same, and it's still very popular to this day as a game to both watch and play. The ubiquity of this thing cannot be understated -- it's on every platform known to man, it's spawned several spin-offs, and it's still selling mountains of merch.
Constant updates from the developer over the years mean the game's only grown larger and better with new scenarios, materials, enemies, and way more besides. If anything defines games of this decade, it's the notion of them growing and improving after launch, and Minecraft is a prime example of this approach. The game is still in the conversation today, and that's partly down to the steady enhancements added into the mix.
It's almost impossible to look back on the 2010s without thinking of Mojang's incredibly successful project. Perhaps more so than our other Games of the Decade, there's a distinct possibility we'll still be talking about Minecraft in another 10 years. Not bad for what started out as that weird, blocky indie game your mate likes.
---
Do you think Minecraft is a defining game of the last decade? Are you still playing it? Let us know what you think in the comments below.