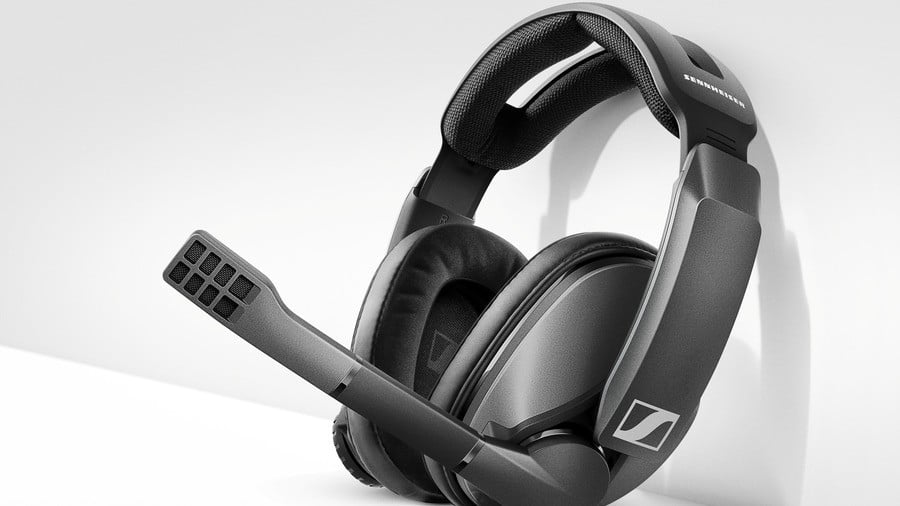 Off the back of Sennheiser's expensive but undeniably excellent GSP 670 wireless headset comes the GSP 370 -- a more affordable option that promises up to 100 hours of battery life. Sporting full PlayStation 4 compatibility, we put the GSP 370 to the test across a range of current-gen titles, and the results have been impressive to say the least.
Setup
Setting up the GSP 370 is a breeze. The headset comes with a small USB dongle for your PS4. Once that's slotted in, it's simply a case of flicking a small switch located on the underside of the left headphone. The GSP 370 should connect automatically.
The GSP 370's default audio output seems solid -- it boasts a good amount of bass and depth -- but if you do want to tweak things to your liking, you'll have to hook the headset up to a PC via micro USB and make use of Sennheiser's Gaming Suite software. The software itself can be a little fiddly at first, but making adjustments is a straightforward process once you know your way around.
Build Quality
The GSP 370 is quite a light headset, but there's still a definite sturdiness to it. The body's made of reasonably thick plastic that has a smooth edge, while the microphone boasts a rubberised midsection that allows it to bend slightly. Meanwhile, the headphones have reasonably thick padding.
The GSP 370 may not have that same immediate top quality feel as the costly GSP 670 -- a byproduct of a much lighter build, we suppose -- but it's still very hard to fault. It looks good, and it's clearly well crafted.
Comfort
This is where the GSP 370 has its heavier and more expensive sibling beat -- at least in our experience. As mentioned, this headset sports a surprisingly light build, and so wearing it for prolonged periods isn't a problem. Its arms can be extended to ensure the best fit, and like any good headset, it got to a point where we forgot that we were wearing it.
Purely in terms of comfort, the GSP 370 is honestly hard to top. It's quite easily one of the most comfortable gaming headsets that we've worn over the course of the PS4's life, with the padding resting perfectly across the top of our head and around our ears. During one especially long session, we wore this thing for over six consecutive hours and never had to adjust it once.
Audio Quality
As expected of Sennheiser, the GSP 370's audio quality is pretty darn good. While we don't think that it quite matches up to the GSP 670's borderline unrivalled depth of sound, this headset is still more than capable of offering up a feast for your ears.
We tested the GSP 370 over a wide range of PS4 games. Titles with a lot of depth to their sound design, like Monster Hunter World: Iceborne and Red Dead Redemption 2, sound great overall, with ambient background noise filtering into your ears before the heavy bass of rampaging beasts or furious gunfire smashes through the relative silence.
In games like Call of Duty: Modern Warfare, said bass is especially noticeable. With realistically recorded weaponry, every pull of the trigger gives you an explosive sound effect that the headset pushes right to the front of the current soundscape. The same is true of music tracks that have a lot of bass to them -- the GSP 370 seems to do a great job of adding a real "thump" to louder moments.
Sennheiser has made a habit of delivering remarkably crisp audio, and that's very much the case here. Again, the GSP 370 isn't quite on the same level as the GSP 670 when it comes to sheer depth, but that's to be expected considering the difference in price.
Microphone
There appears to be very little difference between the GSP 370's microphone and the one on the GSP 670. Both can be lowered and clicked into place to enable voice chat, and both deliver clear speech. That said, the GSP 370's output does have a slight tinniness to it. This is barely even an issue if you're just chatting to friends in a party, but if you're looking to stream or record voiceovers with the GSP 370, it may be worth keeping in mind.
As for noise cancelling, Sennheiser seems to have worked its magic once again. As is the case with the GSP 670, this microphone refuses to pick up any noise that isn't coming out of your mouth. In testing, we had to have someone sit right next to us and shout for the microphone to pick up any clear, additional audio.
Battery Life
The GSP 370's biggest bullet point is that it promises up to 100 hours of battery life from just a single charge via micro USB, and the good news is that Sennheiser seems to be telling the truth. We kept track of how many hours we spent using the headset, and with the volume turned up above average, the GSP 370 lasted an impressive 77 hours or so. That's over two weeks without a charge if you're playing for around 5 hours per day, or almost a whole month at 3 hours a day.
Price
At £169.00, the GSP 370 isn't cheap, but it's also far from being one of the most expensive gaming headsets on the market.
Conclusion
With up to 100 hours of battery life, fantastic audio quality, and an incredibly comfortable design, it's extremely hard to fault the GSP 370. For £169 you're getting a top notch headset -- one that arguably goes toe-to-toe with models that are much more expensive.
---
Do you have a favourite PS4 headset? Maybe you've tried the GSP 370 for yourself? Treat your ears in the comments section below.