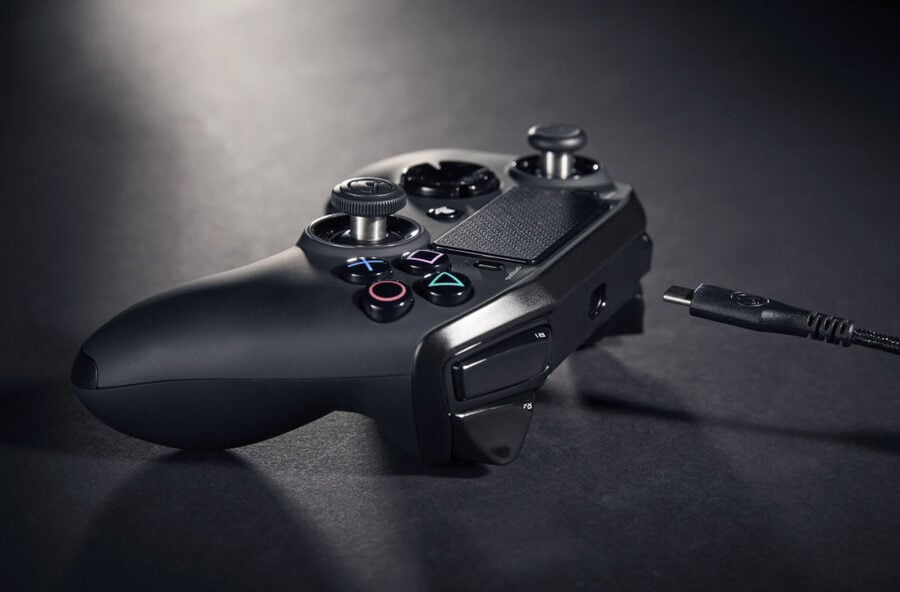 Microsoft had Sony sweating in 2015. The American organisation had just announced the Xbox One Elite controller at E3 2015, a souped-up handset designed for serious gamers. With customisable button mapping, a premium-grade steel chassis, interchangeable rear paddles, and "hair trigger locks" enabling users to personalise tension, the device quickly established itself as the go-to pad for hardcore players. The problem? PlayStation didn't have an answer.
Around the same time, the Japanese giant was at Nacon's headquarters in Lille in order to sign-off on some unrelated licenses. The relatively new firm – established in 2014 as a subsidiary to publisher BigBen Interactive – was busy beavering away on a pro controller for the PC, and it had a prototype in its office which PlayStation paid particular attention to. The manufacturer had a task for the French company: could it pivot, and build a premium peripheral for the PlayStation 4 instead?
The bigwigs at Nacon were unsurprisingly flattered by Sony's request. However, the console maker had one further stipulation: it wanted the unit to be designed and ready for release ahead of the PS4 Pro's planned launch in November 2016. This left the team with around six or seven months to put together a controller which would be marketed as PlayStation's answer to the Xbox Elite Controller. It created the Nacon Revolution Pro, which went on to sell over 380,000 units in Europe.
---
Despite competing products from various other third-party peripheral manufacturers, Nacon now considers it the de-facto creator of PS4's upper-end controller range. A visit to the organisation's headquarters in Lille – situated as part of a non-descript industrial park just outside of the city centre – reveals a company with lofty ambitions anchored by humble origins. Large banners for some of its products overhang a roomy lobby, with ping-pong tables and gaming memorabilia.
Despite the space being shared by parent company BigBen Interactive, there's a clear respect for greater gaming culture in this airy entranceway. Nestled among an in-door forestry are two Lara Croft statues; one resembling the cartoonish Croft of the PSone days, while the other reflects her more Earthly reincarnation. Solid Snake lingers behind one wall, while Xbox's Master Chief guards a large office towards the rear of the room.
Upstairs we're taken to a showroom, where all of the company's products are proudly on display. There's plenty of PlayStation paraphernalia in here; from beanbags marked with the brand's famous face button symbols to rugs and carpets adorning the system's iconic logo. On a long conference table in the centre of the room, the firm's laid out all of its controllers to date, some disassembled so it can reveal the care and attention that goes into each and every one.
---
Nacon has released five DualShock 4 alternatives to date, and it's managed to assemble its line in such a way that it crosses four different market tiers. Its casual controller, the cheap and cheerful Wired Compact, is its best-seller; it's a non-descript device with symmetrical sticks that ships in a number of different colours for less than £25. Despite its simplicity it's moved over 1.1 million units to date, and accounts for half of the organisation's 2.2 million units sold.
But while the company's clearly proud of the controller, it's the more expensive units that it wants to talk to us about. Its mid-core controller, the Asymmetrical Wireless Controller, is targeting Xbox owners with its stick placement. It's a little more expensive than the more basic Compact Controller, but retails for roughly the same price as the DualShock 4, and is a good option for those who can't deal with Sony's default layout.
Stick positioning is a big topic of conversation during our visit. The company's two premium controllers – the brand new Revolution Pro 3 and more established Unlimited – both have been designed with input from eSports players, and neither use symmetrical sticks. Speaking with the organisation, it's immediately obvious that this is a big headache for the firm; roughly 50 per cent of players prefer the Xbox placement, while the remaining 50 per cent favour Sony's positioning.
It's mooted that the solution moving forwards may be to offer a controller where the components can easily be swapped around, but it's difficult to maintain the same high level of quality while delivering such customisability. It may be that the line is merely broadened to account for all different tastes, but for now it seems that the organisation will continue to utilise asymmetrical sticks for its line of eSports flavoured handsets.
---
We're not in Lille to feast on macaroons and debate the merits of stick placement, though: Nacon wants to pull back the curtain and show us just how much time and effort goes into designing one of its peripherals. It's got multiple presentations lined up, with chief designers and engineers on-hand to give us insight into its day-to-day job. The goal is a simple one: to deliver the highest quality PS4 controllers for the best possible prices.
Of course, this ambition comes with its own set of pitfalls: there are patents that the organisation needs to avoid – Microsoft, for example, has magnetic component swapping on lock with its Xbox Elite Controller – while the products must be manufacturable by its Chinese partner. The company shows us one particularly artistic 3D printed concept, similar in style to the PlayStation 3's infamous boomerang. "It looks beautiful," we're told, "but how do we fit any of the electronics inside?"
Designing controllers, it seems, is one of constant compromise. The devices must be ergonomic, and we're given a little insight into just how granular the designs get as we're shown a sketch with different handle angles mooted. They must also be feasible; there are rumble motors to include, batteries, and circuit boards which must squeeze inside the chassis. Considering that the company's targeting pro players, it's also got to ensure that there's no input lag or anything nasty like that.
Iteration is essential to its ambition: every part of every controller is fine-tuned. With the Pro Revolution Controller line in particular – a series now in its third instalment – the company has been looking to user feedback in order to get everything just right. There are some issues that it simply can't solve – Sony simply won't allow it to power-up the PS4 through the controller itself, for example, even though it's technically possible – but other things like button size can be rectified.
The pressure is high when designing a new peripheral; make one mistake, and you're potentially writing off huge sums of money should a defective unit make its way to manufacturing. This means that every single stage of the process is approached meticulously, with giant automated machines erected in order to test out the durability of the face buttons and analogue sticks. Quality is high across the company's entire line, but no product is 100 per cent perfect, of course.
Perhaps the most interesting part of the presentation comes when the company shows us a series of mood boards, which it's used to influence its designs. These pictorial montages collate objects from the real-world, spanning everything from wine glasses to Formula 1 cars. All of these come together to create a tone, which the organisation then uses to influence every aspect of a controller's design, from colour to materials all the way through to shapes and sizes.
---
Nacon may only be five years old, but the subsidiary has enjoyed a meteoric rise. While it will remain under the BigBen Interactive umbrella, it will eventually become the label which will house all of the organisation's gaming endeavours. This includes studios such as GreedFall developer Spiders, which the company acquired earlier in the year. The European firm is also expanding, with its peripherals now officially licensed in Japan, and offices being established in Asia.
Speaking with the firm, it's obvious that its ambition is growing in unison with the organisation itself. It's got some compelling projects in the pipeline, some of which it told us about in a purely off-the-record capacity. Prior to visiting the company we were eager to know whether it was worried about Sony eventually manufacturing its own pro controller and stepping on its toes, but it turns out that the Japanese giant's lack of foresight has proven this plucky French firm's big break.
---
This article is based on a trip to Lille, France. Nacon covered accommodation and travel expenses.