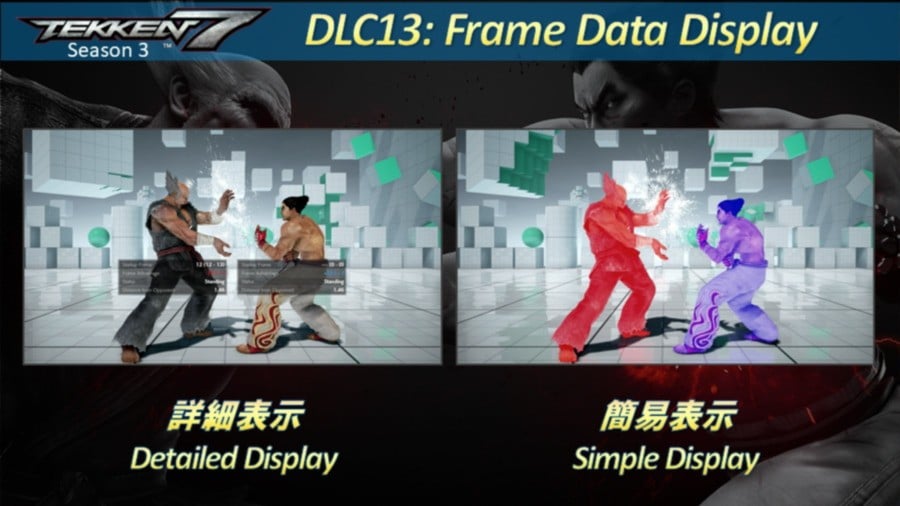 Despite its undeniable popularity as a fighting game, Tekken 7 has never provided players with much in the way of a tutorial or any in-depth training modes. In particular, a lot of people have been asking for in-game frame data since launch, but the development team -- more specifically, Tekken godfather Katsuhiro Harada -- has always been against the idea.
Frame data, for those who don't know, is a catch-all term for the mathematics behind attacks in fighting games. Knowing exactly how safe specific moves are is key to competitive play, and that's why many players have wanted frame data to be readily available in Tekken 7 -- especially since it's a feature that's appeared in numerous other fighting games this generation.
The good news is that, after all this time, frame data is finally being added to Tekken 7 as Season 3 DLC this winter (a standalone price is yet to be decided, says Bandai Namco). It'll let players toggle all of the necessary information in a bunch of different modes, including casual online matches. What's more, the update will include 'Punishment Training' and 'Sample Combo' modes, which should help players wrap their heads around the slightly more advanced teachings of Tekken 7.
But wait, there's more. Also being added are new customisation items so that you can make your characters look like Harada. And no, this isn't a joke.
Are you a big Tekken 7 fan? Is this the news you've been waiting for? Punish that sh*t in the comments section below.
[source avoidingthepuddle.com]