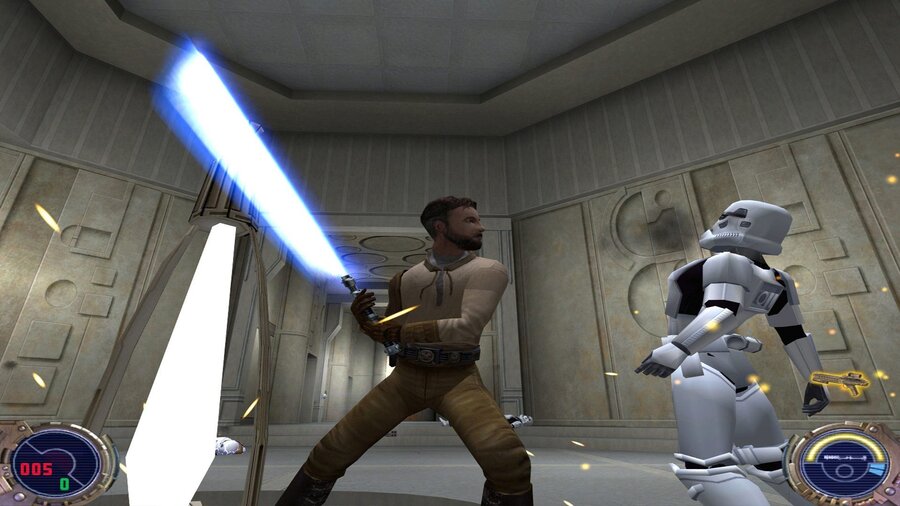 Update (25/9/19): The case has been reopened due to a new development. Developer Aspyr has heard the outcry for an option to invert the controls in Jedi Outcast, and is currently working on a patch. "We hear you regarding adding aim inversion to the game," reads a new statement on the matter. "We're working on an update now, and it should be available on both Nintendo Switch and Playstation 4 in the coming weeks." The final verdict on the studio's sentence has hereby been suspended. As the old adage goes: guilty until not guilty anymore.
---
Original Story: Right, forget about tonight's State of Play livestream, put your hopes and dreams of the PlayStation 5 to bed, and make sure you're sitting down for this one because we've got a criminal case on our hands. The just-released Star Wars Jedi Knight II: Jedi Outcast doesn't allow you to invert aiming along the Y-Axis or the X-Axis on PlayStation 4.
Quiet you lot in the public gallery, this is serious business. While the thought of even wanting to enable this option in the first place is a bit of an offence, the fact that Aspyr Media overlooked its inclusion has some ResetEra users feeling a little bit upset. We're unhappy about the title's ludicrously long name, but apparently, some people think choosing to control the camera incorrectly is a more important case for the supreme court.
Nevertheless, we're here to deliver our verdict, and the dev team should indeed patch in the option for those who need it. Case closed, so leave your thoughts on our verdict in the comments below.
[source resetera.com]