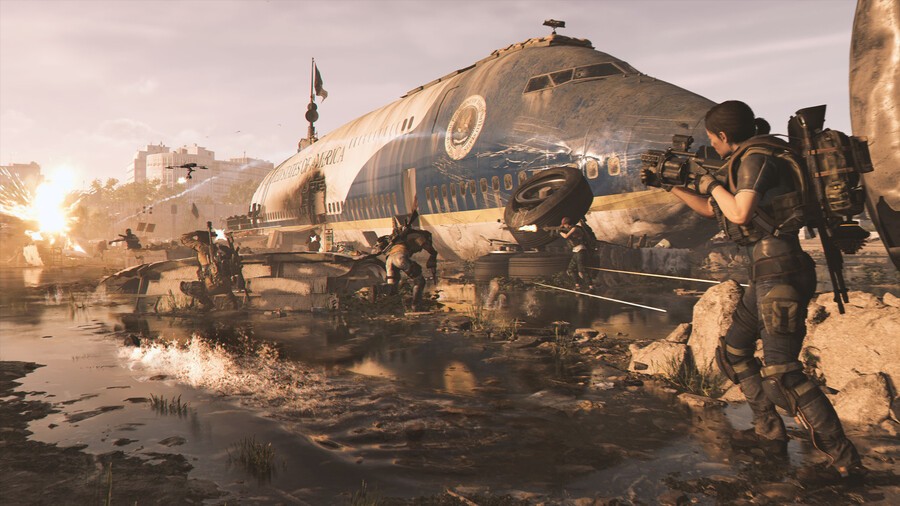 Set to arrive this month at some point, the Gunner is The Division 2's all-new player specialisation -- essentially a a new character class. Alongside the game's three existing specialisations -- the Survivalist, Demolitionist, and Sharpshooter -- the Gunner will supposedly offer something unique and different.
As hinted by developer Massive Entertainment a few weeks back, the Gunner comes equipped with a minigun as their specialised weapon. When activated, Gunners can soak up damage based on how much special ammo they have, all while raining bullets on enemies. The official blog says that Gunners are able to "easily tank incoming damage for short periods of time". Is this the game's first true tank class?
There are a couple of drawbacks to unleashing the minigun, however, for the sake of balance. Once it's out, you won't be able to take cover, vault, or roll. This basically means that you'll be painting yourself as the battlefield's biggest target, so hopefully the specialisation's tanking ability is up to the task.
When the Gunner launches this month, those who own The Division 2's Year 1 Pass will gain access to it instantly. Those who don't will have to complete a Special Field Research assignment, which involves completing five stages of in-game challenges. You can still attempt these challenges if you have the pass, which will earn your some exclusive cosmetic items.
Does the Gunner sound like your cup of tea? Suppress your enemies in the comments section below.
[source tomclancy-thedivision.ubisoft.com]