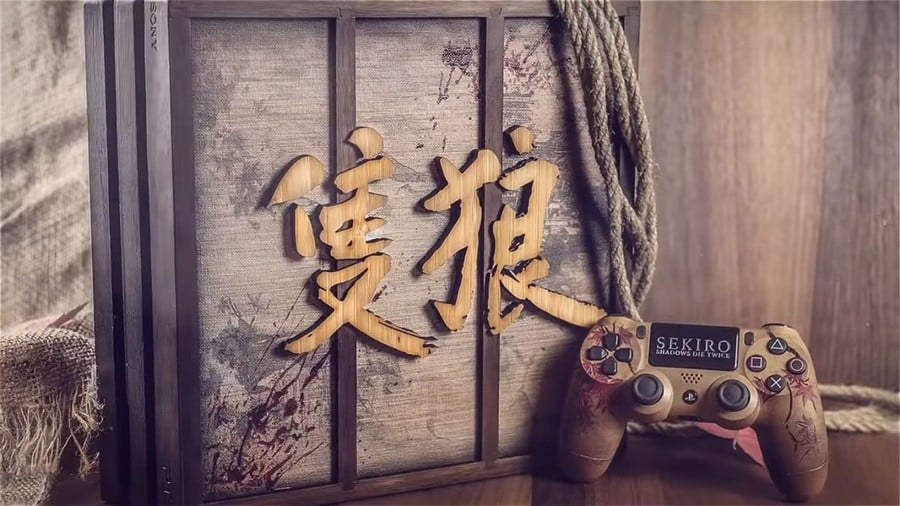 A good custom console is always a treat, and we've had some cracking special edition PS4 and PS4 Pro bundles sporting all sorts of cool colours and designs. It looks as though the latest game to get a limited edition custom console is From Software's Sekiro: Shadows Die Twice, although it's a bit unusual.
Well, the machine itself looks great, with a wooden look and raised details giving it a very impressive and unique style that's true to the game. It's everything else that's unusual. Currently, the only mention of the console we can find online is a European retailer known as Game Mania. The shop shows the limited edition machine on the game's pre-order page, and details how you can get your hands on it. Basically, when you pre-order Sekiro on PlayStation 4, you'll get a free pair of chopsticks, and if your pair is coloured gold, you've won the special PS4 Pro.
We can't find any official word from Activision or From Software on the console itself. What's more, the retailer only operates in Belgium and the Netherlands, so the competition is only open to these areas. It doesn't appear the console is available for purchase, either.
As we said, it's just a bit unusual. It's a cool looking machine, but the chances of getting one at this point seem very slim. What do you think of this Sekiro: Shadows Die Twice limited edition PS4 Pro console, and the odd circumstances surrounding it? Move to Belgium in the comments below.
[source dualshockers.com, via gamemania.be]