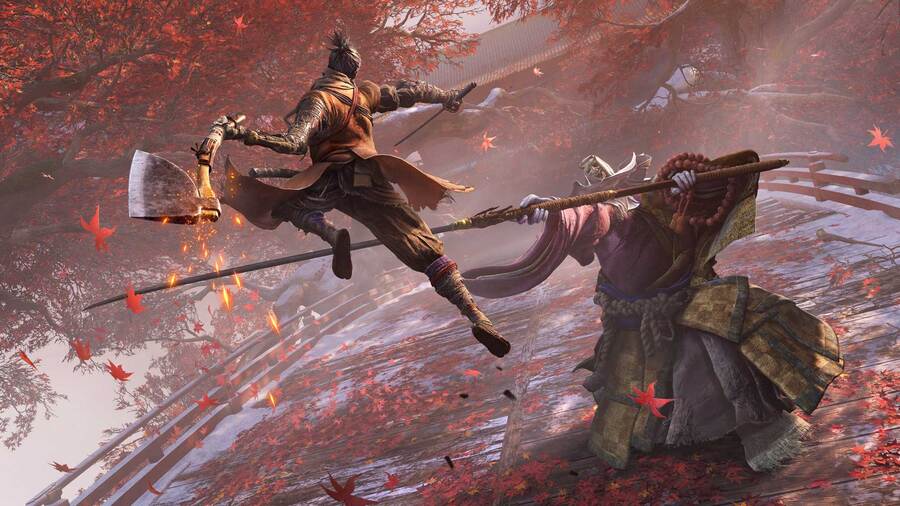 The latest game from, er, From Software is Sekiro: Shadows Die Twice, and it's looking like another excellent, hardcore adventure. The action title ditches many of the RPG trappings found in the studio's previous games, but that's not to say it'll be any easier. Sekiro looks to be a typically challenging game in its own right. Below, we'll take you through all the key questions you might have between now and release.
What is the release date for Sekiro: Shadows Die Twice?
Sekiro will launch on PlayStation 4 on 22nd March 2019. It's a simultaneous release, so it's due out the same day everywhere.
Are there any pre-order bonuses for Sekiro: Shadows Die Twice?
As with most high profile releases, there are one or two small bonuses for pre-ordering Sekiro, either physically or digitally. On the PlayStation Store, pre-ordering the game will get you two PS4 dynamic themes. From select retailers, physical pre-orders of Sekiro will come with a steelbook case, a digital artbook, and the soundtrack.
Is there a Sekiro: Shadows Die Twice collector's edition?
As you might've guessed, there is. Alongside the game itself, the collector's edition of Sekiro comes with a steelbook case, a 7" statue, a physical map, replica game coins, digital soundtrack, and collector's artbook.
When will Sekiro: Shadows Die Twice's pre-load begin?
Pre-loading is a feature of PS4 digital pre-orders whereby you can download the game before launch in order to have it installed and ready in time. The pre-load feature should activate a couple of days before release.
Is there a day one patch for Sekiro: Shadows Die Twice?
Yes. We're not sure what it includes, but it's probably best to get it downloaded and installed to ensure the best experience. It's approximately 3.5GB in size.
How big is the file size for Sekiro: Shadows Die Twice?
The game will take up roughly 16GB of space on your PS4, including the aforementioned day one patch.
What is the story in Sekiro: Shadows Die Twice?
We don't know too much about the story other than a brief setup. As a young boy in Sengoku period Japan, the player character is taken under the wing of a shinobi called the Owl after a bloody battle. The Owl teaches him to be a warrior, and he becomes known as the Wolf. He's tasked with protecting a young lord, but is defeated by a samurai who dismembers him and takes the child. For most of the game, you'll play as the Wolf with a shinobi prosthetic as you seek to redeem him and find the lord.
Is Sekiro: Shadows Die Twice a Dark Souls game?
The short answer is no. Sekiro may look like Dark Souls or Bloodborne on the surface, but there are numerous gameplay changes that make it quite different to what you might have already played. The combat, the way you upgrade your character, and much more will be different in Sekiro. Click here to view our guide on the similarities and differences between Sekiro and Dark Souls.
Is there online multiplayer in Sekiro: Shadows Die Twice?
Unlike From's previous action games, Sekiro won't feature any online elements or multiplayer. This is a single player only action adventure, so don't expect to see obscure messages on the floor, or be invaded by other players.
Will there be microtransactions and loot boxes in Sekiro: Shadows Die Twice?
Nope. The fact that Activision is publishing the game had some people worried, but it's been confirmed that there will not be any in-game purchases or loot boxes in Sekiro.
Will there be any DLC for Sekiro: Shadows Die Twice?
We don't see why not. Bloodborne and the Dark Souls games all had DLC of some form or another, so it's not out of the question that From Software is planning something similar for Sekiro. We'll have to wait and see on this one.
Is there a Sekiro: Shadows Die Twice PS4 console bundle?
An extremely limited custom PS4 Pro console has surfaced in Europe once or twice, but nothing has been officially announced regarding a Sekiro special edition machine. While some retailers may run their own deals that bundle the game in with the purchase of a console, we don't believe there will be a special, custom PS4 readily available to buy.
---
Do you have any more questions about Sekiro: Shadows Die Twice? Are you excited for From Software's latest game? Don't let your guard down in the comments below.