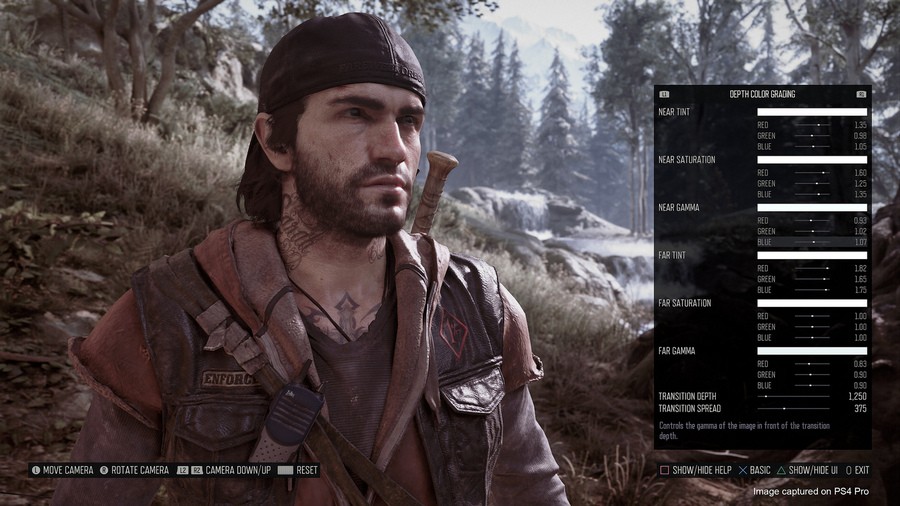 PlayStation 4 exclusives sure love their photo modes, don't they? Next in line for release, Days Gone will naturally have its own screenshot-snapping feature, and it's especially in-depth.
Detailed on the PlayStation Blog, it sounds pretty impressive. "From the Characters panel, users can toggle character and bike visibility as well as select from a library of facial expressions. The Frames & Presets panel hosts nine custom frames, several black frame shapes and sizes, Days Gone logo options, and 18 filter presets. The Lens panel lets players manipulate Field of View, Focal Distance, Aperture, and Film Grain." That's already a lot of options.
But wait, there's more! "The pièce de résistance is our Advanced Mode where users can fine-tune their final shots by manipulating 55 different settings across Bloom, Color Grading, and Color Depth Grading panels. We worked closely with members of our Art team, including some Hollywood veterans, to help define the essential properties to capture all the power and flexibility that comes with professional photo editing software. This is the very same interface our artists used to author the filter presets that ship with the game." Wow, it looks like the developer really went all-in on this.
We love a good photo mode here at Push Square, but are you an avid virtual photographer? Get snapping in the comments section below.
[source blog.us.playstation.com]