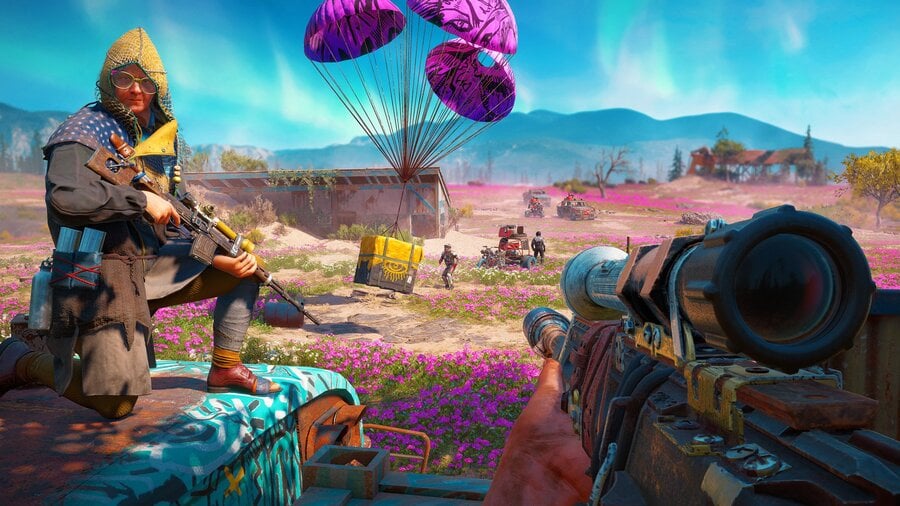 The weekend has arrived once more, which means it's time to leave your troubles at the door and play some games. Hopefully! There have been lots of new releases lately so you should have no shortage of things to play – here's everything that's keeping us busy.
Stephen Tailby, Senior Staff Writer
I'm going to be getting down and dirty with the sequel to Codemasters' tough-as-nails rally sim, DiRT Rally 2.0. I won't be using a steering wheel peripheral, so feel free to disregard my review at the start of next week.
Allen Reynolds, Reviewer
This week I've found myself reminiscing about the good old days I've had with Resident Evil, and in the wake of multiple Resident Evil 2 Remake playthroughs I am again knee deep in Eastern Europe as Agent Kennedy once more. Maybe this time Ashley will be a little more helpful. Maybe not.
Annette Magaña, Reviewer
I am actually going to try out for the first time the Tales of series, starting off by dusting out my PS3 with Tales of Xillia and later trying out Tales of Vesperia. The latter which I think got unfortunately lost with Kingdom Hearts 3 hype nearing around the corner. Anyways, I am quite enjoying Tales of Xillia and it pains me to say way more than KH3. This backlog is just getting bigger and bigger.
Christian Kobza, Reviewer
Having finished Far Cry: New Dawn already, I'll be focused on finishing off that Kingdom Hearts III Platinum Trophy this weekend. Just some Gummi Ship and synthesis stuff to go!
Graham Banas, Reviewer
Metro: Exodus is pretty much my most anticipated game of the entire year, so I'm going to be spending a lot of time with that one. But I fully expect I'll end up playing some Black Ops 4 and Apex Legends with friends along the way, too. So many great games of late!
Jade Sayers, Reviewer
I just bought Tales of Vesperia, so I'll be putting in the hours on that this weekend. I'm fairly new to Tales games, and I've heard good things about this particular one so I'm excited to get stuck in. I'll also be switching over to The Nonary Games to finish my playthrough of 999 when the puzzle mood strikes!
John McCormick, Reviewer
I'm still working my way through the games that Santa brought me back in December, and I've just finished Kingdom Hearts Final Mix - the third time I've played Kingdom Hearts. Honestly, I still don't understand it. Anyway, I'm now playing it again because I'm insane and I want the Platinum.
Liam Croft, Reviewer
I'll be playing on the "other" console this weekend as I plow through Crackdown 3 before ANTHEM releases. I'll be sure to get some Apex Legends in at some point, too.
Lloyd Coombes, Reviewer
This weekend I'll be skulking my way through Russia in Metro: Exodus and doing my best not to get myself eaten by any of its creepy inhabitants.
Rebecca Stow, Reviewer
Friday the 15th was a day that left us gamers spoilt for choice! Having already reviewed Far Cry: New Dawn I decided to pick up Metro: Exodus. However the lure of the post-apocalyptic Hope County was too strong and I spent my evening frolicking around a neon wasteland with my wild boar sidekick.
---
Crikey, this is a loaded WAYP, isn't it? Okay, so this is everything that we're been playing, but what about you? As always, let us know in the comments section below.