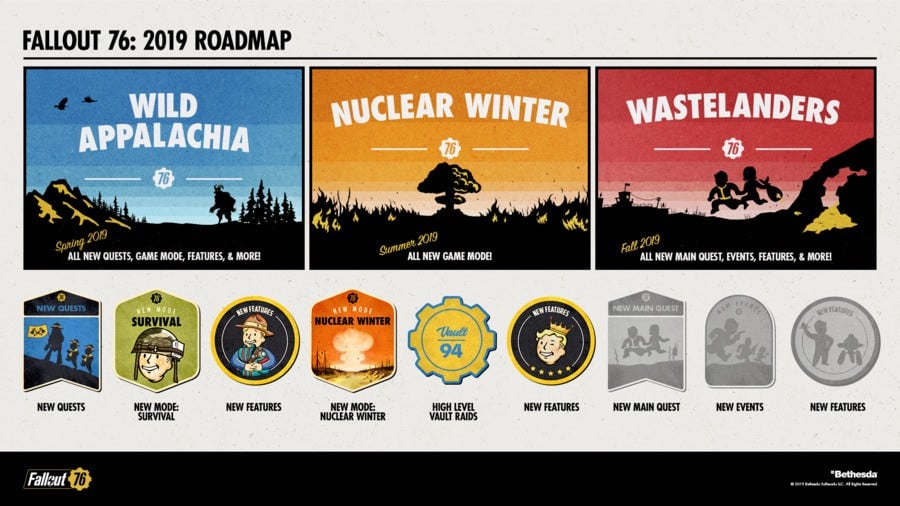 We went back to Fallout 76 not too long ago just to see how it was holding up, and do you know what we found? Yep, it's still a technical mess on PS4. As the game's latest press release states, the title is now 100 days old, and it remains an immensely buggy, and in some cases borderline broken open world title on Sony's system. It wasn't good enough at launch, it wasn't good enough after Bethesda issued a "performance enhancing" patch, and it's certainly not good enough now.
We're only bringing this up because Bethesda has outlined three big updates coming to Fallout 76 in 2019. The first, Wild Appalachia, is due this Spring. It adds a new survival mode, as well as new quests, features, and seasonal events. Two similarly structured updates, Nuclear Winter and Wastelanders, are set to arrive in Summer and Autumn, respectively.
It's nice that Fallout 76 is being supported throughout the year, but we find it hard to care when the PS4 version is still in such a shoddy state. We'd ask Bethesda to fix its base game before it starts piling more content on top of it, but given that we've been waiting on any kind of meaningful fixes for over three months, we're assuming that it simply can't be done.
Look, if you enjoy Fallout 76, then that's great -- we're not going to tell you what you should and shouldn't play. But from our perspective, we can't possibly sit and write an objective news story about the game's upcoming content when we know that the base release is still fit to burst with bugs, broken quests, and awful frame rate issues.
Maybe Bethesda can get things running smoothly before all of this stuff hits, but we're not getting our hopes up.
[source fallout.bethesda.net]