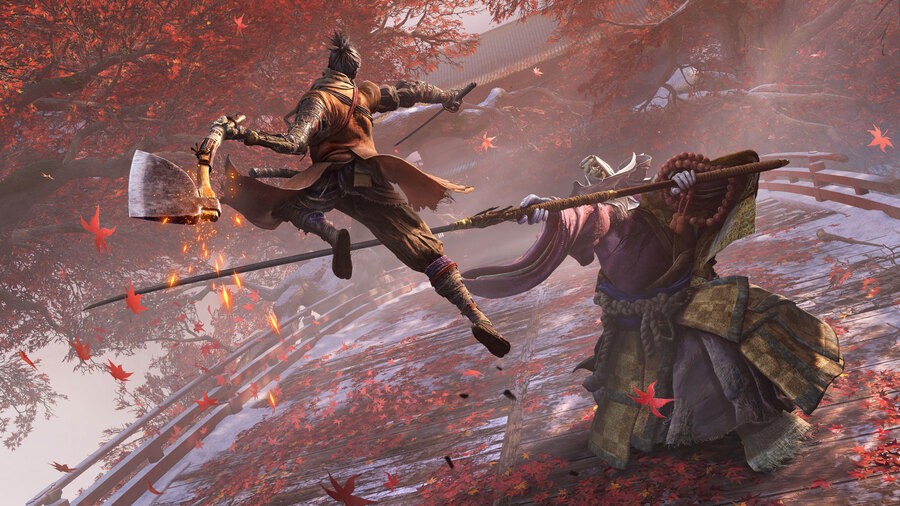 For many, the main attraction in any of FromSoftware's action RPGs is the selection of boss encounters. They serve up the biggest challenges in their respective games, and act as milestones for players to mark their progress. It's fair to say that FromSoft has become pretty adept at designing tough and intimidating bosses for us to conquer, but it sounds like the studio is taking a slightly different approach for Sekiro: Shadows Die Twice.
Once again speaking with Game Informer, the main change comes from the fact that the player character isn't as customisable as in Dark Souls or Bloodborne. All players will control the same shinobi, albeit perhaps with different abilities, which allows the developer to design the bosses around one archetype, rather than try to accommodate for all possibilities.
Here's what From's marketing and community manager, Yasuhiro Kitao, had to say: "Sekrio, with a fixed protagonist, allows us to hone in on that single-player experience, and tweak the boss battles and the encounters to accommodate for all of these tools at the shinobi's disposal. So we want players to eventually use every aspect of their arsenal and really use their cunning, and use every aspect of their skillset, to take on these really challenging foes."
It seems like the studio is providing you with lots more possiblities in traversal and combat, but is designing its bosses and other encounters to test you on them. Whether this means a boss that forces you to leap around an arena, or a boss that restricts your use of a specific skill, the challenge won't just come from a boss' sheer strength this time around. Even the new posture mechanic sounds like it'll differentiate bosses in Sekiro from other titles, requiring you to stay on the offensive to break their stance before delivering a fatal blow.
You can read more on Sekiro's boss fights through here. Do you like the sound of all this in Sekiro? Maintain good posture in the comments below.
[source gameinformer.com]