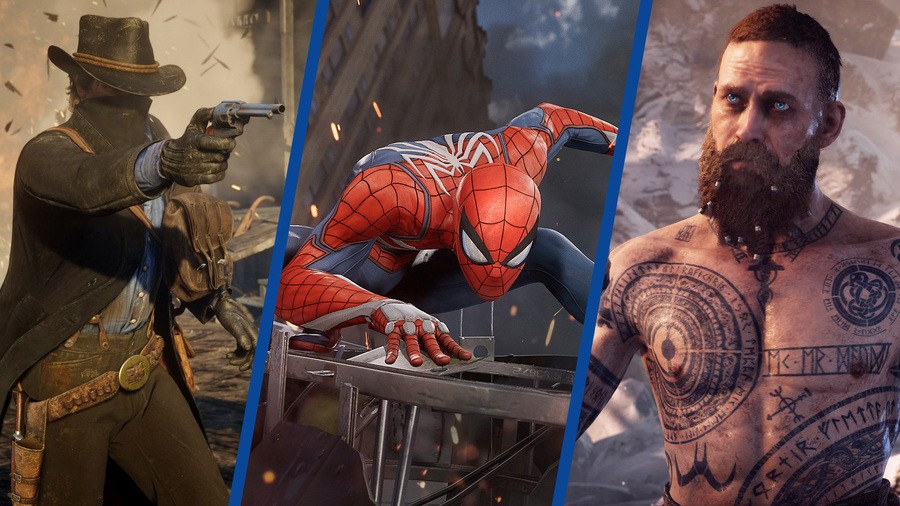 The votes are in, the poll is closed, and it's time to reveal your top 10 PlayStation games of 2018. Unlike our staff Game of the Year and our forum Game of the Year, our reader Game of the Year is determined by public vote. Earlier this week, we asked you to take part in a poll that included 50 top-rated PlayStation titles -- the same 50 that we, the Push Square staff, voted on at the end of last year.
And so here we are with the top 10. Over 2,500 votes were counted all in all. Without further ado, let's find out what your Game of the Year 2018 is.
10. Dragon Quest XI: Echoes of an Elusive Age - 54 votes (2%)
9. Call of Duty: Black Ops 4 - 60 votes (2%)
8. Shadow of the Tomb Raider - 61 votes (2%)
7. Monster Hunter: World - 62 votes (2%)
6. Astro Bot Rescue Mission - 68 votes (3%)
5. Assassin's Creed Odyssey - 130 votes (5%)
A game that, much to this particular author's disappointment, didn't even make our staff top 10, Assassin's Creed Odyssey makes your top 5. Ubisoft's most recent open worlder is a joy to be a part of, providing an absolutely gigantic map that's packed with stuff to do. Doubling down on RPG mechanics, Odyssey is a more involved adventure than previous games, but it still flaunts that blockbuster appeal thanks to picturesque visuals and some seriously addictive gameplay design.
4. Detroit: Become Human - 145 votes (6%)
David Cage's wacky narrative-based adventures aren't to everyone's taste, but many of you clearly enjoyed Quantic Dream's latest. Settling in at number 4 on your list, Detroit: Become Human tells a memorable android-based tale, one that's heavy on emotion while also pushing plenty of action. With the player steering the story through their decisions and the plot split between three main characters, the developer's done a fantastic job of ensuring that the game's branching paths are varied and interesting.
3. Red Dead Redemption 2 - 419 votes (17%)
Beating out Detroit: Become Human by almost 300 votes, Red Dead Redemption 2 is your third Game of the Year choice. Rockstar's open world Western needs no introduction -- it's pretty much been the game on everyone's lips since it launched back in October, and for good reason. Story-wise, this is one of the most gripping tales you'll find in gaming. Superb characters are backed by excellent writing and expertly paced scenarios, while the open world itself sets the bar with how dynamic and atmospheric it is. We called it a masterpiece, and we like to think that you lot agree.
2. Marvel's Spider-Man - 427 votes (17%)
Pipping Red Dead Redemption 2 to second place by just 8 votes, Marvel's Spider-Man has proved to be an incredibly popular pick for Game of the Year. Peter Parker's never been better portrayed in gaming, with Insomniac's excellent sandbox adventure solidifying itself as the best Spider-Man adaptation to ever grace a video game console. Thanks to joyous web-swinging, a thoroughly engaging story, and bombastic action, Marvel's Spider-Man will undoubtedly be remembered by many as a damn good time.
1. God of War - 548 votes (22%)
Well what do you know, we actually agree on something. God of War topped both our staff Game of the Year vote and our forum Game of the Year vote, and now you lot have voted it to be your own Game of the Year. If that's not a win for Sony Santa Monica, then we don't know what is.
Outpacing Spider-Man by an impressive 121 votes, God of War is your Game of the Year for 2018. The PS4 exclusive launched in the first half of the year, making us wonder if it would eventually be buried beneath later blockbusters, but the overall quality of Kratos' rebirth was enough to keep it fresh in the minds of many.
A masterful action adventure, God of War is a brilliant game from start to finish. Superb acting and direction sell Kratos' journey in a way that, honestly, we didn't think was possible, and the whole thing's punctuated by stints of outstanding combat. A worthy Game of the Year winner on three fronts? We reckon so.
---
And there you have it, God of War wins again. But are you happy with the results? You can't vote again, but you can let your voice be heard in the comments section below.