Alongside the usual top 10 countdown that culminates in the crowning of Push Square's game of the year, we've decided to expand our deliberations this year. On a select couple of days we will be celebrating different types of games, from smaller indie titles to those that push the boundaries of virtual reality. Today, we're celebrating narrative. These are the games that we believe told the best stories in 2018.
For those that strive for the LGBTQA community to share equality with people that consider themselves straight, The Missing: J.J. Macfield and the Island of Memories' story is perhaps the most important of 2018. A love letter to transgenderism, Swery65's latest is about figuring out who you really are as a person. What starts out as a simple search and rescue quickly develops into so much more, and it's the text conversations uncovered through gameplay that hide the biggest discoveries.
One such chat log is between J.J. and her mother, a woman who is piling pressure onto her daughter thanks to a religious mentality that is pumping suspicion into the relationships J.J. holds with other people. For our lead character, this leads to depression, self-harm, and an eventual suicide attempt. The game respectfully provides commentary on such topics, but it's the ending that really knocked our socks off. One small detail subverts the entire plot, and that's gender. The Missing is a story interwoven with beauty, as well as a celebration of what it means to be human.
Despite the amount of vitriol thrown at David Cage every time one of his projects comes to fruition, there's no doubting how fascinating the stories he crafts are. Alongside the likes of Fahrenheit, Heavy Rain, and Beyond: Two Souls, Detroit: Become Human is another major success for narrative-focused developer Quantic Dream with a plot that centres on the uprising of androids as they ditch their living and breathing mentors in an effort for equal rights.
As characters Kara, Connor, and Markus, your choices will shape the success or failure of the protests: former housekeeper Kara aids in the protection of a little girl named Alice before eventually joining the revolution; Connor actively attempts to stop the demonstrations as sidekick to police officer Hank Anderson, and; Markus is the leader of it all. The three characters cross paths with one another repeatedly, but they're not always on the same side. It's a fascinating sequence of events to witness when you escape police detection as Kara, to then be searching for the andoid as Connor minutes later. Detroit: Become Human doesn't tell the perfect story, but what it attempts is ambitious, largely successful, and most of all, captivating.
Red Dead Redemption 2 is more than just a story, it's a theme. The Van der Linde gang wants nothing more than to just keep on surviving as the decline of the Wild West brings with it more and more hardships for the group of outlaws, and with government officials on their tail, confrontation is all but impossible to avoid. As lead character Arthur Morgan, you'll do anything and everything to keep your people safe and serve gang leader Dutch, but there comes a point where you also need to start looking out for yourself.
Red Dead Redemption 2 is a story about failure. It's about the unravelling of a gang so consumed by greed that it will go to any lengths to survive, in spite of the America that's evolving around them in an attempt to kill their kind off. But most importantly, it's an utterly phenomenal narrative. What starts off slow eventually concludes with plot points and moments that live long in the memory, while twists along the way kept us guessing at every turn. It's an incredible achievement, but we think there's one tale better.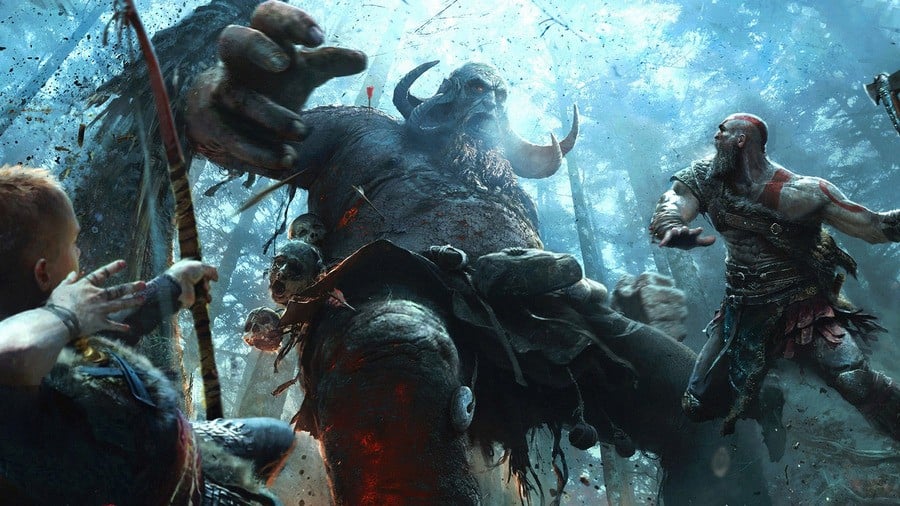 Winning the vote by a single point is God of War. Kratos and Atreus' journey to the highest peak of the nine realms to spread the ashes of a wife and mother is a truly magical and wondrous experience from start to finish. From the moment you pick up the controller, it's clear that love, heartbreak, and family are more of a burden for the Greek god than a blessing. He resents his son Atreus, routinely barking orders at the boy while also keeping a secret from him.
It's this father and son dynamic that drives the plot forward, resulting in an arc that many people have been able to relate to while also aiding in the creation of a fantastic unfolding of events. The trip across Midgard and a whole bunch of realms is simply unforgettable thanks to supporting character Mimir's humour, the ruthless pursuit of antagonist Baldur and his nephews, and the brotherly conflict between Brok and Sindri. Culminating in a mesmerising final battle that leads to eventual revelations about identity and the true nature of those we thought we knew inside out, God of War wears its narrative crown with utter pride.
---
Do you agree with our choices? Is there a different story within 2018 that had you gripped much more? Turn a page and reveal all in the comments below.