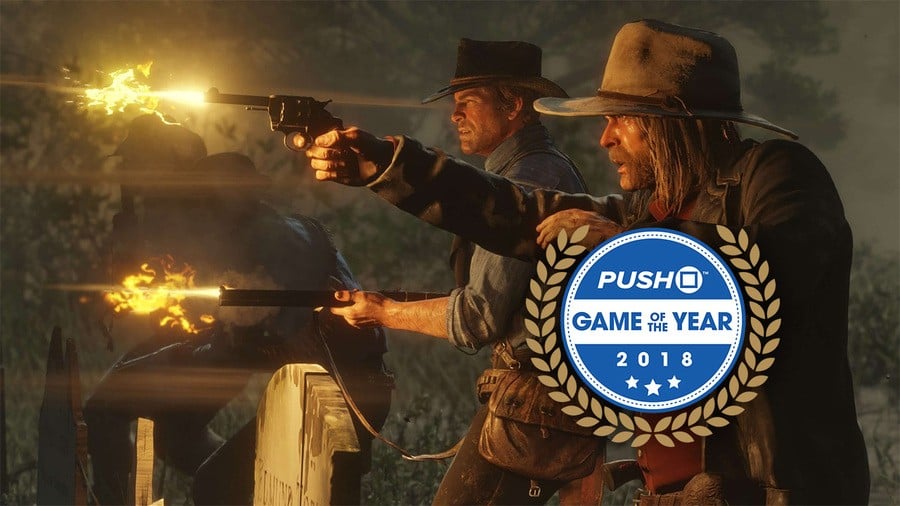 Where do you even start with Red Dead Redemption 2? The game's a modern masterpiece and developer Rockstar's best ever release. Mature storytelling combines with one of, if not the best open world in gaming, and the result is a phenomenal experience from start to finish.
Red Dead Redemption 2 may not be crowned our Game of the Year for 2018, but we reckon Arthur Morgan is the year's greatest character. Flawed and influenced by your in-game actions, Arthur is brilliantly worked throughout the 60 hour campaign. When we saw him in that first reveal trailer, looking rather plain and predictably angry, we would never have thought that he'd end up being such a superb lead.
But it's not just Arthur. Red Dead Redemption 2 arguably has the strongest cast of 2018, with each and every outlaw committing themselves to our memories long after the credits roll. The clashing personalities of the Van der Linde gang keep the tension perfectly poised throughout the entire game, and watching it all unfold makes for one of the best told stories in gaming.
And boy what a story it is. Admittedly things start out slow as Arthur and the group attempt to keep a low profile, but later on, when the sh*t really hits the fan, Red Dead Redemption 2 turns everything to 11 and never looks back. Gripping is an understatement.
Narrative gushing aside, the overall quality of Rockstar's latest alone is enough to put it above most games on the market. This is an open world title that somehow has the polish of a Naughty Dog game. Everything is immaculate, from the countless little animations that most players may never even see to the excellent presentation and direction. Without a doubt, Red Dead 2 is the most cinematic open world game ever made.
Take a step back from the serious stuff and there's still so much to love about Red Dead 2. You can spend hours upon hours just hunting and fishing, or roaming the game's absurdly detailed world. There are so many secrets and strange happenings to discover, and even now, players are still finding things mysteries that have so far gone unsolved.
Red Dead Redemption 2 raises the bar for what we expect from an open world title. Pretty much a perfect prequel, it's got all of the action, all of the drama, and all of the grit that you could want from a game set in late 1800s America. Red Dead Redemption 2 isn't just one of the best releases of 2018, it's one of the most memorable, masterfully crafted games ever made.
---
Is Red Dead Redemption 2 one of your favourite games of 2018? Stand unshaken in the comments section below.