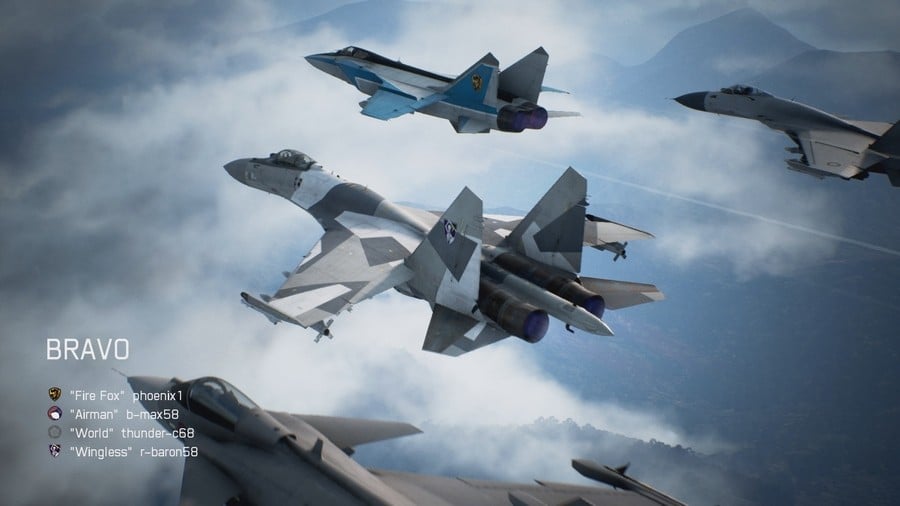 Publisher Bandai Namco has been steadily releasing new trailers and details regarding its upcoming arcade flight sim, Ace Combat 7: Skies Unknown. Taking flight on PS4 in just over a month's time, we're pretty excited about the return of this lovable series, and it seems the single player story won't be the only way to play. As has become the norm, online multiplayer will feature, and Bamco has released the first details on what to expect.
Essentially, there are two modes of play, called Battle Royale and Team Deathmatch. Don't be fooled by the former, however -- you won't be chasing dozens of other pilots in an ever-decreasing circle. It's a regular deathmatch, plain and simple. Both of the 8-player modes have tried and tested rules: the player or team with the highest score wins, and that's the end of it.
The weather effects from the main game will appear in multiplayer to cause some havoc, though. Rain will obscure your view and lightning will distort your HUD, which should make matches a little more varied. Pilots are awarded a star ranking based on performance, from one to three, one being the highest. Those with higher star ratings reward players with a higher score for taking them down, which should create a nice push and pull. Lastly, you'll be able to customise your aircraft with loadouts and unique parts as well as cosmetic skins and emblems.
It all sounds pretty straightforward, but it's a nice addition that'll keep you in the skies a little longer. Do you like the sound of Ace Combat 7's multiplayer? Carpet bomb the comments with your thoughts below.
[source gematsu.com]