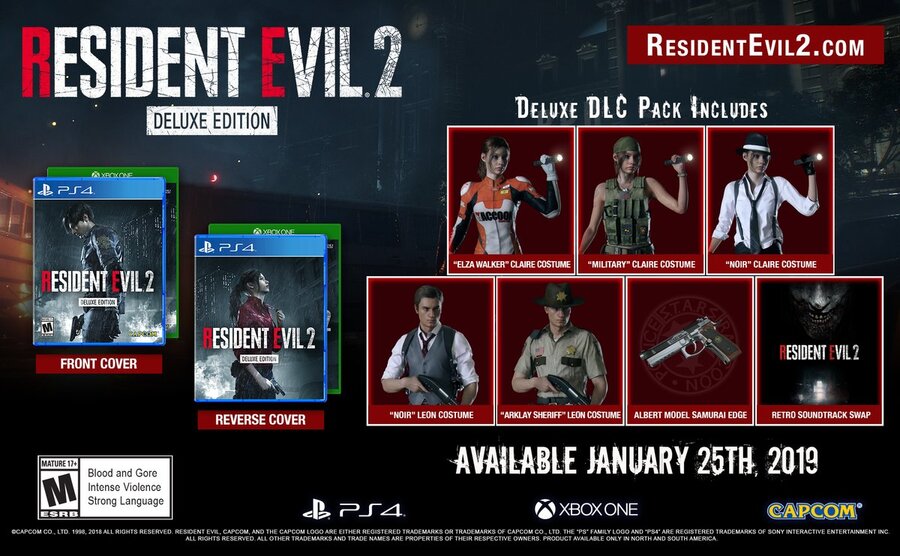 Just go ahead and call them Capgod: they deserve it the run they're on. Capcom's revealed the contents of Resident Evil 2's Deluxe Edition in North America, and it looks damn well worth the $10 premium that the publisher's charging. In addition to a reversible cover, which lets you pick between Leon S. Kennedy and Claire Redfield, the package also bundles some bonus in-game content.
Now the Samurai Edge pistol we can take or leave, but it's the costumes that are the stars of the show. Leon gets a noir costume clearly inspired by The Evil Within, as well as a sheriff's outfit which screams The Walking Dead. Meanwhile, Claire gets her own military and noir threads – but it's the Elza Walker getup which is sure to thrill fans, as the motorcycle racer was planned to be the protagonist in the original version of Resident Evil 2, before development was rebooted.
You also get a soundtrack swap which allows you to use the original score from the PSone title, so a nice selection of extras for the inflated price. Look, we agree that all of these items would have been included in the base version of the game once upon a time, but we still reckon these costumes are worth the ten bucks. The steelbook edition includes some of this content in Europe, but we'll ask Capcom how you can get it all in the Old World.
[source twitter.com]