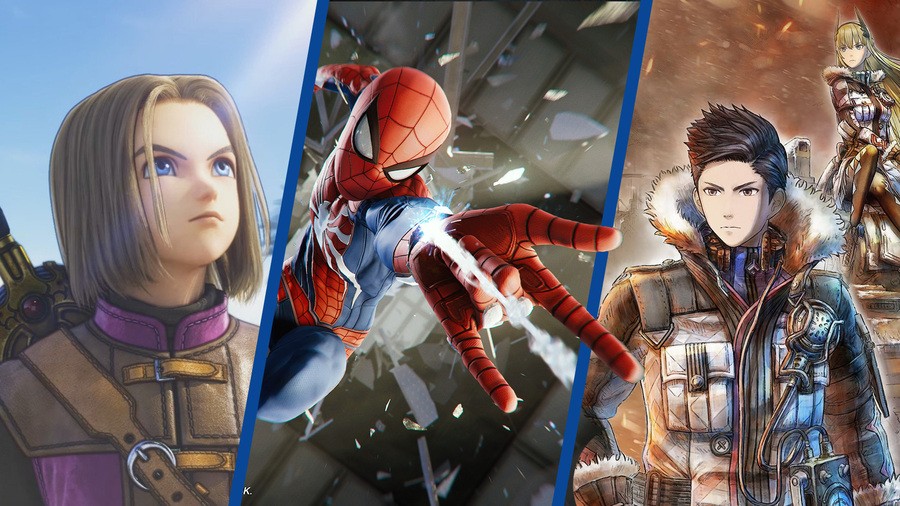 September was a good time to be a PlayStation gamer. All told it was a rather stuffed month, with blockbusters sitting beside more niche titles -- and many of them reviewed especially well. That said, we bet you can already guess which game's won our coveted Game of the Month award. We could lie and tell you that the voting was close, but honesty is the best policy. Just pretend that you don't know and enjoy the article.
Bronze Trophy: FIFA 19
EA Sports has been on a roll for a while with FIFA, banging out great footie sim after great footie sim. FIFA 19 is definitely a case of refinement over innovation, but this is the best that FIFA has felt on the pitch in quite some time. Many subtle tweaks all add up, and it was enough to secure a strong score of 8/10. "More casual FIFA players may not see the difference immediately, but there's a deliberate intricacy to FIFA 19, and it's enough to keep the series in top form," reads our review.
Click here for our full FIFA 19 review
Valkyria Chronicles is back to its old self, and we couldn't be happier. Building on what made the series so good in the first place, reviewer John Cal McCormick reckons Valkyria Chronicles 4 may well be the best entry yet. "This is the game Valkyria Chronicles fans have been waiting for, and one that newcomers to the series should be equally excited for," John wrote, awarding the top tier tactical title a tremendous 9/10.
Click here for our full Valkyria Chronicles 4 review
Straight up, Dragon Quest XI: Echoes of an Elusive Age is the best traditional-style Japanese role-playing game on PS4. Heck, it's probably one of the best RPGs of the last few years. "The game's fit to burst with personality, wit, and charm, superbly localised and meticulously crafted," we wrote in our review, concluding: "It may not push the genre forward, but it's peak Dragon Quest, and it's absolutely one of the best RPGs on PS4." A well deserved 9/10.
Click here for our full Dragon Quest XI: Echoes of an Elusive Age review
Any other month and Dragon Quest XI probably would have nabbed the Platinum Trophy, but with Spidey's best ever outing hitting PS4 and proving to be just about the most popular exclusive of all time, it was hard for the team to to look past the world's favourite masked web-slinger.
Marvel's Spider-Man ran away with our staff vote, racing into first place before any of the other nominees got started. Guides Editor Glen Fox tackled this blockbuster, calling it "the (actually) amazing Spider-Man". Glen gave Spidey a stellar 9/10, writing, "Ultimately, Marvel's Spider-Man is a must-buy, because no matter how you feel about our webbed superhero, this is just an insanely fun game to play, and it's so well put together... Marvel's Spider-Man is one of the best games of 2018 so far, and every PS4 owner will feel proud to own it as part of their library." One again, a worthy Game of the Month winner.
Click here for our full Marvel's Spider-Man review
---
So yeah, September was pretty darn good for games, but what was your favourite? Vote for your own Game of the Month in our poll, and then give us your reasoning in the comments section below.
What was your PlayStation Game of the Month for September 2018? (75 votes)
Dragon Quest XI: Echoes of an Elusive Age
16%
Valkyria Chronicles 4
11%
Please login to vote in this poll.
How we decide our Game of the Month: At the end of each month, the editorial team put together a list of nominees. Nominees must have been released within the month, and they must have been reviewed by Push Square. We select nominees based on our own review scores.
The editorial team then presents this list of nominees to the rest of the Push Square staff. Staff are asked to vote for three games that they think deserve to be crowned Game of the Month. First choice gets 3 points, second choice gets 2 points, and third choice gets 1 point. When voting closes, we tally the results to determine the order of this article. The game with the most points is our Game of the Month.