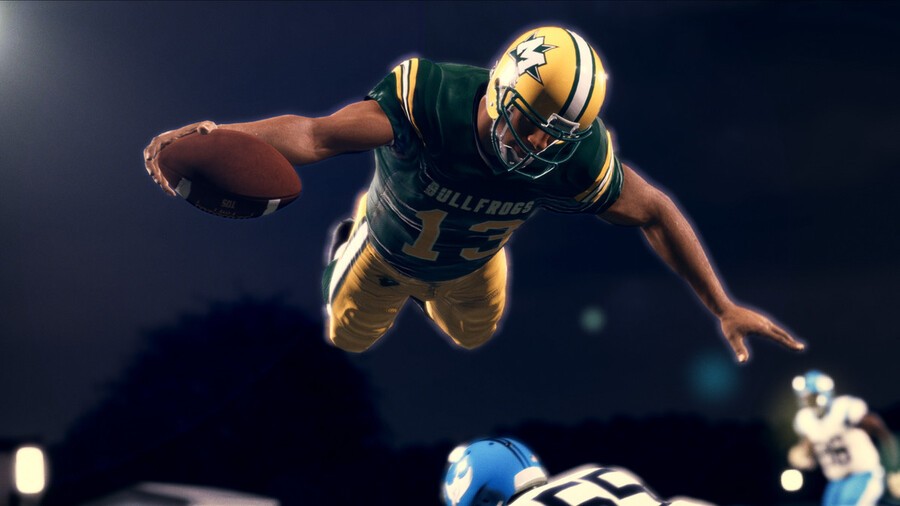 Okay, we've got to talk about Madden NFL's Longshot mode, because I feel like this is flying under the radar. I quite like FIFA's rags-to-riches stories, depicting the rise of Clapham's finest forward Alex Hunter, but I absolutely love Devin Wade and Colt Cruise's pursuit of NFL stardom. Playing through Homecoming, the second instalment in the pair's American football journey, I was flabbergasted at times. I haven't got a clue how developer Tiburon convinced its corporate overlords at EA Sports to allow it to create this crazy kind of direct-to-DVD teen drama, but I'm delighted it did.
The original Longshot was decent enough, primarily focusing on Devin as he entered the eponymous reality TV show in order to secure a spot in the NFL draft. The sequel picks up a few months later, with Wade floundering in the lower-tiers of the Dallas Cowboys' roster, while Colt is back home in Mathis. And it just goes all in from there: Cruise's estranged sister shows up, high school coaches end up in hospital, there's a young quarterback who relies on sign language, and Antonio Brown is hanging around.
It's clichéd in all the right ways, but I actually think it's really well done. The Kissing Booth's Joey King stars as Loretta Cruise, adding depth to Colt's character, who in many ways becomes the protagonist in this particular story. I like it because it shows how ruthless sports can be: it doesn't matter how good or dedicated you are, there's still a chance you won't make the grade. And it's rare for a sports game to show a rookie fail rather than reach the top against all odds.
I also think it's written and acted way better than it has any right to be. It's crass and unsubtle, but there's some laugh-out-loud funny stuff that wouldn't sound out of place on a Disney TV show. Take this little back-and-forth about social media between Colt and Loretta:
And you can tell some real effort has been invested into this. Brandon Gaudin and Charles Davis provide tons of new material for Devin's matches, while fictional high school commentators step in to call the Bullfrogs games. There's even an in-game 1990 Geocities web page which is used to document your progress – and yes it includes gaudy animated GIFs and a working page views counter:
It's just… Weirdly brilliant. In an industry that has embraced games like Life Is Strange, it's really odd to see Madden be the franchise to follow-up on that success. But Longshot is just really good; it's cheesy and cringey in all the best possible ways. There's even an official song, written into the story and performed by Colt Cruise. I mean, this is probably flying under the radar and I understand why – but if you grew up on naff highschool dramas, then you have to give it a try.
---
What are your thoughts on Longshot? Are you looking forward to continuing Devin and Colt's story in Madden NFL 19? Touchdown in the comments section below.