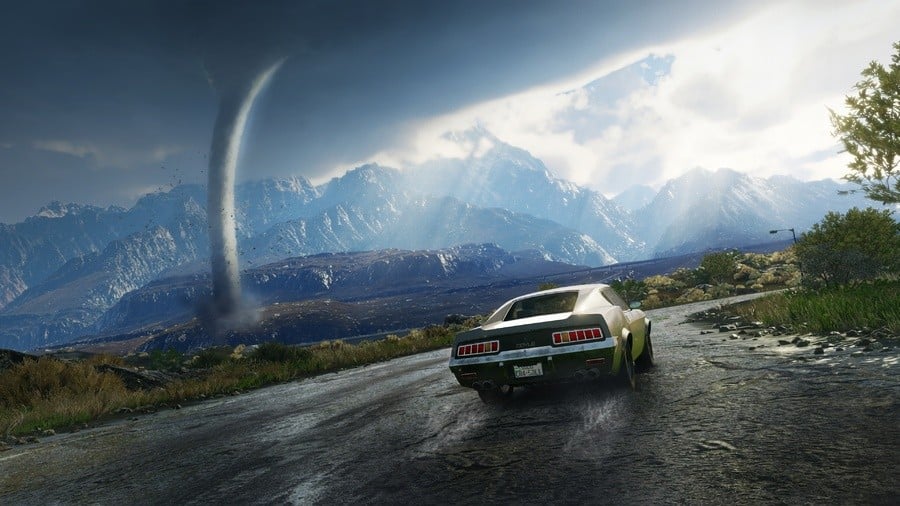 Just Cause 4 is the latest entry in the explosive sandbox franchise that was announced during Microsoft's Xbox One press conference at E3 2018. You'll once again play as Rico Rodriguez, and you'll take the fight to The Black Hand in their home turf. Good luck!
In this guide we'll run you through everything we know about Just Cause 4, including what it is, the release date and platforms, what's new, and the PS4 Pro enhancements if there are any. We'll update this as any new information is revealed too, so keep checking back to learn more.
Just Cause 4 - What It Is
Just Cause 4 is the latest entry in Rico Rodriguez's explosive action saga. In case you've never heard of it, this is an action adventure franchise set in a wide open world. You typically beat a variety of story and side missions by driving and shooting with a variety of different vehicles and weapons.
There's an absolute ton of content in these games, from completing stunts, skydiving, base jumping, parasailing, shooting, and driving a variety of vehicles.
Just Cause 4 - Release Date And Platforms
Just Cause 4 will launch on December 4th, 2018 on PS4, Xbox One, and PC.
Just Cause 4 - What's New
A big new feature of Just Cause 4 is the introduction of Solis, a fictional South American world that features four different biomes to work your way through: jungles, plains, snow, and deserts. Each of these features insane natural disasters, like tornadoes, blizzards, sand storms, and lightning storms.
These natural disasters – while terrifying – will also feature gameplay capabilities. At one point during the trailer we've seen so far, Rico drives a truck into the centre of a tornado to gain height. It's absolutely insane.
Though it's not entirely new, the grappling hook will make a return in this entry too. It has both the booster and retract abilities, and it appears that you can airlift objects, setting the speed at which they lift from the ground.
Rounding up the new features are a bunch of new vehicles, destruction mechanics, a dynamic weather system, and increased draw distances over previous entries in the franchise.
Just Cause 4 - Gameplay
Just Cause is all about causing destruction on a mass scale, and this latest entry aims to bump all of that up a notch. You'll ride jetpacks, hovercraft, trucks, jets, and a wide variety of other land, sea, and air vehicles into combat, and finish off your enemies with literally every weapon you can imagine. Rocket launchers, machine guns, shotguns – literally anything.
Enemies won't just stand around waiting to die though. They'll wear massive armour, deploy shields, and some can even turn almost invisible. They'll also retaliate with guns just as big as yours, so be wary.
Stunts still play a big part, and they're made all the more outrageous with the introduction of natural disasters. Examples seen in the trailer include strapping a rocket to Rico's back and shooting off in a makeshift jetpack, and riding a truck into a tornado to get big air. You can't make this up.
Just Cause 4 - Story
Story typically takes a bit of a backseat in Just Cause, and the same can be said of the latest entry. We do know that you'll take the fight to The Black Hand on home turf though, and you'll learn more about Rico's past – including information about his father's life on Solis.
Just Cause 4 - PS4 Pro Enhancements
Just Cause 4 will feature PS4 Pro Enhancements, though we're not sure exactly what to expect as neither Square Enix or Avalanche has made any announcements yet.
We can't even look at Just Cause 3 for clues, as that didn't feature any PS4 Pro Enhancements.
---
Are you psyched for Just Cause 4? How do you feel about the natural disasters? Let us know in the comments section below.