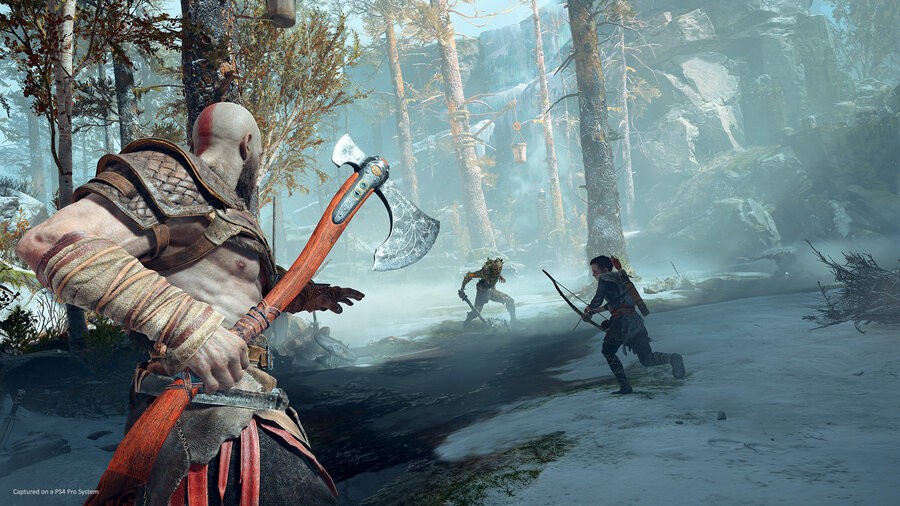 There's only one game on Push Square's lips this week, and it's the outstanding God of War. With the title finally available worldwide, virtually all of us are beginning our adventures in Midgard this weekend. We may as well name this issue 'God of War Edition'.
Robert Ramsey, Deputy Editor
Inevitably, I will be playing God of War this weekend. It is very good.
Stephen Tailby, Senior Staff Writer
I'm still steadily making my way through Bloodborne, but I can't resist playing more God of War. Having put in a good few hours, I'm totally taken by the Ghost of Sparta's latest adventure, and I can't wait to see what else is in store for Kratos and Atreus.
Gabriella Petty, Reviewer
I'm on the God of War hype train for sure. But, sadly I won't be able to start playing until I'm back from my weekend getaway and finish some of my studies, but oh boy oh boy, does it give me somethin' to look forward to. Gotta avoid the Internet like the plague for now though to avoid those spoilers!
Graham Banas, Reviewer
Since there's nothing really on the horizon for me, I'll be playing a smattering of titles out of my backlog, hoping to get a feel for which games... No, that's not true. Of course, I'm playing God of War!
Jacob Hull, Reviewer
Undoubtedly bucking the trend, I won't be playing God of War this weekend [C-c-c-c-combo breaker - Ed] – but not for a lack of desire. Life caught up with me over the last few weeks and my favourite pastime took the brunt of my limited attention. Having fallen behind, I'm still making my way through the lovely Ni no Kuni 2: Revenant Kingdom. Perhaps not known for his patience, Kratos will just have to learn to wait, as will I.
Jade Sayers, Reviewer
I'm always one step behind everyone else, so this weekend I'll be playing Ni No Kuni 2. I got given it for my birthday last week, and I'm really loving it so far, though I feel like I've barely made a dent. I'll also be putting some more time in with Trails of Cold Steel.
John McCormick, Reviewer
I really wanted to finish the Stormblood expansion for Final Fantasy XIV before moving on to God of War but that went well and truly out the window. I'm about five hours into Kratos' latest adventure and I can already tell that this is something special. I never expected to actually end up liking Kratos. What's going on?
Liam Croft, Reviewer
God of War. That is all.
Marcello Apostolico, Reviewer
The Gods of Olympus have abandoned me... Oh wait, wrong mythology. Yes, like many others, this weekend I will be spending time with the latest God of War. So far, I'm really enjoying the couple of hours I've put into it, but it does feel very different for God of War and is taking me some getting used to. That being said, I'm definitely hooked into it.
Victor Nowogurski, Moderator
I know what you must be thinking by now, I am just cutting and pasting what I played the past few weeks in a row now: Call of Duty: WWII and Skyrim [C-c-c-c-combo breaker - Ed]. But with events going on in WWII and everything to do in Skyrim I will be busy with these two games for a while.
---
Well, we nearly got a clean sweep for God of War, which would be a WAYP first. Not quite, though. Can we get a clean sweet in the comments? Who's going to be the first one to muck it up? Let's find out.