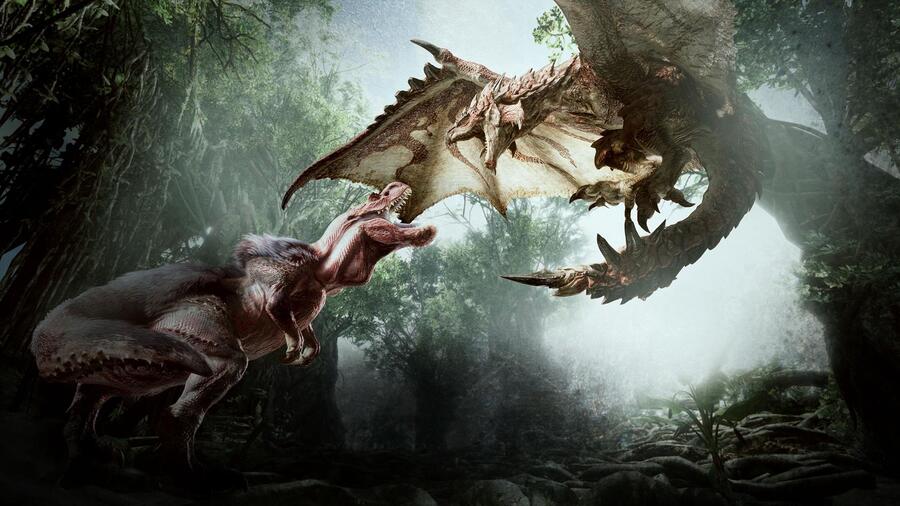 Every now and again, the Japanese sales charts enter a slump and there's barely anything to talk about. Unfortunately, that can be said of the latest figures, which make for some yawn-inducing reading.
On the software side of things, a Compile Heart title named Death end re;Quest entered the top five on PlayStation 4, but it only moved a measly 15,303 copies. It's telling that the charts have been topped by a Switch game we've never even heard of -- a game that only shifted 36,000 copies. Low numbers across the board, then.
Well, at least Monster Hunter: World has finally broken the two million retail sales in Japan mark. The action role-playing game is still hanging on in 16th place.
Things are similarly dire on the hardware front, with Sony's current-gen system slipping even further. Across the standard PS4 and PS4 Pro, the console managed 11,000 units or so. That's the lowest total in a long time.
Hardware sales
Switch – 36,308 (40,016)
PlayStation 4 – 9,491 (9,530)
New 2DS LL – 4,564 (5,006)
New 3DS LL – 3,366 (3,865)
PlayStation Vita – 2,921 (2,929)
PlayStation 4 Pro – 1,473 (4,970)
2DS – 616 (551)
Xbox One – 55 (72)
Xbox One X – 17 (47)
Software sales
[NSW] The Snack World: Trejarers Gold (Level-5, 04/12/18) – 35,655 (New)
[NSW] Kirby: Star Allies (Nintendo, 03/16/18) – 23,659 (416,108)
[NSW] Splatoon 2 (Bundle Version Included) (Nintendo, 07/21/17) – 18,729 (2,232,305)
[PS4] Death end re;Quest (Compile Heart, 04/12/18) – 15,303 (New)
[PS4] Far Cry 5 (Ubisoft, 03/29/18) – 14,472 (116,678)
[NSW] Mario Kart 8 Deluxe (Nintendo, 04/28/17) – 12,415 (1,473,250)
[PS4] Cities: Skylines PlayStation 4 Edition (Spike Chunsoft, 04/12/18) – 11,366 (New)
[NSW] The Legend of Zelda: Breath of the Wild (Limited Edition Included) (Nintendo, 03/03/17) – 6,990 (954,532)
[NSW] Super Mario Odyssey (Bundle Version Included) (Nintendo, 10/27/17) – 6,924 (1,691,031)
[PS4] Super Robot Wars X (Limited Edition Included) (Bandai Namco, 03/29/18) – 5,182 (105,504)
[PS4] Ni no Kuni II: Revenant Kingdom (Limited Edition Included) (Level-5, 03/23/18) – 4,184 (87,251)
[PS4] Steins;Gate 0 (5pb., 12/10/15) – 4,087 (60,990)
[3DS] Pokemon Ultra Sun / Ultra Moon (Nintendo, 11/17/17) – 3,931 (1,614,909)
[3DS] Detective Pikachu (The Pokemon Company, 03/23/18) – 3,837 (68,392)
[PS4] Rainbow Six Siege Advanced Edition (Ubisoft, 03/01/18) – 3,700 (38,976)
[PS4] Monster Hunter: World (Limited and Bundle Editions Included) (Capcom, 01/26/18) – 3,640 (2,003,054)
[PSV] Super Robot Wars X (Limited Edition Included) (Bandai Namco, 03/29/18) – 3,340 (63,946)
[PS4] Hokuto ga Gotoku (Limited Edition Included) (Sega, 03/08/18) – 3,074 (163,636)
[NSW] Hyrule Warriors: Definitive Edition (Koei Tecmo, 03/22/18) – 3,070 (40,408)
[PS4] Attack on Titan 2 (Limited Edition Included) (Koei Tecmo, 03/15/18) – 2,822 (52,102)
[source 4gamer.net, via gematsu.com]