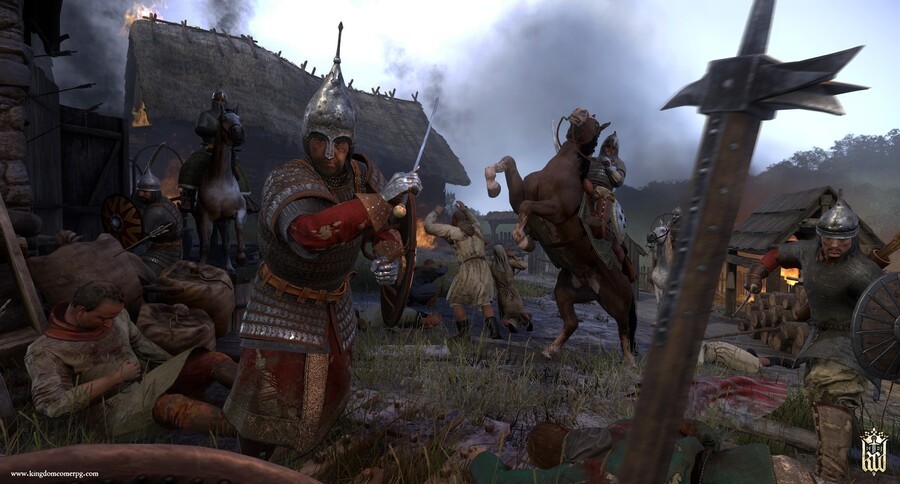 Kingdom Come: Deliverance brings unprecedented historical simulation to the PlayStation 4 this week, and its split critics right down the middle. While we're still working through this behemoth buccaneer through the Middle Ages, our first impressions have been largely positive – even though we appreciate this experience is unlikely to suit all tastes. But what are the rest of the media saying? Here are some of the early reviews.
Our initial feelings towards Kingdom Come: Deliverance err more on the cautiously optimistic side than the outrageously negative. It's an incredibly admirable effort to deliver an engrossing and historically accurate open world RPG that does things a little different to your usual fantasy titles. But that level of ambition does result in occasional jankiness, like badly dubbed dialogue, alien stomach hands, and unforgivable loading times. We're hoping some of that can be patched out later.
If you want a bug-free experience, don't get Kingdom Come. If you want an excellent, open-world RPG that feels like a hardcore version of an Elder Scrolls game, then don't hesitate. The fact that an indie studio was able to release this only four years after their Kickstarter is insane to me, and it's games like this that set the bar higher for AAA developers. Warhorse did a magnificent job crafting Kingdom Come: Deliverance with only a fraction of the funding that an Elder Scrolls game would receive, and I can't wait to see how it supports this game and what its future titles have in store for us.
Had the initial forty-to-fifty hour campaign not have delivered the level of bugs and problems present in the current build, you'd easily be looking at potentially one of the year's best all-round experiences in an RPG and an essential for everyone no matter your affiliation with the genre.
If Kingdom Come: Deliverance has a ton of bug fixing to improve the performance drastically, it could be a hidden gem. It's clear that the game, despite its grand ambitions, was simply not ready for public consumption. Shimmers of brilliance are there and had it seen more time in the oven, or set its ambitions at a more reasonable level, it could have been brilliant and scored significantly higher as a result. Alas, Kingdom Come: Deliverance is another cautionary tale rather than a trend setter.
---
Will you be picking up Kingdom Come: Deliverance this week? Are you waiting for a few more reviews before making up your mind? Have a shave and clean up your act in the comments section below.