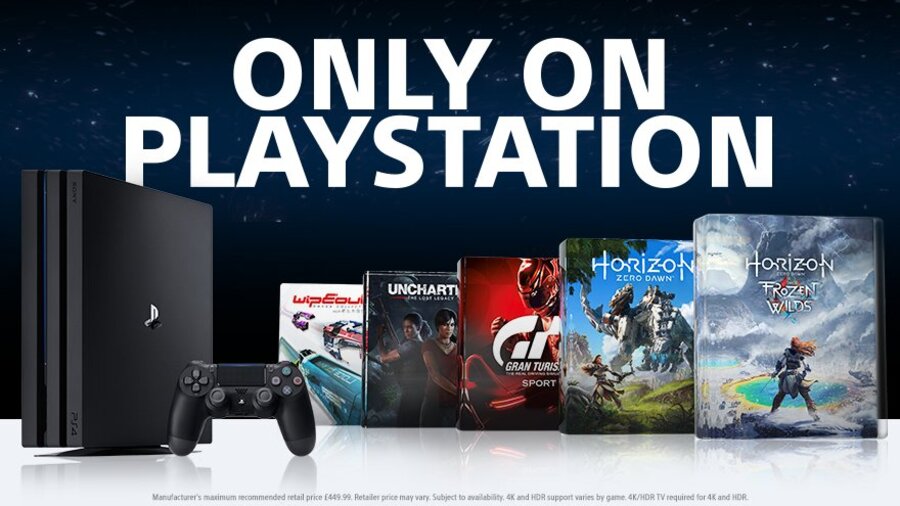 There's a good deal going around if you're in the market for a spangly PlayStation 4 Pro: it includes five games. Well, technically Sony's stretching that description a little bit as the package is padded by the addition of Horizon: Zero Dawn's brand new The Frozen Wilds DLC, but seeing as that's both bigger and better than most full games, we'll let the platform holder off.
So what do you get as part of this bundle? Well, you get a 1TB PS4 Pro and copies of Gran Turismo Sport, Uncharted: The Lost Legacy, WipEout Omega Collection, Horizon: Zero Dawn, and the aforementioned expansion pack. That's a pretty damn good selection of high quality games – and incidentally they all perform damn well on Sony's supercharged hardware. What about the price? Yeah, it's £449.99.
There's nothing coincidental about the collection matching the price of the Xbox One X – in fact, the tweet announcing it includes a cheeky little emoji acknowledging that fact. As you can imagine, it's gone down like a lead balloon on Twitter, so maybe steer clear of that particular thread if you value your sanity. As far as we can tell, the bundle's only available at GAME in the UK and is currently sold out, but we imagine if this proves popular it may well get a wider release. 
[source game.co.uk]