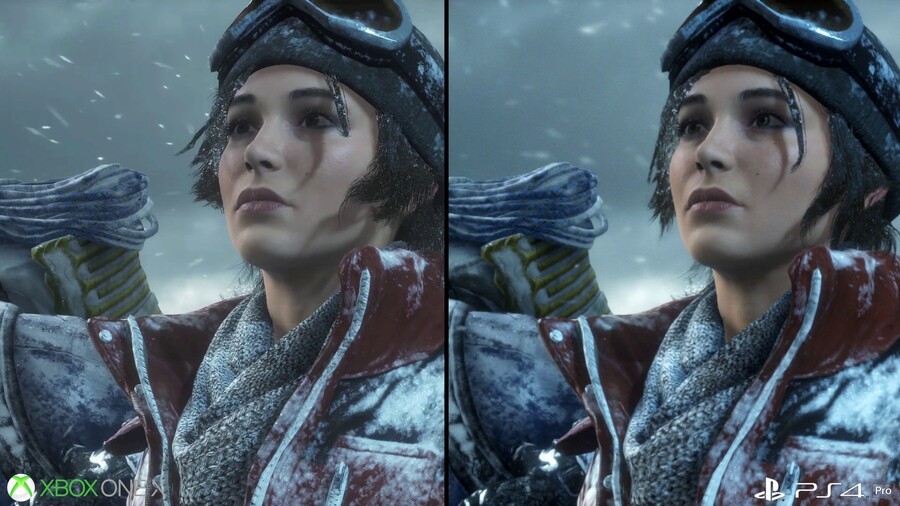 It's time to whip out your framerate tickers and your favourite image zooming tool: the Xbox One X is around the corner and that means the industry at large is getting ready to split hairs. To be fair, this first comparison featuring Rise of the Tomb Raider puts in an impressive performance on Microsoft's meaty new machine – but the addition of brand new assets absent in even the technically superior PC version makes the differences more pronounced.
So what's the deal? Well, as expected, the Xbox One X's beefier GPU is able to render Lara Croft's latest at a higher resolution, resulting in a sharper overall picture – especially when you zoom in. This is because the PS4 Pro is using a checkerboard solution compared to a native 2160p output on Microsoft's machine. Pretty much as expected, then.
The one comparison that's getting a lot of mileage in the Twitter-sphere, however, shows a dramatic reduction in detail on Lara's face in the PS4 Pro version of the game. Incidentally, these art assets are also absent from the PC edition of the title, suggesting that they've been created specifically for the Xbox One X. Now, the new console does have additional RAM meaning that it's more likely to take advantage of higher resolution textures – but we're not convinced many third-party publishers will be following in Square Enix's footsteps here and commissioning the creation of brand new assets specifically for Microsoft's device.
Another point of comparison is the removal of depth of field in the Xbox One X edition. While this is likely to be a bug that will be fixed before the console's launch, it does – in some scenes – give both the PS4 Pro and PC versions a softer look. This is intentional, of course, as the effect is designed to simulate camera focus in order to help characters or objects stand out of a scene.
So what have we learned from all this? Well, it's still early days. As expected, the Xbox One X turns in a sharper image than the PS4 Pro due to its ability to hit a higher resolution – but it does require some degree of zooming if you want to play spot the difference. The most notable difference of all appears to rely on brand new art assets created specifically for Microsoft's new machine, and the jury's still out on whether other developers will invest that degree of effort into the device.
[source eurogamer.net]