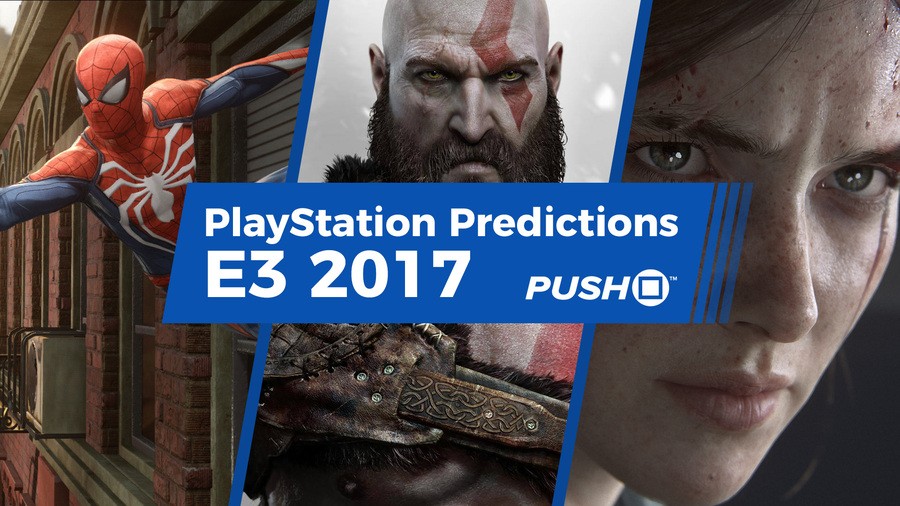 It's the final countdown to Sony's big E3 2017 press conference, which means that it's time for us to plot out our predictions for PlayStation's big show. As is always the case with these articles, we've tried to avoid fan-fiction (even though we really do want Jumping Flash for PlayStation VR) and instead opted for a selection of beat-by-beat reveals that we feel are realistic – or at least have some kind of basis in rumour. So stick with us as we walk you through everything that we think's going to happen during next week's anticipated media briefing.
First-party comes first
It's the bread and butter of every press conference and it's what the most engaged gamers want to see: the big exclusive games. Sony has no shortage of first-party titles in the pipeline, and we actually reckon it's going to have a tough time squeezing everything in. Here's what we expect.
A real Sucker Punch
Sony often likes to start its shows with something new, and we reckon Sucker Punch will fill that slot this year. We don't really know what it's been working on since inFAMOUS: First Light released almost three years ago, but it's safe to assume it'll be open world and have ace traversal. The first-party studio is a lock as far as we're concerned.
Born of the blood
Core gamer crowd-pleasers don't come much better than From Software, and the timing feels right for the Japanese developer to reveal the next chapter in its partnership with Japan Studio. The question is: what's it been cooking? A Bloodborne sequel seems like the safest bet but there have been rumours of a title with an Aztec influence. Chances are high we'll find out next week.
On the Horizon
We know that Guerrilla Games has promised to continue Aloy's story, and we think you're going to see some kind of Horizon: Zero Dawn announcement at E3 2017. However, we're less sure what form that will take. A more traditional DLC pack with new quests seems possible, but Sony likes its standalone expansions these days, so we wouldn't be surprised if some kind of Uncharted: The Lost Legacy-esque standalone mini-campaign was revealed for 2018.
Please don't crash
Trailers are great, but when you're doing a live stage show, you need to have some gameplay demos as well. We're banking on God of War closing out the conference with an epic set-piece showcase, but we reckon you're also going to see Spider-Man and Days Gone played on stage – the latter two of which are likely to showcase more of the structure and moment-to-moment gameplay of their respective campaigns.
Trailer after trailer
We know that Sony's going to re-purpose last year's scatter-shot approach to its E3 2017 press conference, so we anticipate trailer after trailer for many of its other upcoming games. Knack 2 and Gran Turismo Sport will probably get dated, while brief new looks at Uncharted: The Lost Legacy and Detroit: Become Human seem likely. Hideo Kojima's ruled out Death Stranding but we still have a feeling it'll be there, while The Last of Us: Part II is surely too high profile to be ignored entirely.
Virtual insanity
Love it or loathe it, PlayStation VR is a big deal for the PS4 platform as a whole. And with Farpoint already out, the platform holder needs to showcase a second wave of software that shows its long-term commitment to the technology. This segment shouldn't need to be longer than five to ten minutes, but it does need to include a decent amount of content.
The exclusives
We know that both London Studio and Manchester Studio are working on new games for PlayStation VR, and while they may not be ready for release anytime in the immediate future, we reckon that Sony will show them in order to demonstrate its long-term commitment to PlayStation VR. Expect brief teaser trailers for both.
Big brand bonanza
Games like Farpoint and Arizona Sunshine are great, but they're not household names that everyone can immediately recognise. Sony showed at last year's E3 that it's able to get the big brands on board, and we'd like to see at least one title of substance from a big name. Something like Star Wars Blaster Experience – compatible with the PlayStation VR Aim Controller – would work great. We're spit-balling here, but you can see the kind of thing we're looking for.
Mon-tage
How do you demonstrate commitment to a platform? Just show loads of freakin' games. Sony's not going to give every single PlayStation VR title stage time, but it can comfortably compress dozens into a montage. This way, virtual reality time is limited on stage, but it's able to quickly and effectively communicate a long list of games – all of which can be given more time and attention over the course of E3 week itself.
Co-marketing madness
Sony is sponsoring practically every major third-party game on the way, and we wouldn't be surprised if E3 stage time is written into those contracts. It means that several big blockbusters will be unavoidable – but there's going to be such a variety of third-party stuff that you'll hopefully find something that you like.
We'll fight them in the Shrine Auditorium
It's a big year for Call of Duty as it returns to its roots with WWII, the franchise's first World War 2 entry since World at War over a decade ago. Last year's Infinite Warfare demo was seamlessly included into the show and looked fantastic, so we're hoping for a similarly action-packed single player demonstration out of this year's edition.
It's our Destiny 2
There are probably going to be trailers for several third-party titles: Destiny 2, Crash Bandicoot N. Sane Trilogy, Star Wars Battlefront 2, and Far Cry 5. And there's precedent for Destiny hardware bundle announcements at E3, so we wouldn't be surprised if Sony revealed something like that for Bungie's upcoming sequel – which we suspect may be a PS4 Pro for the first time.
Back to the Wild, Wild West
We know that Rockstar doesn't like E3, and we also know that Red Dead Redemption 2 has been delayed – but would a new trailer be totally out of the question? This is a massive game, and even if it's just a few precious seconds of new footage, it'll get lapped up. Sony was the one to reveal the Grand Theft Auto V remaster back in the day, so don't rule this one out just yet.
From the East
Sony's said to expect the Japanese game resurgence to continue at E3 2017, so we're anticipating some big names from major Asian publishers during its press conference. There are rumours about all sorts, from Monster Hunter to Devil May Cry to Shenmue HD, and while your guess is as good as ours when it comes to these kind of unannounced titles, don't rule out some big surprises.
One more montage
The beauty of PlayStation has always been the breadth of experiences it offers, so don't rule out yet another montage designed to showcase that. We reckon third-party games like FIFA 18, Ni no Kuni 2, Yakuza 6, Dissidia Final Fantasy NT, Marvel vs Capcom: Infinite, and Lawbreakers will all be looking to get some stage time, and during a high-energy montage is probably the best place for that.
One last thing
All of the above sums up the bulk of our predictions, but there are some other outstanding orders of business that we think will be tackled during PlayStation's E3 2017 media briefing.
Days of Play
Sony is running a sale right through E3 2017 this year, capitalising on the heightened excitement that surrounds the industry during the week. And we wouldn't be surprised if it utilised this for its inevitable 'Out Now' moment: we think there'll be some time-limited sales going live on the PlayStation Store the day of the press conference itself that represent incredible value for money. How about Bloodborne at a low, low price to fuel your hype for the hypothetical sequel? Don't expect the platform holder to linger on this, but you should probably anticipate some kind of post-press conference fire sale for sure.
Everything was Pro
This isn't so much a prediction, more an observation: we reckon every game demo and every trailer will be shown using PS4 Pro this year. Sony will want to put its best foot forward, and the fact of the matter is that after last year's somewhat muted launch, it's been a bit more vocal about the advantages of its mid-gen refresh of late. Fans have already had a year to understand what the supercharged hardware offers, and E3 2017 is being broadcast in 4K for the first time, so it all makes total sense.
---
What do you think of our predictions? Is there anything obvious that we've missed? Are there things on this list that you hope Sony glosses over? Pull out your crystal ball in the comments section below, and remember to join us live for E3 2017 all next week.