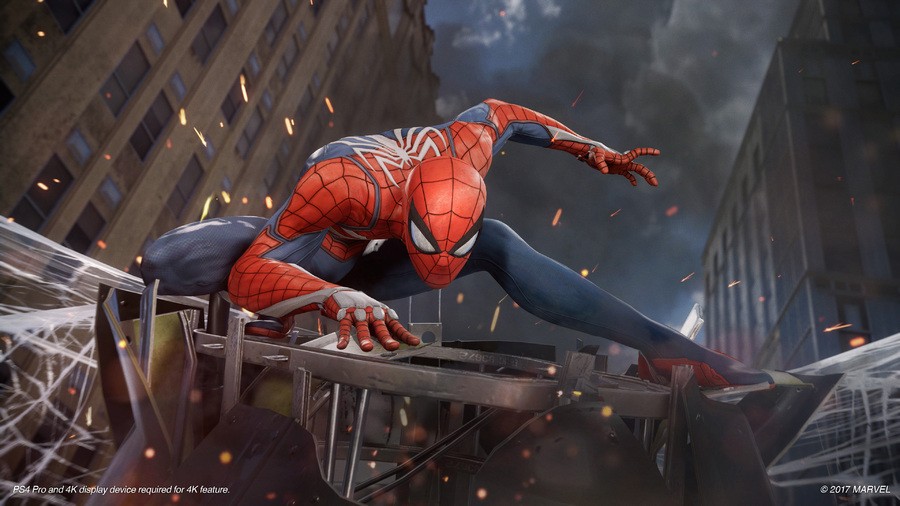 He came, he saw, he conquered – and then swung through New York City clutching Push Square's coveted E3 2017 Game of the Show award close to his chest. Spider-Man comfortably thwipped this year's gong from the clutches of ex-Greek God Kratos, securing almost double the votes of its closest competitor in our poll.
And it's no surprise really, is it? Insomniac Games' superhero debut has the looks of Gwen Stacy and the action of a Marvel movie. This week's E3 2017 demo showed the spandex-sporting web-slinger crawling walls and stealthily subduing adversaries, before chasing a helicopter through Manhattan while simultaneously attempting to keep the public safe.
Push Square's Top Five PS4 Games at E3 2017
---
The combat's looking excellent: Spidey's insane number of animations add an intensity to the action that are befitting the athletic icon, while there appears to be plenty of contextual variety in terms of the types of attacks you can perform – like tossing construction beams in the face of bulky foes, for example.
The swinging lacks a little acceleration at this moment in time, and the emphasis on QTEs may have concerned some fans. But it's clear that, with another year or so of development still to go, Insomniac Games is crafting something worthy of the world's most famous superhero – and you clearly agree, because you voted it your most exciting PS4 title at E3 2017.
---
What was your Game of the Show at E3 2017? Do you agree with Spider-Man, or would you have picked something else? Share your top five PS4 titles from the show in the comments section below.