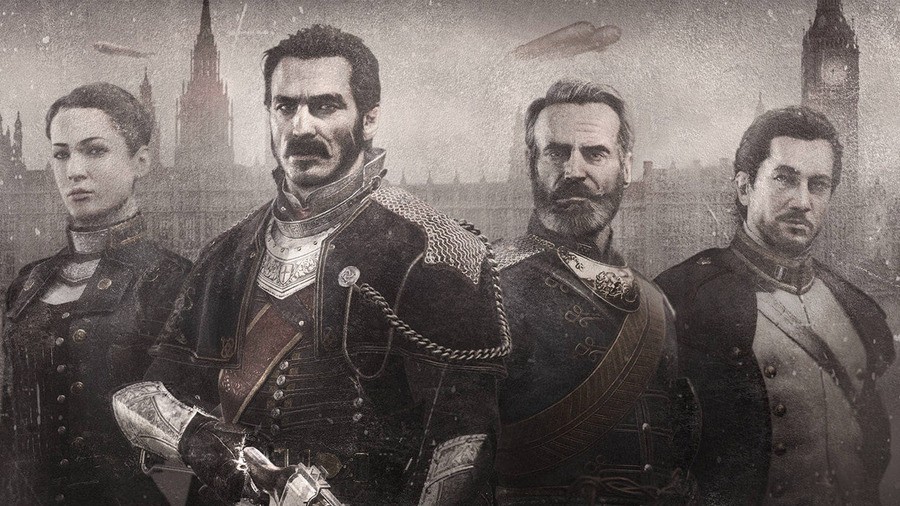 Look, we have our fair share of issues with The Order: 1886, but for $3.99 it's worth buying. Sony's launched a new batch of discounts on the North American PlayStation Store, and Ready at Dawn's story-driven Victorian shooter has brought its exquisitely groomed handlebar moustache along for the party.
The game is short and has some shoddy stealth sections, but for the price of a frothy coffee it's worth a shout. Other highlights in the new sale – which spans Sony Santa Monica and Ubisoft games, among a handful of others – include the likeable PlayStation Move adventure Sorcery for $1.49 and God of War III Remastered for $5.99.
We're just going to dump the full list of savings compiled by NeoGAF in the space below, but do let us know if anything takes your fancy in the comments section.
North American PlayStation Store Sale: 9th May, 2017
Ace Combat Infinity - Stocked Fuel 10 Units + 1 Free Unit - $7.55 - 16% Off - Ends 5/16
Ace Combat Infinity - Stocked Fuel 50 Units + 10 Free Units - $35.99 - 20% Off - Ends 5/16
Assassin's Creed Chronicles Trilogy - $9.99 - 60% Off - Ends 5/16
Assassin's Creed IV Black Flag - $11.99 - 60% Off - Ends 5/16
Assassin's Creed IV Black Flag - Season Pass - $7.99 - 60% Off - Ends 5/16
Assassin's Creed The Ezio Collection - $29.99 - 40% Off - Ends 5/16
Assassin's Creed Syndicate - $19.99 - 60% Off - Ends 5/16
Assassin's Creed Syndicate - Jack The Ripper - $7.49 - 50% Off - Ends 5/16
Assassin's Creed Syndicate Gold Edition - $27.99 - 60% Off - Ends 5/16
Assassin's Creed Triple Pack: Black Flag, Unity, Syndicate - $29.69 - 67% Off - Ends 5/16
Assassin's Creed Unity - $11.99 - 60% Off - Ends 5/16
Avant-Garde Bundle - $24.99 - 50% Off - Ends 5/16
Birthdays the Beginning - $29.99 - 25% Off - Ends 5/16
Blade & Bones - $13.49 - 10% Off - Ends 5/16
Blast Factor Bundle - $2.49 - 75% Off - Ends 5/16
Bound - $10.99 - 45% Off - Ends 5/16
Butcher - $8.99 - 10% Off - $7.99 - 20% Off - Ends 5/16
Butcher Official Soundtrack - $4.49 - 10% Off - $3.99 - 20% Off - Ends 5/16
Butcher: Special Edition Bundle - $11.69 - 10% Off - $10.39 - 20% Off - Ends 5/16
Calling All Cars - $2.49 - 75% Off - Ends 5/16
Carnival Island - $2.49 - 75% Off - Ends 5/16 - Move Required
Classics PS3 Bundle - $4.99 - 80% Off - Ends 5/16
Classics PS4 Bundle - $7.99 - 60% Off - Ends 5/16
The Con - $1.19 - 85% Off - Ends 5/16
The Crew - $14.99 - 50% Off - Ends 5/16
The Crew - Calling All Units - $17.49 - 30% Off - Ends 5/16
Digerati Bundle 5 Pack Part 1 - $7.49 - 75% Off - Ends 5/16
Datura - $4.99 - 50% Off - Ends 5/16
.detuned - $2.00 - 33% Off - Ends 5/16
Escape Plan - $6.99 - 30% Off - Ends 5/16
Escape Plan Ultimate - $7.49 - 50% Off - Ends 5/16
Everybody's Gone to the Rapture - $4.99 - 75% Off
Everyday Shooter - $2.49 - 75% Off - Ends 5/16
Everyday Shooter - $1.99 - 75% Off - Ends 5/16
The Experimental Bundle - $4.99 - 50% Off - Ends 5/16
Far Cry 4 - $15.99 - 60% Off - Ends 5/16
Far Cry 4 - Season Pass - $11.99 - 60% Off - Ends 5/16
Far Cry 4 + Far Cry Primal Bundle - $34.99 - 50% Off - Ends 5/16
Far Cry 4 Gold Edition - $23.99 - 60% Off - Ends 5/16
Far Cry Primal - $19.99 - 60% Off - Ends 5/16
Fat Princess - $0.99 - 90% Off - Ends 5/16
Fat Princess Adventures - $2.49 - 75% Off - Ends 5/16
Fat Princess: Fistful of Cake - $2.24 - 85% Off - Ends 5/16
Flower - $3.49 - 50% Off - Ends 5/16
flOw - $2.99 - 50% Off - Ends 5/16
For Honor - $44.99 - 25% Off - Ends 5/16
For Honor Deluxe Edition - $49.69 - 29% Off - Ends 5/16
For Honor Gold Edition - $69.99 - 30% Off - Ends 5/16
God of War: Ascension - $2.49 - 75% Off - Ends 5/16
God of War: Ascension Ultimate Edition - $7.49 - 75% Off - Ends 5/16
God of War Chains of Olympus - $3.74 - 75% Off - Ends 5/16
God of War Collection - $3.74 - 75% Off - Ends 5/16
God of War: Ghost of Sparta - $3.74 - 75% Off - Ends 5/16
God of War HD - $2.49 - 75% Off - Ends 5/16
God of War II HD - $2.49 - 75% Off - Ends 5/16
God of War III Remastered - $5.99 - 70% Off - Ends 5/16
God of War: Origins Collection - $2.49 - 75% Off - Ends 5/16
Hasbro Family Fun Pack Super Edition - $29.99 - 50% Off - Ends 5/16
Here They Lie - $10.99 - 45% Off - Ends 5/16
Hohokum - $3.99 - 60% Off - Ends 5/16
Journey - $5.99 - 60% Off - Ends 5/16
Journey Collector's Edition - $12.49 - 50% Off - Ends 5/16
Just Dance 2017 - $24.99 - 50% Off - Ends 5/16
Kinetica - $3.99 - 60% Off - Ends 5/16
Knee Deep - $11.99 - 20% Off - $10.04 - 33% Off - Ends 5/16
Last Stitch Goodnight - $11.04 - 15% Off - $10.39 - 20% Off - Ends 5/16
Letter Quest Remastered/Paranautical Activity Bundle - $4.24 - 75% Off - Ends 5/16
Linger in Shadows - $2.00 - 33% Off - Ends 5/16
Monopoly Family Fun Pack - $7.99 - 60% Off - Ends 5/16
Multiplayer Mayhem Bundle - $14.99 - 50% Off - Ends 5/16
The Order: 1886 - $3.99 - 80% Off - Ends 5/16
PixelJunk Bundle - $9.59 - 84% Off - Ends 5/16
PlayStation All-Stars Battle Royale - $3.49 - 65% Off - Ends 5/16
PlayStation All-Stars Battle Royale - Complete DLC Bundle - $12.49 - 75% Off - Ends 5/16
PlayStation All-Stars Battle Royale Ultimate Bundle - $14.99 - 75% Off - Ends 5/16
Rayman Legends - $13.99 - 65% Off - Ends 5/16
Revenant Saga - $13.49 - 10% Off - Ends 5/23
The Rhythmic Bundle - $4.94 - 60% Off - Ends 5/16
Rocksmith 2014 Edition Remastered - $19.99 - 50% Off - Ends 5/16
Sorcery - $1.49 - 85% Off - Ends 5/16 - Requires Move
Sound Shapes - $3.99 - 60% Off - Ends 5/16
Sound Shapes Ultimate Bundle - $9.99 - 50% Off - Ends 5/16
Starhawk Ultimate Edition - $3.99 - 60% Off - Ends 5/16
Steep - $29.99 - 50% Off - Ends 5/16
Steep Gold Edition - $35.99 - 55% Off - Ends 5/16
Super Blast Deluxe - $4.79 - 20% Off - $2.99 - 50% Off - Ends 5/16
Three Fourths Home/Paranautical Activity Bundle - $3.24 - 75% Off - Ends 5/16
Tom Clancy's The Division - $19.99 - 60% Off - Ends 5/16
Tom Clancy's The Division - Season Pass - $19.99 - 50% Off - Ends 5/16
Tom Clancy's The Division and Rainbow Six Siege Bundle - $41.99 - 40% Off - Ends 5/16
Tom Clancy's The Division Gold Edition - $31.49 - 65% Off - Ends 5/16
Tom Clancy's Ghost Recon Wildlands Deluxe Edition - $51.09 - 27% Off - Ends 5/16
Tom Clancy's Ghost Recon Wildlands Gold Edition - $69.99 - 30% Off - Ends 5/16
Tom Clancy's Ghost Recon Wildlands Standard Edition - $44.99 - 25% Off - Ends 5/16
Tom Clancy's Rainbow Six Siege - $24.99 - 50% Off - Ends 5/16
Tom Clancy's Rainbow Six Siege - Gemstones Bundle - $8.99 - 40% Off - Ends 5/16
Tom Clancy's Rainbow Six Siege Complete Edition - $59.99 - 40% Off - Ends 5/16
Tom Clancy's Rainbow Six Siege Year 2 Gold Edition - $47.99 - 40% Off - Ends 5/16
Trackmania Turbo - $15.99 - 60% Off - Ends 5/16
Trials Fusion - $7.99 - 60% Off - Ends 5/16
Trials Fusion: Awesome Max Edition - $15.99 - 60% Off - Ends 5/16
Trials of The Blood Dragon - $5.99 - 60% Off - Ends 5/16
Twisted Metal - $2.49 - 75% Off - Ends 5/16
Twisted Metal - $1.49 - 75% Off - Ends 5/16
Twisted Metal 2 - $1.49 - 75% Off - Ends 5/16
Twisted Metal: Black - $2.49 - 75% Off - Ends 5/16
Twisted Metal: Black - $2.49 - 75% Off - Ends 5/16
Twisted Metal Ultimate Bundle - $14.99 - 50% Off - Ends 5/16
UFC 2 - $19.99 - 50% Off - $15.99 - 60% Off - Ends 5/15
UFC 2 Deluxe Edition - $24.99 - 50% Off - $19.99 - 60% Off - Ends 5/15
The Unfinished Swan - $5.99 - 60% Off - Ends 5/16
Vertical Drop Heroes HD - $4.89 - 30% Off - Ends 5/16
War of the Monsters - $3.49 - 65% Off - Ends 5/16
War of the Monsters - $1.99 - 80% Off - Ends 5/16
Warhawk Bundle - $3.99 - 60% Off - Ends 5/16
Watch Dogs - $11.99 - 60% Off - Ends 5/16
Watch Dogs - Season Pass - $7.99 - 60% Off - Ends 5/16
[source neogaf.com]