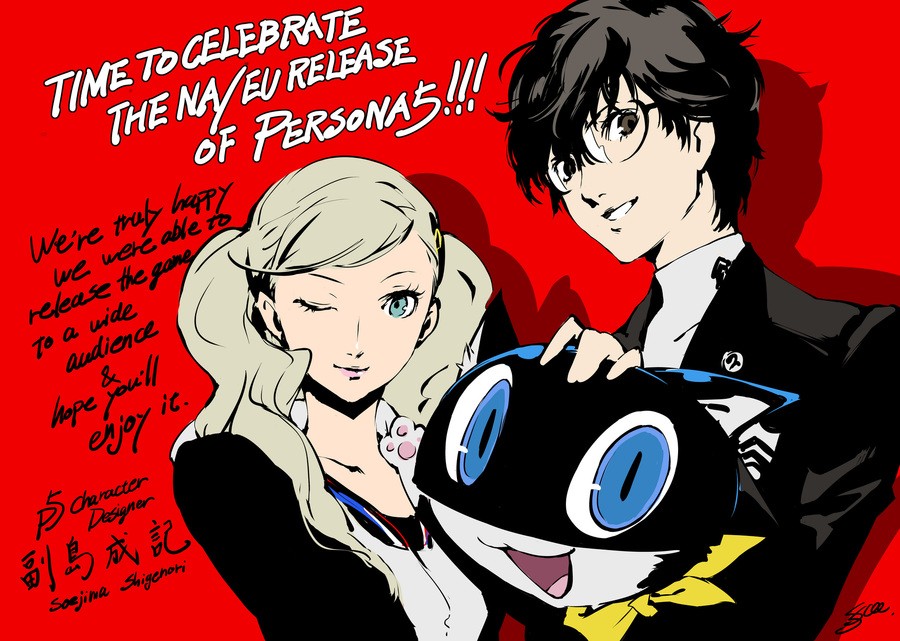 Persona 5 director Katsura Hashino has extended his thanks to Western fans of the game in a post over on the PlayStation Blog. "As a developer, I'm very happy to hear that Persona 5 is being played by so many people overseas," he begins. "Persona 5 is a very "Japanese" story with some political aspects to it, so I couldn't imagine how Western players would react to it. I did know, however, that Persona 5 was highly anticipated by gamers overseas even back when we were developing the game, so I was curious to see how its story would be received," he explains.
Hashino continues: "I hope that the tale of Persona 5 will leave a lasting impression on everyone who plays it. No matter what kind of project I take on going forward, I love creating RPGs that are both moving and relatable regardless of cultural differences." It certainly had an impact on us at least - we're still thinking about the game weeks after finishing it.
Hashino then gets a little more personal, shedding some light on his plans for the future: "Last year, with the milestone of the Persona series' 20th anniversary, I handed off the series development to my successors and announced the start of my new RPG project that takes place in a fantasy world. Be it a game set in modern day, like the Persona and Shin Megami Tensei series, or a game set in a new fantasy world, I aim to create games that provide an invaluable experience of reflecting on oneself through a journey, while roleplaying as characters that players can deeply relate to." 
It'll be interesting to see where the series goes from here, especially with different members of the development team at the helm. Of course, we're also looking forward to seeing what Hashino gets up to next. Its an exciting time to be a fan of role-playing games, that's for sure.
Concluding on a rather heartfelt note, Hashino writes: "These efforts are only made possible thanks to the positive reception we receive from fans—not just in Japan, but worldwide—of the Persona series and Atlus RPGs in general. I appreciate all your support for the newest entry in the Persona series, and I hope that everyone will enjoy the new Atlus RPGs to come."
It's always nice to see developers post stuff like this, isn't it? We're loving the accompanying artwork by character artist Shigenori Soejima, too.
[source blog.us.playstation.com]