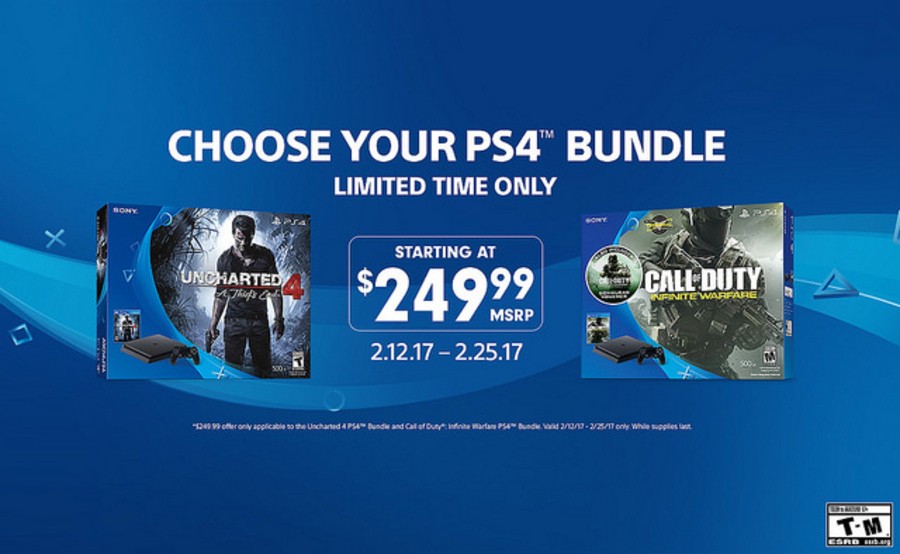 Sony's dropping the price of its flagship PlayStation 4 Slim bundles starting 12th February – and you can be sure that the imminent arrival of the Nintendo Switch has absolutely nothing to do with it, no siree. Available in North America through 25th February, you'll be able to get a console alongside either Uncharted 4: A Thief's End or Call of Duty: Infinite Warfare for just $249.99. This offer also extends to the Glacier White console bundle – which again comes with Call of Duty – and is available exclusively from Walmart.
All of the consoles come with an updated DualShock 4 controller and 500GB hard drive, so while you could argue they're not directly competing, they're going to look pretty darn competitive on store shelves next to Nintendo's new piece of kit.
To be honest, this temporary price drop is probably foreshadowing a permanent MSRP decrease, which we reckon will hit long before the holidays. Then expect the console to go as low as $199.99 on Black Friday, which should help the PS4 on its way to its best ever year. It'd take a disaster for this foolproof plan to go wrong, wouldn't it?
[source blog.us.playstation.com]