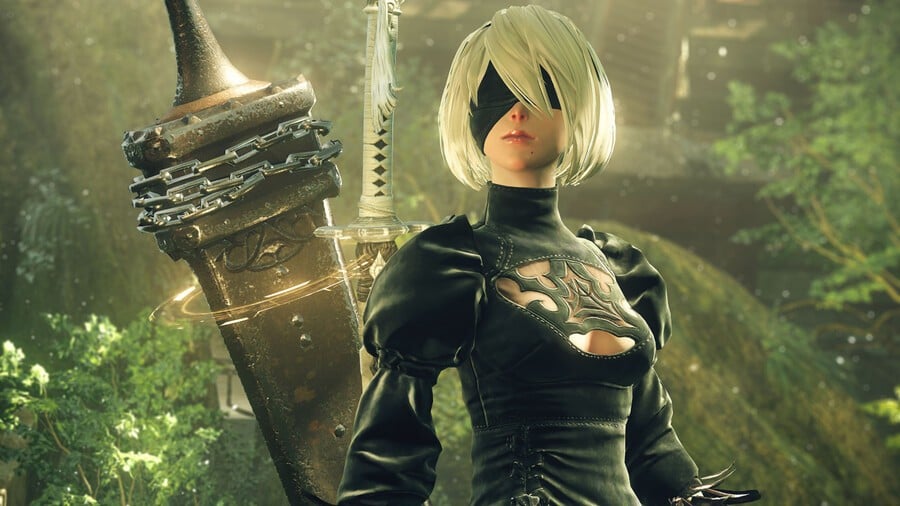 As you may or may not have heard, sparks have been flying over NieR: Automata protagonist 2B's bottom. Those of you who have played the recently released demo may have noticed that the womanly android has a particularly prominent behind, which can be glanced when she's busy climbing ladders or jumping thanks to the fact that she wears a relatively short skirt.
Naturally, the presence of such a robust rump has stirred up controversy, with some citizens of the Internet arguing that it's all a bit unnecessary. Needless to say, controversial or not, the web's already swamped in fan art that highlights 2B's bum, and it's become such a popular subject that Automata director Yoko Taro has posted his thoughts on Twitter.
As translated by Siliconera, Taro writes: "With 2B's butt controversy going on, there's been loads of outrageous images being uploaded, but since it's a pain in the butt to go around collecting them all, I'd rather receive them through zips on a weekly basis." We think it's safe to assume that he approves.
Funnily enough, a thoughtful fan did actually compile all of the art into a zip file, as evidenced by Taro's follow-up tweet: "After saying 'send me zips of 2B art' word got around and I actually got a zip. The Internet is great." At least someone's happy, eh?
So, what do you make of all this? Is the world ready for big robot bums? Don't get too cheeky in the comments section below.
[source twitter.com, via siliconera.com]