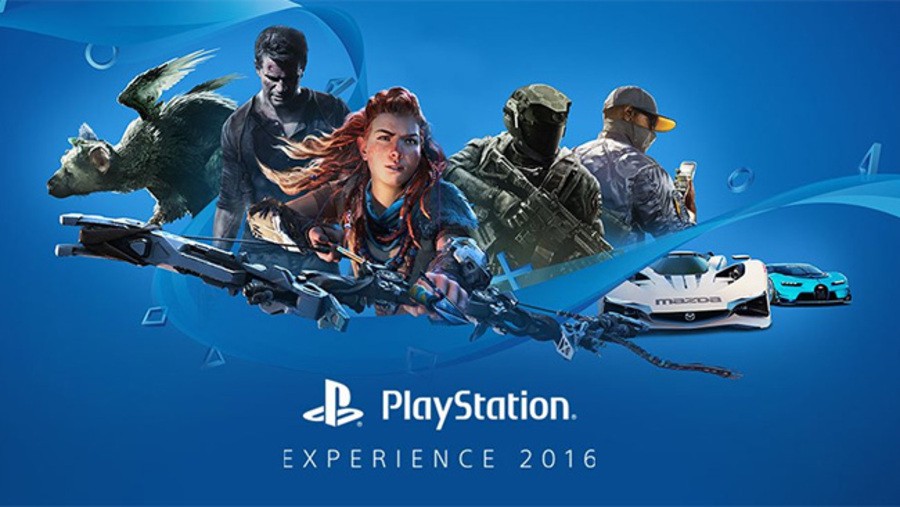 With the Tokyo Game Show declining in importance and Sony glossing over Gamescom and Paris Games Week this year, it hasn't been a vintage 12 months for PlayStation press conferences. Don't get us wrong, its E3 2016 showcase this summer was spectacular, ditching the small talk in favour of a 90 minute barrage of megaton software – but with the platform holder's stage time significantly down year-over-year, it feels like PlayStation Experience 2016 may play a bigger role this time.
We're still expecting a fan-focused forum, of course, but with the manufacturer softening its blows for the past six months, it feels like it could have some more significant announcements to make. As is the case every year, we've put together our predictions for the press conference. We've tried to base these on a combination of rumour and common sense, so don't expect any outrageous wishful thinking within. There's lots of good stuff, though.
First-party's first
Third-party is massively important to PlayStation, but let's be honest, the reason that we tune in to these kinds of press conferences is to learn about exclusive games. Sony's got a lot in the pipeline, so there's no way it gets through PSX 2016 without mentioning one or two of its in-production internal titles – and there's a good chance that it'll announce a handful more. The key question is: which classic t-shirt will gaffer Shawn Layden dig out to reveal them all in?
Drake for it
It's opened PSX 2016 two years in a row, so why not go for the hat-trick? Uncharted 4: A Thief's End is guaranteed to put in an appearance at this week's press conference, though it's its standalone expansion pack that will be taking centre stage. Rumours are that the story will centre on Sam Drake rather than sibling Nathan, with developer Naughty Dog potentially passing on the reins of the franchise to the older adventurer. A gameplay demonstration alongside a cut-scene and release date seems like a strong way to get things started, doesn't it?
Hideo we go again
It's obvious that Hideo Kojima was intended to conclude last year's PSX 2015 press conference – and not Paragon. If you remember, the auteur was banned by Konami from travelling to The Game Awards and attending Sony's press conference. But now he's free, and it feels like the Japanese giant's going to flaunt him at any given opportunity. Death Stranding is still very early in development, but there's a chance we'll learn which engine it's using, and also get confirmation of another character in its cast – Mads Mikkelsen is heavily rumoured. [ Update: And was confirmed at The Game Awards 2016 ]
Still on the Horizon
It is, without question, the biggest game in Sony's immediate exclusives stable, so Horizon: Zero Dawn is a shoe-in for a PSX 2016 showcase. We reckon that it'll take the form of an extended trailer this year, but we do think that there may be a minor delay involved. The company's got a lot riding on this game, and it's going to want to deliver on all of the lofty expectations in place. A push to April would give Guerrilla a couple of additional months to ensure that everything is polished to perfection.
Crash bash
There's no venue greater than PSX 2016 for a first look at remastered Crash Bandicoot gameplay. The title was announced at E3 2016 so we know that this is in the works for the PS4, and we reckon that a short demo will be in place to give us a tease of what we can expect when the full game launches in 2017.
Make it Matterfall
Sony hasn't held a European press conference this year, so that means that it's going to need to reserve a portion of PSX 2016 for SIEE to show some games. We reckon that Housemarque's the most likely to get stage time, with Matterfall certain to be the game that gets revealed properly. This was announced a while back and is rumoured to be the Finnish firm's take on the side-scrolling platformer. The company may also take the opportunity to confirm PS4 Pro patches for its back catalogue of games, including Resogun and Super Stardust Ultra.
Smelling blood
There's got to be one more thing, hasn't there? After their reveals at E3 2016, it's unlikely that we'll see any more of God of War, Days Gone, or Spider-Man outside of montages – but we reckon that Sony will drop one bomb. And we think, given the rumours that this press conference will have a very Japanese focus, it could be From Software related. Firstly, we'd like to hear confirmation that Bloodborne is getting a PS4 Pro patch, but beyond that, a look into the future would be very much welcome. The developer is supposedly signed with Sony on a three game contract, and Bloodborne 2 would be very nice, wouldn't it?
Third's not the worst
It would be naïve to expect Sony to gloss over third-party content at PSX 2016, and we think that this segment will make up the bulk of the press conference. The platform holder signs so many co-marketing partnerships these days that it's almost obligated to talk about certain titles – but we're sure that there's going to be a few highlights in this portion of the presser, too.
A final fantasy
Final Fantasy XV is now out, so it's time to turn attention back to the ultimate crowd pleaser: Final Fantasy VII Remake. Last year we got our very first glimpse of gameplay from this long-awaited reimagining, and we suspect that a similar kind of update may be on the cards this time around. Could we get a look at the new models of key characters like Tifa?
Marvel vs Capcom
Well, it's already leaked, hasn't it? Marvel vs Capcom 4 looks like it's almost certainly happening, and from what we understand, it'll be announced at PSX 2016 this week. It'll be interesting to see whether Sony, like Street Fighter V before it, will have its fingers on this project. It already has a very close relationship with both Capcom and Marvel, so stranger things have happened. An emphasis on the Marvel Cinematic Universe mentioned in a recent Polygon report has raised some alarms, but Marvel's new mandate is to make high-quality games, so we're quietly confident that this is going to come out good. A second season of Street Fighter V is also likely to be revealed during the presser.
The co-marketing collection
It's the part of the press conference where our live chat will start to complain, but there's no way you're not getting updates on Call of Duty: Infinite Warfare and Watch Dogs 2. Sony has signed very expensive marketing contracts with each of these titles, and it's likely contractually bound to mention them at any given opportunity. A preview for some upcoming DLC would be fine in our eyes, as long as it works through the segment swiftly and painlessly.
Dead eye
Sony went out of its way to announce that it's signed a partnership with Rockstar Games on Red Dead Redemption 2, and while we don't expect the sequel to put in an appearance in any real noteworthy capacity, we do think that the Western will be mentioned in some regard. Perhaps the platform holder will expand upon the details of its arrangement, or promise PS4 Pro support for the game. Either way, there's no way this press conference concludes without the sequel's logo appearing at least once.
He shall appear from a far Eastern land
It's been 18 months since Shenmue III smashed Kickstarter records, and it's time to see how Ryo Hazuki's third chapter has progressed. We're not expecting miracles from Ys Net here: the sequel is being built on a modest budget with a small team. But an update is needed, and even if it is just a brief look at some updated character models and environments, we'll take that – primarily because it'll help it to finally feel real.
Yo, Ni-Oh
Sony's now the primary publisher of Ni-Oh in Europe and North America, which means that it's guaranteed to show off the game at PSX 2016. The title, which has been heavily inspired by the Dark Souls series, is in production at Team Ninja, and so fuses the flashy samurai combat that the developer is best known for with the kind of tactical discipline of a From Software release. It genuinely looks really good, so a full gameplay demo is likely in store.
The obligatory Gio Corsi love-in
It wouldn't be PSX 2016 without Gio Corsi and his ice hockey shirt. For the past few years, the third-party productions chief has been delivering a large quota of fanservice on stage, and this time we expect more of the same. Exactly what he'll have up his sleeve remains to be seen – Lara Croft Go, which has just leaked for PS4 and Vita, is almost certainly one of his projects – but we'd love to see Yakuza 6 and Dragon Quest Heroes II get announced for the West.
Virtual revolution
Whether you love it or loathe it, PlayStation VR is now a huge portion of Sony's portfolio. And with the headset having exhausted much of its launch offering, it's now time for the platform holder to look to the future and plot out the next year or so of virtual reality content.
Top gun
With the game already confirmed to be playable on the PSX 2016 show floor, we reckon that some kind of Ace Combat 7 gameplay demonstration is a lock for the platform holder's press conference. This is a big, recognisable franchise that should – if executed correctly – really excel in virtual reality, and it could prove a system seller for many fence sitters if shown in the right way.
Games galore
With so few rumours to work with, it's hard to predict what Sony could pad this segment with, but what we know is that it needs to reveal a string of PlayStation VR games set to release in 2017 and beyond. It doesn't matter if some of these are in the early stages of production, but the platform holder needs to demonstrate that it's committed to keeping its headset well supplied with software through the next year and beyond.
One last thing
Last year's PSX press conference ended on a low ebb with the Paragon reveal, and even E3 2016 disappointed a touch with its re-treading of Days Gone. The platform holder's in need of a big finale this time, then, but how can it deliver one?
Name changes
This would probably be the most fan-leaning announcement imaginable, but we really think PlayStation Network name changes will be announced at PSX 2016. The company may even enlist on Greg Miller and Colin Moriarty from Kinda Funny to drop the reveal, as it's been a segment on their popular podcast for a few years now. While it sounds like a silly thing to be announced at the end of a press conference, we reckon that if tackled with the right kind of tongue-in-cheek humour, it could be a high point of the presentation.
It can't be for nothing
It depends how much Sony wants this press conference to sing, doesn't it? We can probably safely assume that The Last of Us 2 is in early development, but it's probably a way off. The question is: does the platform holder want people to start getting excited for the game now? There's been some speculation it may be announced at PSX 2016, and if it is, we suspect it will be a very short teaser trailer, perhaps with little more substance than a logo and a line of dialogue. It would bring the roof down, though, wouldn't it?
---
So, these are our predictions for PSX 2016. We've tried to keep it grounded and realistic, using a combination of rumours and common sense to bring you our picks. But what are you hoping to see at this week's show? Do you have any dream announcements? Are there any games or reveals you'd like the manufacturer to avoid? Get all fan-focused in the comments section below.
How good do you think PSX 2016's presser will be? (104 votes)
Very good

32

%
Good

46

%
Meh, no idea

21

%
Poor

1

%
Very poor

0%
Please login to vote in this poll.