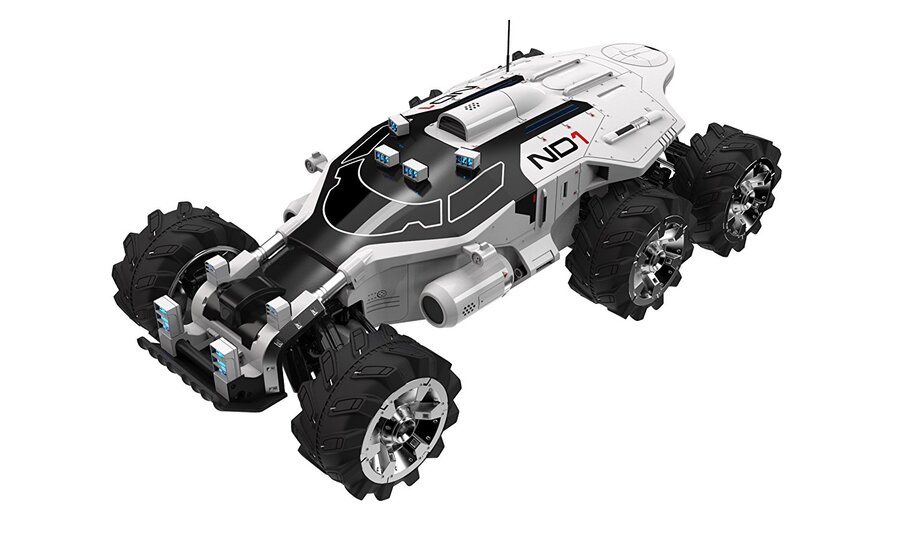 Mass Effect Andromeda, the space opera from BioWare that we've seen less than five minutes of gameplay of despite it supposedly launching next spring, has an uber-expensive collector's edition available for pre-order. Chumps with too much change can stump up $199.99 to snag a copy of the game (in a steelbook case, no less) alongside a remote control Mako – or Nomad as it's known in the new game.
The edition, available to pre-order on Amazon for our US readers, will be exclusive to GAME in the UK, where it will sell for £279.99. We'll refrain from making any politically charged commentary and simply point out that the price difference between regions is, frankly, day light robbery. We suppose that the car itself is cool, complete with LEDs and a built-in camera; you can control it using a smartphone or tablet.
As with any of these collector's editions, we're not entirely sure why anyone would want them, but we've told you about it so our work here is complete.
Update (12:00PM): A slight correction here: bizarrely, the game doesn't appear to be included in the US, when it is in the UK. That makes the price difference a little more tolerable we suppose, but still insane.
[source eurogamer.net]