PlayStation VR headsets are being sent to the press as we type, and that means that unboxings are beginning to appear on YouTube. And one thing that's been catching a lot of attention is the difference between the demo disc in North America and Europe. Now before getting your panties in a twist it's worth mentioning that you'll be able to download all of the demos from the US PlayStation Store if you so choose, so technically you're not missing out on much – but there's no question that America's 18 demos is much better than Europe's eight demos.
But that's not the only difference between the two: the New World gets a nice Blu-ray case for all of the demos, while Europe is forced to make do with a rather sad looking cardboard sleeve. Don't believe us? Here's pictorial proof: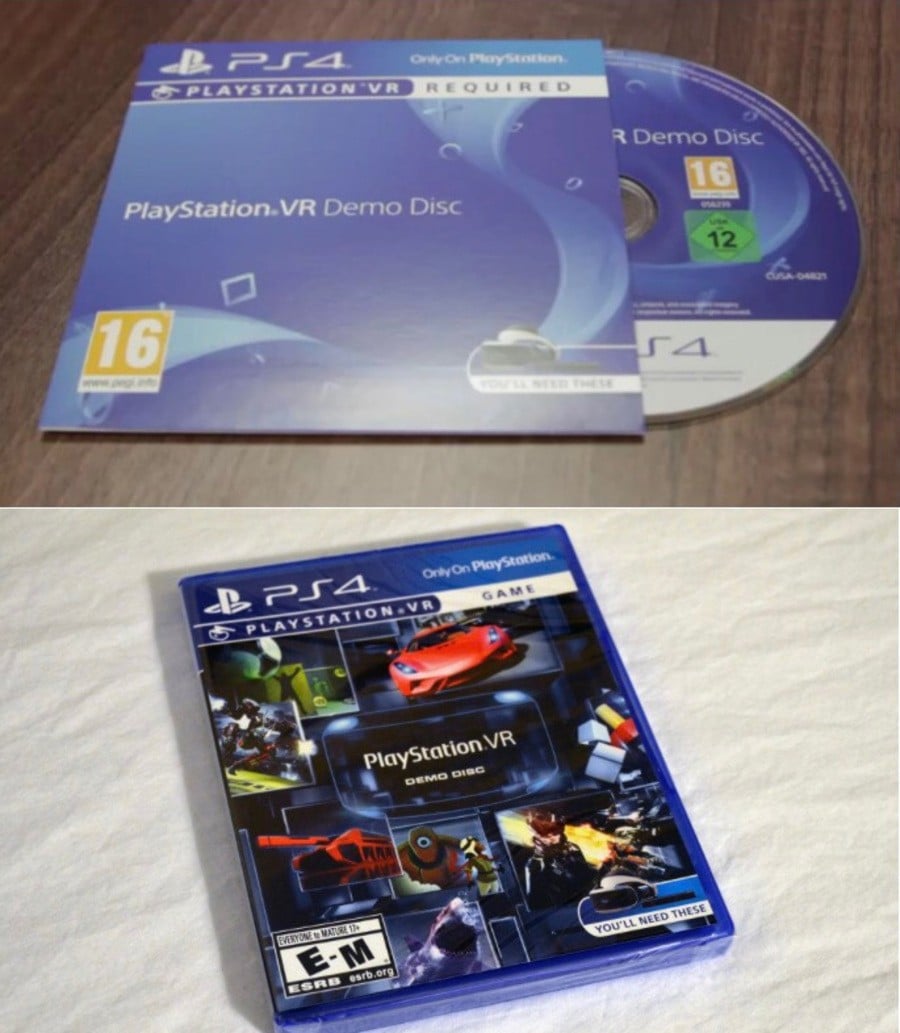 It's a bit of a lazy effort from Sony Europe, and while we're sure that ratings issues are the reason behind the missing demos, it could have at least put them in a Blu-ray case, no?
US PlayStation VR Demo Disc Contents
Allumette (Penrose)
Battlezone (Rebellion)
DriveClub VR (SIE WWS)
Eve: Valkyrie (CCP Games)
Gnog (KO_OP)
Harmonix Music VR (Harmonix Music Systems)
Headmaster (Frame Interactive)
Here They Lie (SIE WWS)
Job Simulator (Owlchemy Labs)
PlayStation VR Worlds (SIE WWS)
Resident Evil 7 biohazard — Kitchen Teaser (Capcom CO., LTD.)
Rez Infinite (Enhance Games)
RIGS Mechanized Combat League (SIE WWS)
Thumper (Drool)
Tumble VR (SIE WWS)
Until Dawn: Rush of Blood (SIE WWS)
Wayward Sky (Uber Entertainment)
Within (Within)
EU PlayStation VR Demo Disc Contents
Battlezone (Rebellion)
DriveClub VR (SIE WWS)
EVE: Valkyrie (CCP Games)
PlayStation VR Worlds (SIE WWS)
RIGS Mechanized Combat League (SIE WWS)
Tumble VR (SIE WWS)
Wayward Sky (Uber Entertainment)