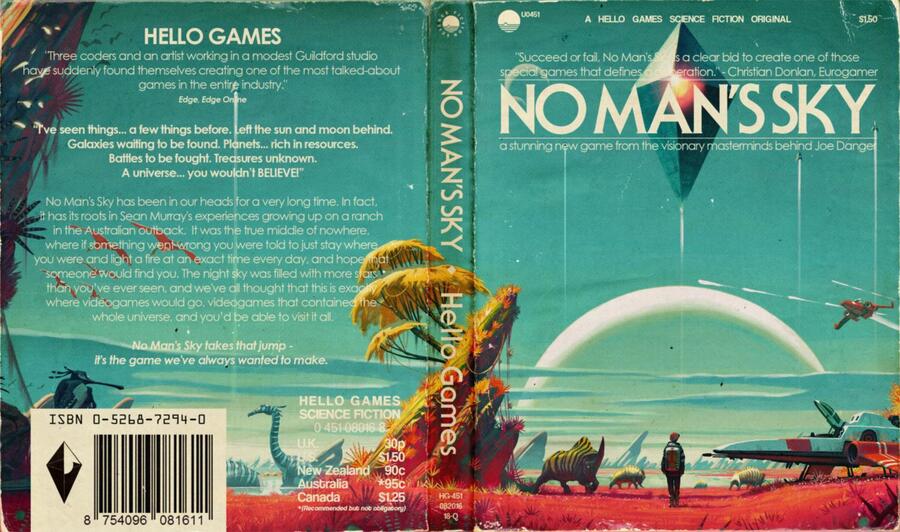 The official artwork that adorns the box of No Man's Sky is gorgeous. Hello Games has worked hard to capture the essence of sci-fi in its upcoming galactic explore-'em-up, drawing inspiration from the cover art found on vintage science fiction novels. This look and feel runs through the veins of the enormous indie; it certainly looks to have captured the sense of adventure and wonder that the novels promise. Of course, Sean Murray's love of these books is well documented, and is as much a part of No Man's Sky's bumpy road to release as anything else.
NeoGAF user ichtyander has ingeniously merged the two to form a selection of PS4 box arts, complete with worn edges and a blurb on the back. They're wonderfully executed, and do a great job of showing just how well Hello Games has managed to recreate the specific style of classic sci-fi. The game box wouldn't look out of place sat amongst your book collection with one of these brilliant covers inserted.
ichtyander's work has even caught the eye of the game's Art Director, Grant Duncan:
You can view the alternate covers below. Will you be switching out the official box art for one of these beauties? Let us know what you think in the comments section below.
[source imgur.com, via neogaf.com]