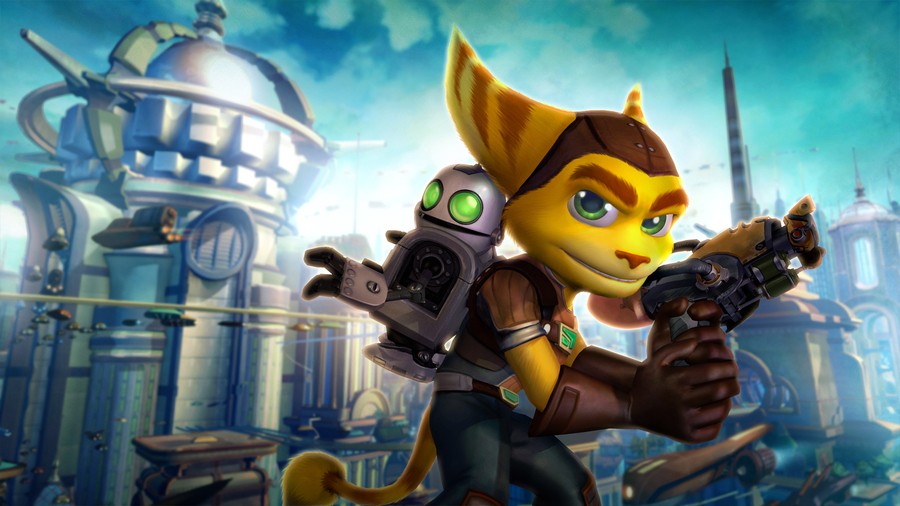 We sincerely hope that your discipline's battle hardened, because you're going to need every ounce of restraint to resist th—nah, actually, that was a strong opening sentence, but this impromptu North American PlayStation Store Flash Sale isn't that good. Running through until 12:00PM PT on 18th July, this latest sale has a combat theme.
It spans the PlayStation 4, PlayStation 3, and Vita, with games like Assault Android Cactus going as low as $5.99. You can get the Ratchet & Clank Collection for $5.99 on the PS3, while Sleeping Dogs: Definitive Edition is just $9.99. We've included the full list of deals below, courtesy of NeoGAF. You can also peruse the PlayStation Store page through here.
Do let us know what you're buying if you do decide to pick something up, though. Y'know the drill by now – stick it in the comments section below.
PlayStation 4
Assault Android Cactus – $5.99
Awesomenauts Assemble! – $3.99
Awesomenauts Assemble! Digital Collector's Edition – $15.99
Awesomenauts Assemble! Power Pack – $5.99
Battlefield Bundle – $19.99
Call of Duty: Advanced Warfare Gold Edition – $23.39
Crimsonland (cross-buy) – $2.79
Dariusburst Chronicle Saviours – $25.19
Day of the Tentacle Remastered (cross-buy) – $10.04
Dead Nation Apocalypse Edition – $4.49
Destiny: The Taken King Legendary Edition – $24.59
Evolve – $14.79
Evolve Digital Deluxe Edition – $19.99
Evolve Ultimate Edition – $23.99
Fat Princess Adventures – $5.99
Futuridium EP Deluxe (cross-buy) – $2.99
Hardware: Rivals – $4.99
Helldivers Democracy Strikes Back Edition (cross-buy) – $7.99
Helldivers Reinforcements Pack 1 (cross-buy) – $2.39
Helldivers Reinforcements Pack 2 (cross-buy) – $2.39
Killzone Shadow Fall Intercept – $5.99
Knack – $7.99
Kromaia Omega – $10.49
Lovers in a Dangerous Spacetime – $7.49
Metro 2033 Redux – $7.99
Metro Last Light Redux – $7.99
Metro Redux – $7.49
Overlord: Fellowship of Evil – $7.04
PayDay 2: Crimewave Edition – $9.89
Plants vs Zombies Garden Warfare 2 – $23.99
Push Me Pull You – $13.49
Randal's Monday – $6.99
Sleeping Dogs Definitive Edition – $9.99
Sniper Elite 3 Ultimate Edition – $15.99
Tembo the Badass Elephant – $5.99
The Last of Us Remastered – $7.99
Tower of Guns (cross-buy) – $3.74
Valiant Hearts: The Great War – $4.94
Velocity 2X (cross-buy) – $3.99
Zombie Army Trilogy – $14.99
Zotrix – $2.49
PlayStation 3
Alice: Madness Returns – $7.99
Alien Rage – $2.99
Battlefield 3 – $4.99
Battlefield: Bad Company 2 – $3.99
Battlefield Bundle – $19.99
BioShock – $3.99
Bulletstorm – $7.99
Bully (PS2 Classic) – $3.99
Call of Duty: Advanced Warfare Gold Edition – $19.49
Call of Duty: Black Ops 3 – $24.49
Call of Juarez: Gunslinger – $3.74
Castlevania: Lords of Shadow 2 – $15.99
Castlevania: Lords of Shadow Mirror of Fate HD – $5.99
Crimsonland (cross-buy) – $2.79
Dead Island Game of the Year Edition – $4.99
Dead Island: Riptide Complete Edition – $4.99
Dead Space 3 Ultimate Edition – $17.99
Destiny 'The Taken King' DLC – $19.79
Destiny: The Taken King Digital Collector's Edition – $34.29
Destiny: The Taken King Legendary Edition – $24.49
Deus Ex: Human Revolution – $4.99
Deus Ex: Human Revolution Director's Cut – $7.49
Deus Ex: Human Revolution 'The Missing Link' – $2.39
Disney Epic Mickey 2: The Power of Two – $4.99
Dogfight 1942 – $1.99
Hard Corps: Uprising – $4.49
Heavenly Guardian (PS2 Classic) – $2.99
Heavy Fire: Afghanistan – $3.99
Heavy Fire: Shattered Spear – $3.99
Helldivers Democracy Strikes Back Edition (cross-buy) – $7.99
Helldivers Reinforcements Pack 1 (cross-buy) – $2.39
Helldivers Reinforcements Pack 2 (cross-buy) – $2.39
Hunter's Trophy 2 : America – $2.99
Hunter's Trophy 2: Australia – $2.99
I Am Alive – $2.99
Kane & Lynch 2: Dog Days – $3.74
Kane & Lynch 2: Dog Days 'The Doggie Bag' – $2.39
Kane & Lynch: Dead Men – $3.74
Killzone HD – $4.49
LEGO Pirates of the Caribbean – $4.99
Mamorukun Curse – $1.99
Manhunt (PS2 Classic) – $3.99
Max Payne (PS2 Classic) – $3.99
Metro: Last Light Complete Edition – $3.99
Neo Contra (PS2 Classic) – $2.99
Okami HD – $4.89
Raiden IV: Overkill – $4.49
Ratchet & Clank: All 4 One – $2.99
Ratchet & Clank Collection – $5.99
Ratchet & Clank: Full Frontal Assault (cross-buy) – $2.99
Ratchet & Clank Future: A Crack in Time – $2.99
Ratchet & Clank Future: Quest for Booty – $4.49
Ratchet & Clank Future: Tools of Destruction – $2.99
Ratchet & Clank: Into the Nexus – $2.99
Ratchet: Deadlocked – $2.99
Resident Evil 6 Ultimate Edition – $9.79
R-Type Dimensions – $2.99
Saints Row IV – $7.99
Sleeping Dogs – $4.99
Sniper Elite 3 Ultimate Edition – $11.99
Spec Ops: The Line – $7.49
Split/Second – $4.99
The Warriors (PS2 Classic) – $3.99
Tom Clancy's Splinter Cell Blacklist – $3.74
Tom Clancy's Splinter Cell Chaos Theory HD – $3.74
Tom Clancy's Splinter Cell Classic Trilogy HD – $9.99
Tom Clancy's Splinter Cell Double Agent – $4.99
Tom Clancy's Splinter Cell HD – $3.74
Tom Clancy's Splinter Cell Pandora Tomorrow HD – $3.74
Tower of Guns (cross-buy) – $3.74
Toy Story 3 The Video Game – $4.99
Transformers: Fall of Cybertron Gold Edition – $15.59
Under Defeat HD: Deluxe Edition – $3.49
XCOM: Enemy Within – $7.49
PlayStation Vita
Call of Duty: Black Ops Declassified – $15.59
Crimsonland (cross-buy) – $2.79
Dariusburst Chronicle Saviours – $19.99
Day of the Tentacle Remastered (cross-buy) – $10.04
Dead Nation – $2.39
Futuridium EP Deluxe (cross-buy) – $2.99
Futuridium EP Deluxe Original Soundtrack – $1.49
Grand Theft Auto PS Vita Collection – $13.99
Helldivers Democracy Strikes Back Edition (cross-buy) – $7.99
Helldivers Reinforcements Pack 1 (cross-buy) – $2.39
Helldivers Reinforcements Pack 2 (cross-buy) – $2.39
LEGO Pirates of the Caribbean (PSP) – $2.49
Ratchet & Clank Collection – $5.99
Ratchet & Clank: Full Frontal Assault (cross-buy) – $2.99
Rockstar Games PS Vita Collection – $11.99
Velocity 2X (cross-buy) – $3.99
[source store.playstation.com, via neogaf.com]