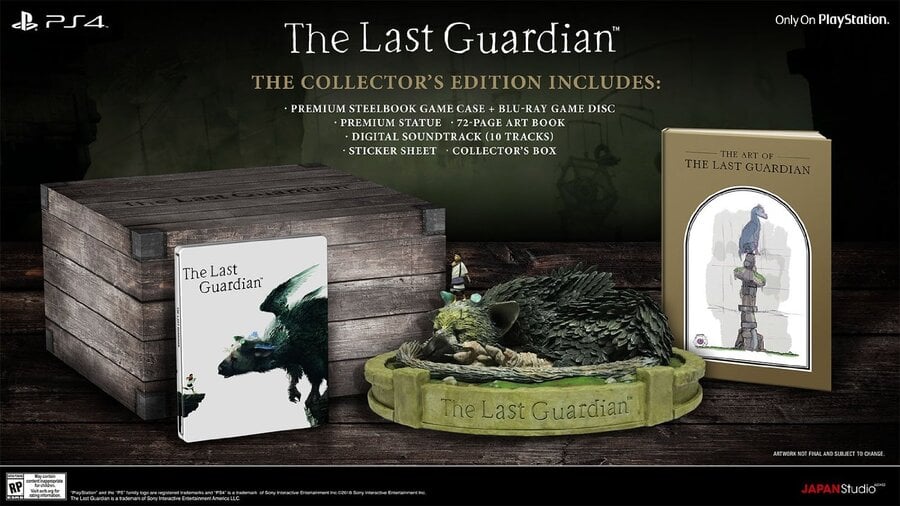 In truth, 25th October is a horrible time for The Last Guardian to release, what with Titanfall 2, Battlefield 1, Call of Duty: Infinite Warfare, and… Sigh. Who cares if it flops, though? After all, ICO and Shadow of the Colossus did, too, and they're two of the finest adventure games ever to grace a PlayStation platform. We're confident that Fumito Ueda's latest masterpiece will measure up.
And if, like this author, you're quite literally in love with the concept for this game, then you may be tempted by the title's collector's edition. It popped up on Amazon earlier today, but was swiftly removed. Nevertheless, nothing remains secret on the Internet for long, and we've archived the image of the full set above for you to coo over.
So, what do you get? A copy of the game in a steelbook case, as well as a 72-page artbook to accompany it. You'll also get a digital soundtrack and a sticker sheet, but the pièce de résistance is the Trico statue, which just looks lovely, doesn't it? Oh, and it all ships in a great big wooden crate, because of course it does.
You will have to stump up $119.99 to purchase the set, but money shouldn't be an object where Team ICO is concerned. Game of the Year right here, folks – calling it.