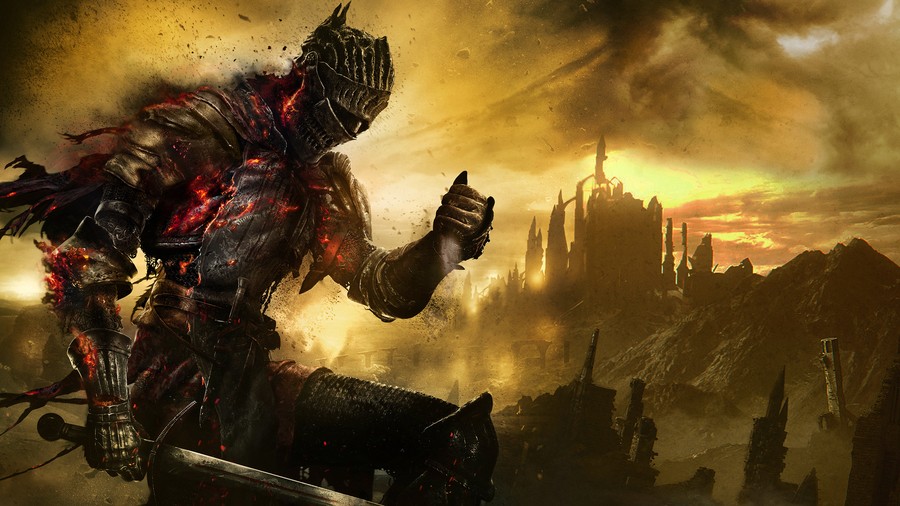 The latest Japanese software charts are in, and Dark Souls III has done incredibly well for itself. The action role-playing game, which isn't officially out here in the West until next month, sold through a very impressive 210,141 copies. That's a fantastic start for From Software's latest adventure, but despite shifting so many units, the latest Dragon Quest release beat it to first place.
But hey, there's no shame in losing to Dragon Quest - especially when it's a 3DS exclusive. Elsewhere, Dead or Alive Xtreme 3 bounced into fourth on PlayStation 4, while the Vita version tumbled into sixth.
On the hardware side of things, Sony's current-gen console remained at the top, boasting boosted sales of 34,377 units. The Vita, meanwhile, slipped into third place, but sales of the handheld did actually increase very slightly, jumping to 20,068 units. Overall, it certainly wasn't a bad week for PlayStation.
Hardware sales
PlayStation 4 – 34,377 (28,370)
New 3DS LL – 22,639 (18,353)
PlayStation Vita – 20,068 (19,028)
New 3DS – 5,773 (5,142)
Wii U – 4,545 (12,998)
3DS – 2,322 (2,187)
PlayStation 3 – 1,290 (1,462)
3DS LL – 365 (370)
Xbox One – 55 (91)
Software sales
[3DS] Dragon Quest Monsters: Joker 3 (Square Enix, 03/24/16) – 368,665 (New)
[PS4] Dark Souls III (Bandai Namco, 03/24/16) – 210,141 (New)
[PSV] Hatsune Miku: Project Diva X (Sega, 03/24/16) – 69,438 (New)
[PS4] Dead or Alive Xtreme 3: Fortune (Koei Tecmo, 03/24/16) – 44,723 (New)
[Wii U] Pokken Tournament (Pokemon, 03/18/16) – 28,331 (98,007)
[PSV] Dead or Alive Xtreme 3: Venus (Koei Tecmo, 03/24/16) – 21,959 (New)
[PS4] Nobunaga's Ambition: Sphere of Influence Sengoku Risshiden (Koei Tecmo, 03/24/16) – 20,322 (New)
[3DS] Assassination Classroom: Assassin Training Plan (Bandai Namco, 03/24/16) – 19,498 (New)
[PSV] Nobunaga's Ambition: Sphere of Influence Sengoku Risshiden (Koei Tecmo, 03/24/16) – 13,482 (New)
[PS3] Nobunaga's Ambition: Sphere of Influence Sengoku Risshiden (Koei Tecmo, 03/24/16) – 13,050 (New)
[3DS] Mario & Sonic at the Rio 2016 Olympic Games (Nintendo, 02/18/16) – 11,543 (119,188)
[PSV] Minecraft: PlayStation Vita Edition (SCE, 03/19/15) – 10,639 (712,822)
[PS4] The Division (Ubisoft, 03/10/16) – 10,581 (114,414)
[PSV] Digimon World: Next Order (Bandai Namco, 03/17/16) – 10,272 (74,490)
[Wii U] Splatoon (Nintendo, 05/28/15) – 8,980 (1,310,480)
[3DS] Animal Crossing: New Leaf (Happy Price Selection) (Nintendo, 03/17/16) – 7,806 (14,737)
[Wii U] Super Mario Maker (Nintendo, 09/10/15) – 7,047 (829,358)
[PSV] Dance with Devils (Rejet, 03/24/16) – 5,129 (New)
[3DS] Tomodachi Life (Happy Price Selection) (03/17/16) – 5,120 (8,252)
[PSV] Gundam Breaker 3 (Bandai Namco, 03/03/16) – 4,908 (105,708)
[source 4gamer.net, via gematsu.com]