Well, well – this is a bit tasty, isn't it? Sony has announced a limited edition PlayStation 4 bundle for Uncharted 4: A Thief's End, which is set to release alongside the game starting 26th April. And let us be the first to say that it's really rather hot. The console will cost you $399.99 in the United States and $499.99 in Canada, so you may want to start saving your gold coins now, 'cos it ain't cheap.
Bizarrely, it'll pack a 500GB hard drive in North America and 1TB hard drive in Europe, but the design will be exactly the same across regions. It features a silhouette of protagonist Nathan Drake atop a grey blue finish, and has gold engravings on it, including the 'Sic Parvis Magna' slogan etched on the hero's ring. This is the best bundle since last year's Destiny: The Taken King one – we really like it.
If you pre-order the special system, you'll also get access to some bonus in-game content, including an Uncharted: Drake's Fortune Outfit, Golden Weapon Skin, and Uncharted Points to use in the title's multiplayer mode. It's worth mentioning, of course, that the bundle also comes with a grey blue DualShock 4 and Blu-ray copy of the hotly anticipated game.
If that's not all, the controller will be available separately in North America starting March and April in Europe, while there'll be a limited edition grey blue Gold Wireless Headset available in North America from next month for $99.99 in the United States and $119.99 in Canada. There'll be a custom Uncharted 4 audio mode designed by Naughty Dog available for PlayStation headphones owners, too.
Phew – lots of information to get through there. What do you think of this new bundle, though? Buried treasure or dug-up junk? Use your metal detectors in the comments section below.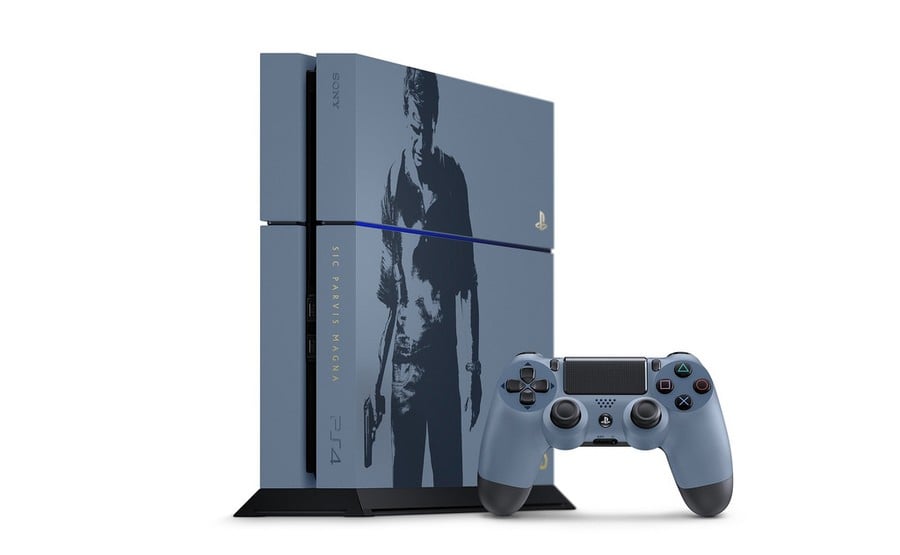 [source blog.us.playstation.com, via blog.eu.playstation.com]