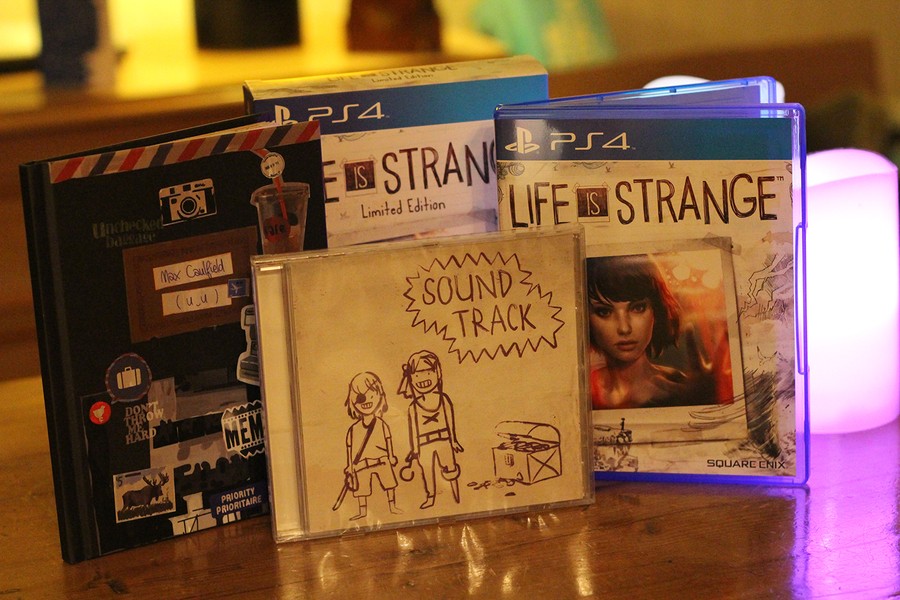 Life Is Strange was one of the surprise releases of 2015: a teen drama aimed with pin-point precision at this author's heart – only for everyone else to fall in love with it and ruin his whole "hipster gamer" façade. The game proved so successful on digital platforms that Square Enix has decided to release a retail version, and perhaps sensing that it will be able to convince idiots like yours truly to double dip, it's hella good.
The set – which launched today in North America and Europe – comes in a nice box, and includes a copy of the entire series on Blu-ray, a hard cover art book, and a CD soundtrack. The game also boasts a director's commentary, but don't worry if you already bought the digital version, because developer DONTNOD's patched that in to all copies of the release. Considering that it's selling for £24.99/$39.99 on Amazon, it's a lavish package.
The Ladybird-esque art book gives you a look at the unique vibe that the dev captures in the game
The art book – masquerading as protagonist Max Caulfield's journal – is particularly nice, featuring various character concept sketches, full-scale paintings of some of the game's most poignant moments, and lots of iconography from the release, including witty slogans and snazzy t-shirt designs. It's only 30 or so pages long, but the Ladybird-esque book gives you a quick look at the unique vibe that the developer so successfully captures in the game.
However, if you're already intimately familiar with the artwork on tragic accomplice Chloe Price's arms, then you'll probably be picking this up for the soundtrack. Featuring 14 of the licensed songs from the core campaign, as well as a bunch of tracks from composer Jonathan Morali's soft rock score, you get over an hour's worth of navel gazing acoustic sounds here, which are really rather nice.
Purely because we need to add a bit of meat to this article in order to justify tagging it as a 'Feature', we've included a fool-proof, Graham Banas unapproved, iTunes 'Hearts' review of the tracks that we reckon are good:
So yeah, this is a nice little collection for an interesting little game. Alright, the ending episode is more unhinged than a school principle who allows his pupils to guzzle booze and snort cocaine around the campus swimming pool, but the rest of the adventure hits some real highs. If you're desperate for something a little out of the ordinary, then you know what to do – otherwise you can, like y'know, go f*** yourselfie. Obvs!