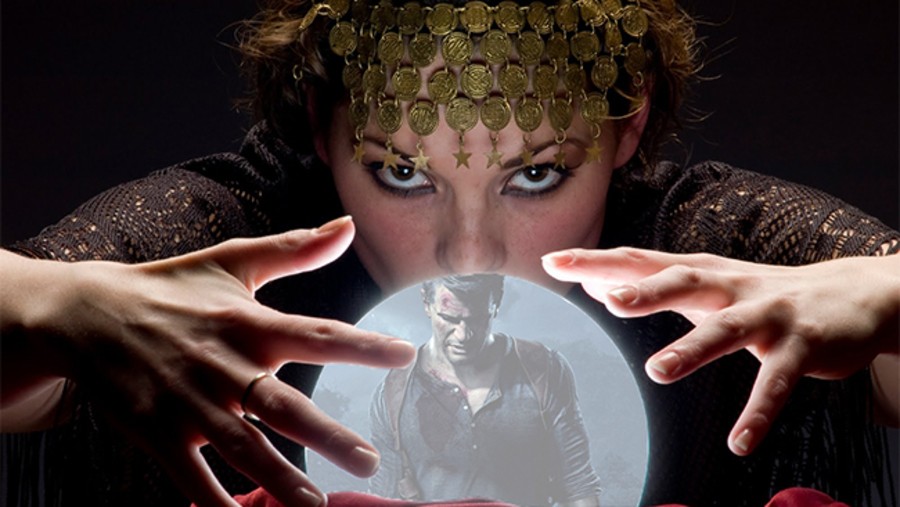 We're knee deep into 2016 already, which means that we should probably put up some PlayStation predictions before it's, like, way too late. Our very own Kell Andersen was scarily prophetic in our previous article, so this time we're all trying to get a glimpse inside the gaming crystal ball. We've compiled three predictions apiece from a ragtag group of robed Push Square writers, and re-produced them for your reading pleasure below. But don't forget to post your three picks in the comments section, and we'll revisit this in 12 months' time.
Sammy Barker, Editor
PlayStation VR will be cheaper than many are anticipating: $249.99 with a PlayStation Camera, two PlayStation Move controllers, and a download code for some PlayStation Network content. It won't, however, launch until September.
A redesigned, cheaper PS4 Slim will deploy around the same time as PlayStation VR as part of a massive new marketing push which aims to open the appliance up to a much more mainstream audience.
Red Dead Redemption 2 will be revealed during Sony's E3 2016 press conference, and it will receive a Star Wars Battlefront-esque co-marketing push on PS4 when it releases in November. It will go on to become the best-selling game of the year.
Robert Ramsey, Associate Editor
There will be outrage when someone reportedly beats Final Fantasy XV in less than 30 hours. "We waited ten years for this?!" is what people will say.
The Witcher 3: Wild Hunt's second expansion, Blood and Wine, will end up with the highest PS4 Metacritic score of 2016. The score will be at least six points higher than whatever Uncharted 4: A Thief's End gets.
At least one article will be written somewhere on the Internet about how Mass Effect: Andromeda is the worst game in the series. At first, everyone will rip the author to shreds, but three weeks down the line, many commenters will agree and they will discuss the game's flaws at length through the use of extreme hyperbole.
Kell Andersen, Senior Writer
No Man's Sky will release to mixed reviews resulting in thousands of hot takes about hype culture.
The Last Guardian will release to good reviews resulting in thousands of hot takes about hype culture.
Uncharted 4: A Thief's End will release to outstanding reviews resulting in thousands of hot takes about hype culture.
Alex Stinton, Reviewer
PlayStation VR will launch some time in the second half of the year – I just can't see it launching before June, despite what Sony have said – and will set you back $500 – or £400 for us UK folk.
No Man's Sky will miss its expected June release window by a month or two.
The Last Guardian will finally release to lukewarm reviews, gamers the world over will immediately forget about it, and I will never have to hear it discussed again. [You tart, you! – Ed]
Graham Banas, Reviewer
Sony will throw its full weight behind PlayStation VR, undercutting the Oculus by charging $500, and packaging the peripheral with a PlayStation Camera and at least one new game. It will be a large success thanks largely in part to early adopters, but Sony will actually support the peripheral sufficiently – very much the antithesis to the Kinect.
At E3 2016, the world will be shocked by a surprise reveal that Sony has finally purchased Crash Bandicoot back from Activision and that a remake of the original games are in the works, much in the same vein as the Ratchet & Clank remake.
A spate of long discussed digital console exclusives such as RIME, What Remains Of Edith Finch, and more will finally be given release dates, though, unfortunately, some of them – we're looking at you RIME – may not see the light of day until 2017.
Jamie O'Neill, Reviewer
EA will maximise hype momentum following Star Wars: The Force Awakens by promoting a single player Star Wars game, so either the combined forces of Visceral Games and Amy Hennig will be ready for late 2016, or DICE will release a single player expansion to Star Wars Battlefront.
Ratchet & Clank on the PS4 will be well-received in April 2016 by critics, and adored by fans – where Insomniac Games' style is celebrated alongside Yooka-Laylee as being a return to form for old-school colourful 3D platformers – but eight months later it'll be forgotten on Game of the Year lists, and overlooked just like Tearaway Unfolded was in 2015.
Under the new 'Pixel Sonic' banner, SEGA will surprisingly release a decent multiformat Sonic the Hedgehog title as part of Sonic's 25th Anniversary, with a high-speed focus on the classic side-scrolling dash, spin, and bounce mechanics of the original Mega Drive games.
Joey Thurmond, Reviewer
Far Cry Primal will receive middling reviews and mark a low point for the franchise due to a bland open world, repetitive objectives, and simplified gameplay.
Naughty Dog will announce it's working on a Crash Bandicoot reboot that will release in late 2017. The teasing was strong with Shawn Layden during PSX 2015.
Sony will listen to everyone and implement customisation features and better organisation to the PS4's main menu. Not only that, but you'll also be able to finally change your PSN ID for a small fee. Sony, I'm tired of being stuck with 'Joseph114'. [At least you didn't go with 'Broseph114', Joey! – Ed]
Matt Adcock, Reviewer
Sony's Shawn Layden will be a playable character in the PS4 reboot of Crash Bandicoot.
A 2TB PS4-VR 'All in One' hardware bundle will launch in time for Christmas, pre-loaded with No Man's Sky.
The Last Guardian will actually release and have a bonus DLC Colossi character pack.
Sam Brooke, Reviewer
PlayStation VR will be cheaper than the Oculus Rift and will release in time for Christmas.
No Man's Sky will get full VR support.
A new Crash Bandicoot will be announced at some point during the year.
Simon Fitzgerald, Reviewer
Hello Games' ambitious No Man's Sky will be announced as a launch title for PlayStation VR.
PlayStation Plus will start to offer more AAA titles in the Instant Game Collection, such as: Knack, Killzone: Shadow Fall, and inFAMOUS: Second Son.
PlayStation VR will launch in November 2016 and will have a price between $300 and $400.
Stephen Tailby, Reviewer
PlayStation VR's price will be set at $399/£349, matching the initial price of the PS4, and it won't be available before October.
Sony will announce new entries in the WipEout and Crash Bandicoot series during its E3 conference. They will be digital-only releases, and WipEout will have PlayStation VR support.
God of War 4 will finally be announced at E3, and will feature a new protagonist, a new story, and a new setting – Ancient Egypt. God of War Ascension's multiplayer will return.
---
Which of the Push Square editors is on the pulse, and who's way off base? What are your three PlayStation predictions for 2016? Think carefully in the comments section below.