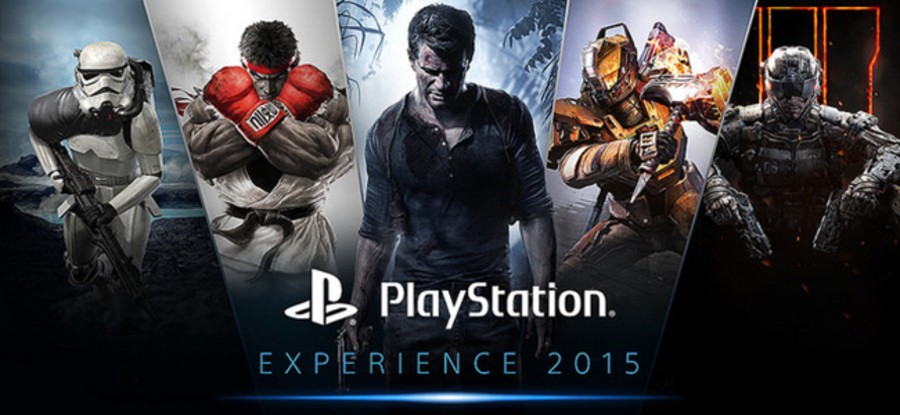 Sony's only just getting started with its PlayStation Experience event, but the keynote is the clear highlight for those not in attendance at the show. This year's presser brought with it a solid two hours of trailers, announcements, and executives in branded t-shirts. But did it deliver? We asked editors Sammy Barker and Robert Ramsey to share their thoughts immediately after the conclusion of the conference.
Sammy Barker, Editor
PlayStation Experience 2015 started so strong that it actually readjusted my expectations. Prior to the show I was anticipating a slew of niche announcements targeted directly at PlayStation fans: Yakuza Zero (yay!), Sony Bend (boo!), Ace Combat 7 (yay!) – you get the idea. But the opening trifecta of Uncharted 4: A Thief's End, Final Fantasy VII Remake, and that Shawn Layden shirt led me to think we were going to get more than I initially imagined. We didn't.
Now before y'all jump on my back, the conference had some cool stuff: Ni no Kuni II looks glorious, Rez Infinite has all of my hype, and I actually really like the look of Destiny's new Sparrow racing add-on. But I feel like the conference was missing that "wow" closer that the opening 15 minutes teased, and it never came. God of War would have done the trick. Sony Bend would have done the trick. Both are still missing in action.
The decision to end on Paragon, a new MOBA from Epic Games, was an unusual one – and it's left me thinking that something was ripped from the show schedule right at the last minute. Why wouldn't you end on Final Fantasy VII Remake or even Ni no Kuni II unless you've got something even bigger lined up? In my opinion, there was one last announcement planned for the press conference, but for whatever reason it was removed right before the firm hit the stage.
Still, big finale or not, the fact that the platform holder managed to even fill a fourth media briefing of the year with so many announcements was impressive. I get that not everyone's into the smaller indie games or even the PlayStation VR stuff, but I don't really understand how anyone could be dissatisfied with the PlayStation 4 right now. There are literally hundreds of games coming to the console – and they all belong to different genres with every budget and scope accounted for.
One thing I especially appreciated today was the number of "out now" announcements. There's always at least one of these during a PlayStation press conference, but today's briefing practically saw an entire PlayStation Store update's worth of stuff added to the online plaza. While it's obviously a marketing trick, it's cool because it means that everyone that's watching is able to feel like they're part of the show – even if they're not in San Francisco. I'd like to see more of that next year.
On the flip side, however, I'd like to see the pacing improve in 2016. I quite like the rock concert atmosphere of these shows, but proceedings were maybe a little too laidback at times. Yoshinori Ono is a legend, but he wouldn't get off the stage, and I'm not really sure what the sit-down segment with Sid Shuman added. As a PlayStation fan, though, I can't really complain. I'm getting Yakuza Zero, Final Fantasy VII Remake, and Rez Infinite on my console of choice.
I'm going to bed pretty satisfied.
Robert Ramsey, Associate Editor
PlayStation Experience has cemented itself as a more casual affair, with Sony employees taking to the stage in less formal attire than usual, all while fans applaud and cheer almost every individual announcement. There's no doubt that Sony's PSX 2015 press conference had a nice, friendly atmosphere to it – and I'm sure that the fans in attendance probably loved the whole thing – but I do feel as though it was perhaps a little too casual for its own good.
Shawn Layden trotted onto the scene wearing a Crash Bandicoot t-shirt, for example, and while it's good that Sony knows how much the PSone icon means to many PlayStation enthusiasts, it was bound to leave a bit of a sour taste – especially since the marsupial never blessed us with his colourful presence during the show. Likewise, all of the shouting and wild whooping from the crowd seemed like a bit much at times, and the event felt somewhat unprofessional and poorly paced as a result, with presenters hanging on every line to see whether they could milk some more applause.
It certainly wasn't all bad, though: the amount of variety that the company churned through was ridiculous – we went from blockbusters to indies and back again numerous times – and there were some truly exciting announcements in there. For me personally, actually seeing Final Fantasy VII Remake in action was a dream come true, as I had a horrible, sinking feeling that it wouldn't be showing its face again for a long time.
In fact, the presser started off incredibly well thanks to a genuinely intriguing Uncharted 4: A Thief's End trailer, but then diving straight into the aforementioned Final Fantasy VII Remake was perhaps a step too far in the sense that, well, the conference was just never going to hit that level of hype again – and it didn't.
After what felt like an eternity of third-party marketing guff with the likes of Call of Duty: Black Ops III and Star Wars Battlefront hogging the limelight, the presser sunk into a rut that it really struggled to get out of. On top of that, it was like our hosts didn't know when to shut up. There was a gag in which Sony's Gio Corsi came on stage to tell Capcom's Yoshinori Ono that he'd said enough – and then the Japanese producer just kept on talking anyway. It was stuff like this that all but killed the pacing of what should have been a tighter, more entertaining show absolutely stuffed with content.
Fortunately, things did pick up again later on. Nioh – otherwise known as Robert Ramsey: The Game, according to Sammy – looked great in a brand new gameplay trailer, and Ni no Kuni II was a guaranteed show stopper. It's just a shame, then, that the conference ended on one of the weakest notes I've ever seen from Sony. Epic Games' Paragon might turn out to be a brilliant game, but compared to the showings from Final Fantasy VII Remake, Uncharted 4, and Ni No Kuni II, I feel as though it fell completely flat. I can't begin to imagine how many people were sat thinking "What, that's it?" as the final montage kicked into life on the big screen.
Overall, I think Sony's PlayStation Experience 2015 press conference hit some exceptionally high notes – but those bright spots also serve to illuminate what the Japanese company got wrong. Sloppy pacing was ultimately the event's downfall, but at least we know that by this time next year, the PS4 will boast an utterly shocking amount of variety when it comes to available software.
---
Do you agree with our views on PSX 2015? Do you agree that pacing was a big problem during the press conference – despite the generally great content on display? Were you surprised by the lack of a big finale? Be polite in the comments section below.
How would you rate Sony's PSX 2015 press conference? (125 votes)
Very good

15

%
Good

44

%
Meh

26

%
Poor

8

%
Very poor

6

%
Please login to vote in this poll.